By Mike May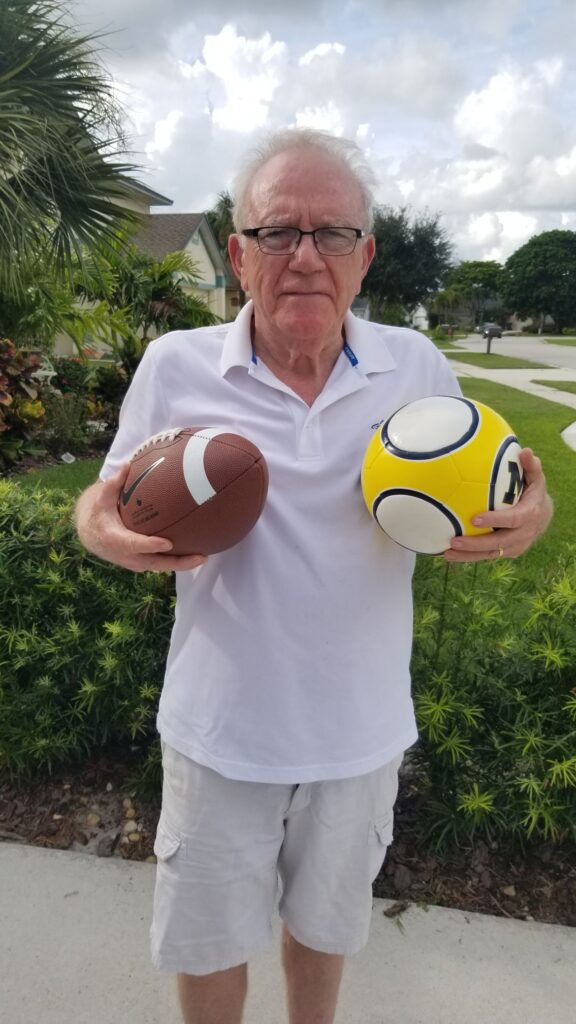 You can take the man out of soccer, but you cannot take soccer out of the man. That's one way to summarize the attitude about soccer for longtime Wellington resident Alan Tonks who is as passionate and mentally connected to the game of soccer in his 70s as he was as a young boy while growing up in England. Admittedly, Tonks hasn't played in an organized soccer game in more than 55 years, but he remains strongly attached to the sport. Last summer's Euro 2020 (Soccer) Championships, which were delayed until 2021 because of the global outbreak of COVID-19 in 2020, revealed his true passion for the sport. For him, soccer is football. It always has been and always will be.
"I watched every game of the tournament that I possibly could," said Tonks. "It was an amazing display of skill, speed, and strategy. I only wish England could have won."
England reached the final of the Euro 2020 Championships. The finale pitted England vs. Italy. The game was played on Sunday, July 11, 2021 at London's Wembley Stadium. The game was tied 1-1 after regulation and remained tied through extra time. Italy eventually defeated England 3-2 in penalty kicks. It was a gut-wrenching defeat for England (and Tonks), as England was hoping to win its first international tournament since defeating Germany 4-3 in the final of the 1966 World Cup, which was held at the old Wembley Stadium in London.
As they say in sports, wait till next year. Next year is this year, 2022, when the World Cup returns. It will be played in Qatar. Tonks remains optimistic that England will prevail this year. Only time will tell.
Tonks' passion for soccer, er football, started before he attended elementary school, which, in England, is called primary school.
"It was just after my father had returned from World War II," remembered Tonks. "I was three years old and my dad would take me outside to kick the football around."
His passion for soccer, er football, has never wavered and remains strong.
"I used to dream about playing for England and I would go to sleep at night with a soccer ball in my bed," recalled Tonks. "In England, football was a fever. It still is. Every community and social group has a team."
When Tonks started going to elementary school at Ridpool Road School in Birmingham, England, he played in pick-up games with friends and classmates. Despite being the shortest, slimmest, and often being chosen last, he continued to play. He was not a prolific goal scorer, but he was a good facilitator and defender. He could move and pass the ball with his feet just as basketball players control the ball with their hands.
"I ended up being a pretty good player and they put me at left halfback even though I was not naturally left-footed," said Tonks, chuckling.
For Tonks, perseverance eventually paid off in a big way.
At age 15, he wanted to play at a higher level so he mailed letters of introduction to the top professional soccer clubs in the English Midlands: Birmingham City FC, Aston Villa FC, West Bromwich Albion FC, and the Wolverhampton Wanderers FC, aka, the Wolves. Birmingham City responded and Tonks signed an agreement with that club.
"Teenagers like myself were hoping to make, at best, 20 pounds a week (today's equivalent of nearly $60), but I didn't make that much," said Tonks.  "I was given a place to play football, a jersey to wear, and they gave me enough money to pay for the daily round-trip bus fare.  In addition to playing, my other main job with the club was to help the grounds staff take care of the club's main playing field."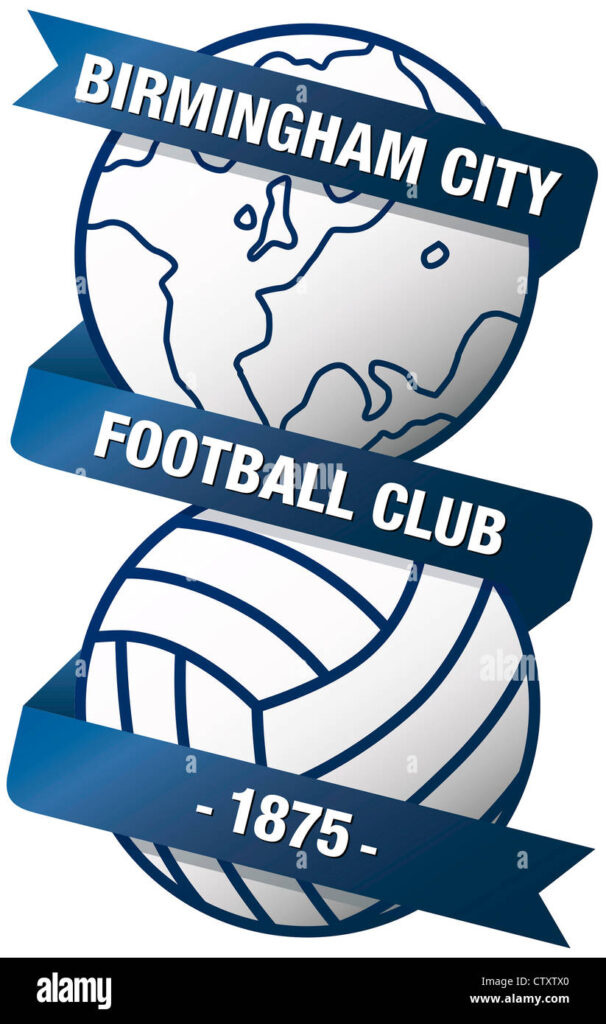 While Tonks was delighted to be on Birmingham City FC's depth chart, his father was not happy.
"My dad went berserk because he thought I was going to drop out of school," added Tonks. "I was never going to quit school. In fact, it was the exact opposite. I signed up for additional classes and extended my schooling for an extra year."
Tonks was immediately assigned to play for Saltley, one of Birmingham City's squads for developing players. It didn't take long for Tonks to get moved up to a higher level squad: the Aldridge Old Boys. Tonks and his teammates played in the Combination League, the soccer equivalent of baseball's minor leagues.
While playing for Saltley and the Aldridge Old Boys, he traveled to Europe to play matches in many European countries. He also played a few matches at London's old Wembley Stadium on its well-manicured and maintained turf.
"Playing on the turf at Wembley was heavenly," said Tonks.
And, he was still going to school.
"Throughout the season, we'd sometimes play as many as three matches a week," said Tonks. "And, of course, we'd play every Saturday."
By today's standards, Tonks suffered because of a lack of proper footwear, bad training facilities, not enough proper nutrition by today's standards, inconsistent coaching, and inadequate sports medicine supplies. As a result, Tonks' body broke down, especially his knees, and he was out of the game by the time he turned 21.
"My knees were not in good shape," said Tonks. "My body had taken a beating."
Soon thereafter, he emigrated to the U.S., where soccer was only played in pockets of the U.S. inhabited by immigrants from Europe and Central and South America.
He remained emotionally connected to soccer, but his points of contact within the U.S. soccer community were 'hit and miss.'
"I was approached about being a player for the Baltimore Bays, one of the early teams in the old North American Soccer League," remembered Tonks. "I went to three or four practices, but I couldn't run because of cartilage problems in my knees. And, there were so many nationalities and languages represented by the many players. It made on-the-field communication very difficult."
He did play briefly for a soccer team sponsored by a bank in Baltimore, but that experience was short-lived.
Still, his interest in the game and passion for the sport have remained in place.
And, because of his soccer-ball kicking prowess, he was given a chance by the NFL's Baltimore Colts to come to training camp to try out as a placekicker in the mid-1960s. He had never kicked an American football, but he felt the kicking similarities between a soccer ball and football were fundamentally the same.
"It was the beginning of the era of NFL teams signing European soccer-style kickers to contracts," added Tonks.
So, he purchased some new cleats and showed up at McDonough High School in Baltimore where the Colts were practicing. The head coach was Weeb Eubank. Some of the players were legends and future NFL Hall of Famers: Johnny Unitas, Alan Ameche, Jimmy Orr, Raymond Berry, and Art Donovan.
"I didn't make the team, but I made a few field goals during the tryout," said Tonks. "It was fun while it lasted."
Truth be told, not many athletes have ever played soccer at the old Wembley Stadium and participated in an NFL training camp. But, Wellington's Alan Tonks has. He may be the only man alive in Palm Beach County – at least in Wellington — who has those two athletic experiences on his resume.
Today, when Tonks watches soccer on television, his player instincts remain intact.
"My legs twitch and I know when and where the ball should be kicked," said Tonks.
When Tonks reflects on his soccer past, he knows that he was blessed to have met, practiced with, played with, and played against some of the game's great players such as Irish international Danny Blanchflower, German goalkeeper Bert Troutman, and England great Jimmy Greaves.
Tonks also has strong memories of watching English soccer legend Stanley Matthews, the 'Wizard of the Dribble,' lead Blackpool to the championship of the 1953 FA Cup when Blackpool defeated the Bolton Wanderers, 4-3. Tonks says that Matthews, who played on the right wing, was so good in that 1953 FA Cup final that the match was referred to as "Matthews Final."
"Matthews was brilliant that day and his performance was worthy of being included on the news reels at the time," said Tonks.
When he was a teenager, he also met Brazilian soccer legend Pele when the Brazilian national team paid a visit to London in the late 1950s.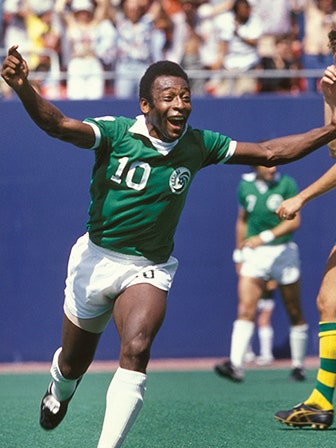 As great as some of those past legends – which also include England's Bobby Charlton and Northern Ireland's George Best — may have been, Tonks feels as if they cannot compare with today's soccer superstars.
"The physical fitness and ball control exhibited by today's players is brilliant and the science behind the sport is amazing," said Tonks. "Today's soccer players are better athletes than their peers of 60 and 70 years ago plus the facilities are better and the athletes have access to more advanced equipment."
When he watches soccer matches on television, he loves watching the games from Europe, specifically the English Premier League, the Bundesliga in Germany, and the Serie A in Italy.
Clearly, Tonks' enthusiasm for soccer remains strong and passionate.
Without a doubt, Alan Tonks truly personifies the expression: You can take the man out of soccer, but you cannot take soccer out of the man.