An Interview with Jazz Musician John Tutino
Featuring the New Album "Duality" by JT Jazz
By Krista Martinelli
I first met John Tutino when he was my music coach three years ago – I had signed up for Adult Rock Band Camp at Village Music in Wellington. He was a fantastic music teacher and coach. Our group of musicians (starting at all different levels of expertise) actually formed a band and stayed together for almost 3 years, playing gigs and practicing together twice a week. We had a ball! We called ourselves "D-Railed," only because we would often find that our conversations (about what song to play next) got derailed. But I digress. Enough about me.
More about John, also known as JT. He's a virtuoso sax and guitar player. I've seen him perform many times and he's equally amazing on both instruments. He has that spark, which drives him to write music. Plus he has that sensibility, that helps him to understand the dynamics of music and get the levels right in a recording. Let's get right into the interview.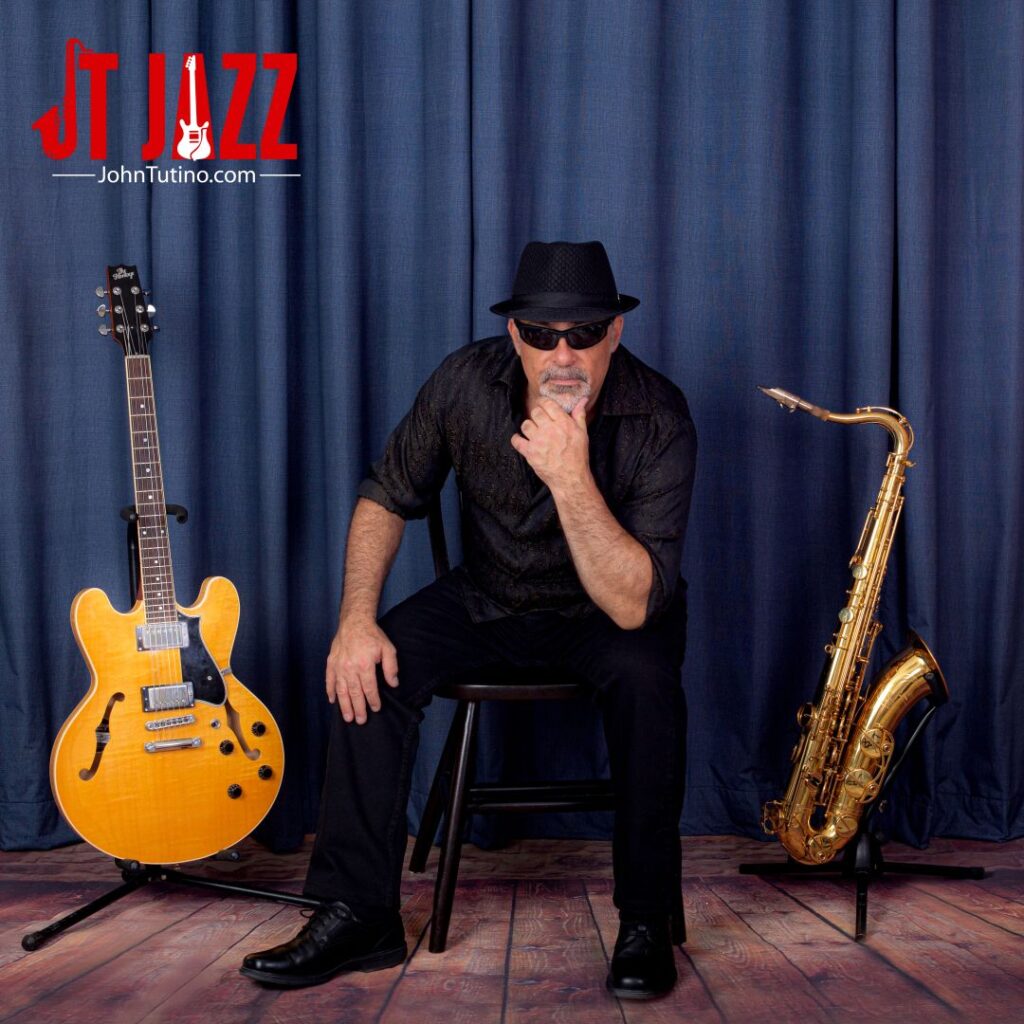 AW: Tell us about your new jazz album "Duality." Why is it titled "Duality?"
JT: The obvious characteristic of that name is that I play two different instruments (guitar and sax), a quite uncommon doubling in the jazz world. Also, I grew up in classic rock era and fell in love with jazz in the 90s. Meanwhile, I'm in real estate and music, dual career for 30 years. I'm a Gemini. So these four things became clear to the naming of the album. "Duality" seemed like a perfect fit. I self-released an album about 10 years ago, Full Moon Rising (2009). Now, in 2021, this is my big opportunity through Bentley Records. I'm excited to be signed by a record label.
Check out this promotional video featuring the JT Jazz Quartet:
AW: Tell us a little about yourself as a musician. When did you start playing music?
JT: I started playing guitar at 8 years old. Guitar was an easy choice…my earliest experience with music that I can remember was at 3 or 4 years old. They called me Johnny Boy when I was a boy. "Johnny B. Goode" by Chuck Berry came on the radio, and I was dancing around the room playing pretend guitar with a broomstick. At 8 years old, guitar was a natural choice for me when I started playing. I grew up listening to Rush, Van Halen, Stevie Ray Vaughn, Led Zeppelin, and many other bands. When I went to Berklee College of Music in Boston, MA, that's when I was really heavily introduced to jazz. My roommate had hundreds of jazz CDs on the wall that exposed me to so many great jazz artists. Jazz became a part of my life. I started playing the sax in my late 20s. I wanted to make this one of my main instruments around 1997 (I was about 28), I rented one and then bought one. People said it would be very difficult, but I started an instrument late in life and got a record deal late in life too.
AW: Tell us about the other three musicians in your jazz quartet.
JT: They are Mark Doyle on piano, Harley Galeano on drums and Josh Ewers on bass. All are native Floridians, and all of them are from Palm Beach County. Mark is from my generation. The other two, Harley and Josh, are still in their 20s.
Met them hanging out at local jazz gigs and jam sessions. Mark is seasoned and dynamic. Josh and Harley already sound like seasoned guys, have a mature sound at a young age and are very versatile musicians.
AW: Are you having an event to release the album?
JT: Saturday, Oct. 9th at Village Music in Wellington at 8pm. There are limited seats. Tickets may be purchased on www.Johntutino.com/shows
AW: What do you love about jazz? What kind of jazz would you identify your music as?
It's not smooth jazz. Most of the songs on this album would be characterized as Modern/ traditional/ straight ahead/ swing, with a couple of funky fusion jazz tunes mixed in there. When it comes to jazz, I like the improvisational nature and the band communication that you don't get with a lot of other styles. Also, it's an absolute LIVE genre. For the most part, you cannot multi-track and layer it in the studio. Has to be played and recorded live.
AW: Do you teach music? Tell us about this project you are doing on the art of improvisation.
JT: I'm developing an improv music workshop/course. I'm still in the research and development phase. I'm interviewing musicians and researching the topic. This workshop will be offered online and maybe in person locally where I live.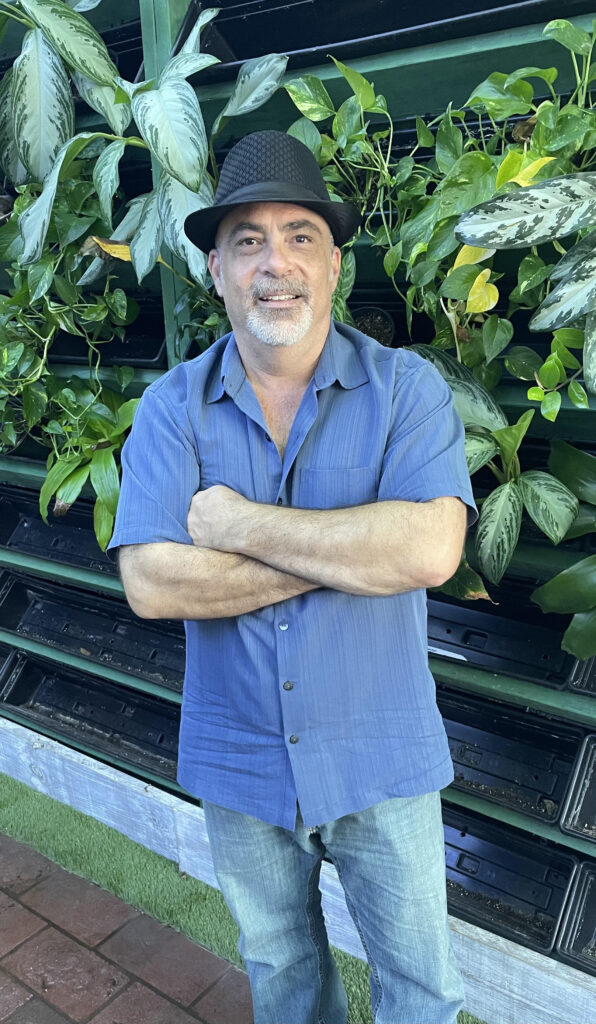 AW: Tell us about your family.
JT: Teri and Gianni (5) in Kindergarten.  Gianni is already a fantastic drummer, guitar player and piano player.  His main instrument is drums though, he's just in love with them. Teri is a very talented and successful hairdresser in Palm Beach County. She actually has a reputation of being the curly hair queen.    
AW: Do you live near Wellington? And what do you love about the area?
JT: We live in the Acreage. I love the Acreage because we have no HOA, freedom, a little bit of land. Horses and cows are around the corner and down the street. We love Wellington too, and all that Western PBC has to offer, and we have been here for almost 10 years.
AW: How can people get a copy of the new album? Will it be released via Apple Music? How do you make money from music downloads, by the way?
JT: Bentley Records released it today (8/11/21) online on all digital stores, including Apple, Amazon, Spotify and others. People can stream and/or do a digital download. I'm also selling the physical CD on my website; it will be autographed. For those who get the CD, it comes with free digital download as well. As a musician, I earn several types of royalties from all sales and streaming including my physical CD.
AW: Where did you record the album? All original songs?
JT: We recorded it at Echo Beach Studios in Jupiter. Celine Dion has recorded there plus other well-known artists. The album consists of 5 originals and 3 standards. I arranged and produced all 8, and wrote the 5 originals. Bentley Records has already given me another album release option, so I'll be working on the next one soon.
AW: Anything you'd like to add?
JT: I want people to realize that – If you have a passion, you can't quit. There were many who said to me, "You'll never get a record deal after 40. Quit now, or you'll fall into a depression; do it as a hobby." However, don't listen to people who try to crush your dreams; instead, follow your passion. I kept at it and kept my nose to the grindstone. I toured the U.S. from 2011 to 2014 and literally played thousands of gigs in the last 30 years never allowing anyone to tell me what I should do or not do, although I took the advice at times from the people who had done it and were trying to help me. You need to stay open to that. Then, most recently, I'm happy to say that the Record company (Bentley) approached me, saying they liked my music and they liked my branding, and the rest is history. So never say never and remember persistence is one of the absolute keys to success!
To Find the Album:
Just search for "Duality" and "JT Jazz" on your music app of choice
Or go to www.JohnTutino.com/Buy-Music
To Attend the Album Release Party on October 9th at Village Music:
Purchase tickets. www.Johntutino.com/Shows
With your purchase of a ticket, you'll get a signed copy of the CD.