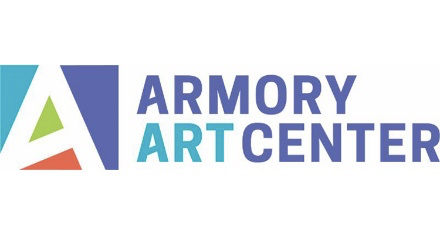 Nov. 7, 2022 (West Palm Beach, Fla.) – The Armory Art Center's 6th Annual West Palm Beach Arts Festival will once again return to Palm Beach County—offering families across South Florida an art-filled weekend they won't soon forget! Presenting sponsor for this event is the Laurence W. Levine Foundation.
Located on the Armory's historic campus in the heart of West Palm Beach, the two-day festival takes place December 3 and 4, 2022 from 10 a.m. to 4 p.m. daily. It will showcase local and out-of-town artists, live music, campus tours, artist demonstrations, hands-on activities for all ages, and fun—including a brand new Kids Zone with interactive arts and crafts. Best of all, admission is free.
"We look forward to enjoying South Florida's beautiful winter weather and vibrant art scene at our annual festival," said John Suau, CEO. "At the Armory, we value giving our neighbors the chance to enjoy the arts in an accessible, fun way. By purchasing goods from artists or signing up for a class at our campus, visitors contribute to the Armory Art Center's mission of inspiring people to create and experience art—and to its vision of becoming the community's leading resource for arts education."
The festival welcomes thousands of guests from the region each year. Last year's festival brought over 6,000 visitors and 95 artists from across the country with work representing the mediums of drawing, painting, photography, printmaking, mixed media, ceramics, sculpture, fiber, jewelry glass and furniture.
Shop til you drop! Scheduled at the perfect time for great weather and holiday shopping, artisan tents will be located outdoors in the Armory's sculpture garden and in the parking lot. Guests will be able to browse and find unique gifts for loved ones this holiday season—from handmade jewelry to paintings and more.
Visitors can also enjoy live entertainment from South Florida musical artists. From rock and folk to jazz and Celtic music, the festival offers something for everyone, including:
Jazz by Neil Bacher and Friends (Dec. 3, 11 a.m.)
The Palm Beach State College Progressive Jazz Sextet (Dec. 3, 1 p.m.)
Roaring Kelly Band (Dec. 3, 3 p.m.)
The Smokeboss Militia (Dec. 4, 11 a.m.)
Gypsy String Revival (Dec. 4, 2 p.m.)
Let your inner artist shine! During the festival, the Armory will also offer an open house in Montgomery Hall on Saturday, Dec. 3 from noon to 2 p.m. for those interested in attending an art class. Anyone who enrolls in an 8-week class onsite during the open house will receive 25% off tuition (does not apply to workshops or pop-ups).
During the festival, the "Armory Student & Faculty Show" "Radiant Nation: Masks" will be on display in Montgomery Hall and the East Gallery. The faculty and student show highlights works by Armory students and educators in the departments of ceramics, sculpture, jewelry and 2D artwork. Radiant Nation features a collection of reimagined radiotherapy masks transformed by artists and cancer survivors into vibrant, powerful forms of expression. Guests can enjoy the exhibitions for free on both days, from 10 a.m. to 4 p.m. daily.
The Armory Art Center is located on the south end of Howard Park within walking distance of the Kravis Center for the Performing Arts, the Palm Beach County Convention Center, Hilton West Palm Beach, and The Square—a premier shopping, dining and entertainment destination. With so much to see and do in the area, festival guests are encouraged to make a whole weekend out of the festivities and enjoy all The Palm Beaches, Florida has to offer.
Artists will interact with the public through art demonstrations and booth chats. The demonstration schedule will be announced in the coming weeks. For more information and a complete schedule of events, please visit https://armoryart.org/festival/.
Calendar Item:
6th Annual West Palm Beach Arts Festival presented by the Armory Art Center
Presenting Sponsor: Laurence W. Levine Foundation
811 Park Place, West Palm Beach, Fla., 33401
December 3 and 4, 2022
10 a.m. – 4 p.m.
###
About the Armory Art Center:
Having served the community for over 30 years, the Armory Art Center's art school and galleries provide creative opportunities to enhance your life. The mission of the Armory Art Center is to inspire the creation and experience of art and the Armory's vision is to be the leading community resource for arts education. Serving over 3,000 students annually, the Armory Art Center offers 160 courses per term in six terms throughout the year to students ranging in age from pre-school to retiree. Classes in drawing, painting, photography, jewelry, fiber & textiles, ceramics, and sculpture are held in twelve state-of-the-art studios. Twelve exhibitions are hosted annually in three galleries. The Armory's exhibitions, lectures, and special events are open to the public.
The Armory is proud to have been the recipient of several awards in recent years, including The Palm Beach Post's Best of Palm Beach County (2022 Best Art Gallery), Chamber of Commerce of The Palm Beaches (2021 Nonprofit of the Year), The Flamingos: Florida Weekly's Best Awards (2021 Best Place to Create Art), the Cultural Council for Palm Beach County's Muse Awards (2020 Legacy Award) and more.
For information, visit www.armoryart.org or call (561) 832.1776. The Armory Art Center is located at 811 Park Place, West Palm Beach, Fla., 33401.