Boca Raton Historical Society & Museum
Launches New Weekly Virtual Lecture Series
Boca History 102
Noon Thursdays, February 4 Through March 4, 2021
(Boca Raton, FL – February 2, 2021) Mary Csar, Executive Director of the Boca Raton Historical Society & Museum (BRHS&M), today announced that the nonprofit organization is launching a new weekly virtual lecture series, Boca History 102.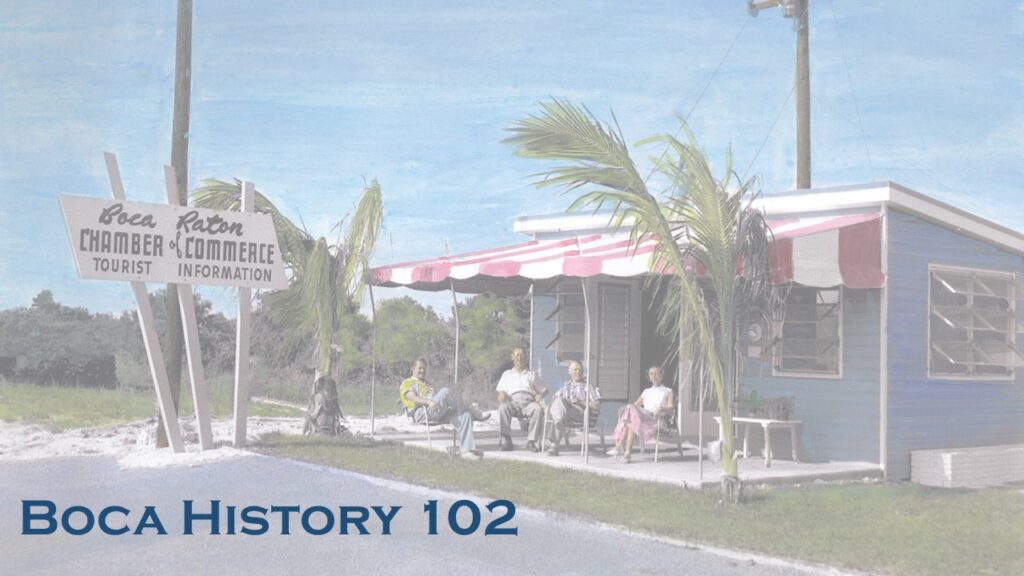 A follow-up to the popular Boca History 101, the half-hour Zoom series will be presented live on Thursdays at noon, running February 4 through March 4, 2021. The series topics include:
+ Pioneer Voices
+ Nifty 50s: Boca Raton in the 1950s
+ Stormy Weather: Hurricanes and Boca Raton
+ Selling Boca Raton
+ Curator's Corner, a selection of the Museum's favorite collection items and the stories that go with them.
This virtual lecture series is FREE for BRHS&M members, and will be recorded. A link to each lecture is available for members who miss the live Zoom event. Individual membership is only $40, while a Family membership is $60.
To sign up for Boca History 102 or to become a BRHS&M member, please contact Patricia Fiorillo at research@BocaHistory.org.
About the Boca Raton Historical Society & Museum:
The mission and the purpose of the Boca Raton Historical Society & Museum is to collect, preserve, and present information and artifacts relevant to the past and evolving history of Boca Raton and to maintain a visible role in the education and the advocacy of historic preservation in the community, particularly through its ongoing project, History Alive! Although currently closed due to the COVID pandemic, BRHS is using this time to completely reimagine and renovate the museum, which will celebrate its 50th anniversary in 2022.
Appealing to local historians, tourists and residents, the museum's Fire Bay Gift Shop will, when it reopens, feature unique and educational gifts for all ages, including crafts by local artisans, historic photographs, unusual Boca-based gifts and souvenirs, books by local authors, and The History of Boca Raton DVD—as well as the annual holiday ornaments.
BRHS is located in Historic Town Hall at 71 N. Federal Highway in downtown Boca Raton (33432). For more information, please call 561.395.6766 or visit www.BocaHistory.org.