By Mike May
The Budock Vean Hotel (BudockVean.co.uk; relax@budockvean.co.uk), located along the south coast of Cornwall, may not be the biggest hotel in England or the newest hotel in England, but it definitely ranks as one of the finest, first-class, most relaxing holiday destinations in merry, ole' England.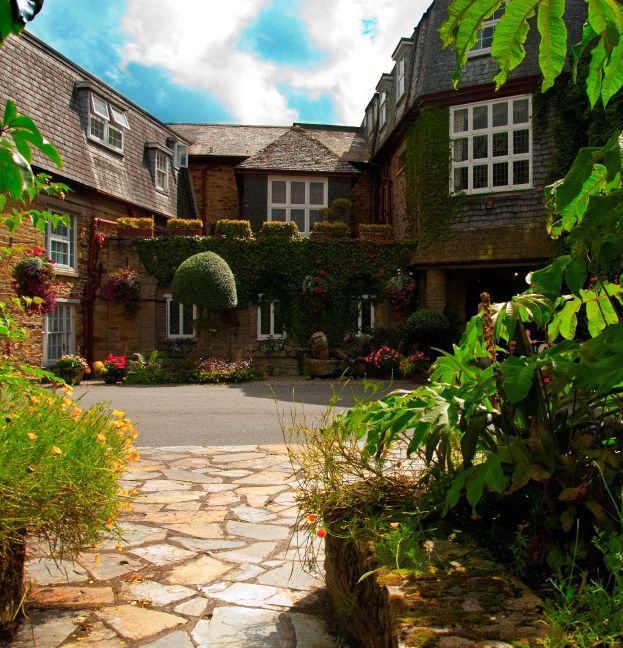 Because the Budock Vean's valley garden leads down to the Helford River, this property is simply known as the 'The Hotel on the River.' Very few hotels can easily and efficiently cater to the different needs of its guests as well as the Budock Vean does. Some guests simply want to rest, unwind, and get immersed in a good book while relaxing in the conservatory while other guests want an activity based getaway featuring golf, tennis, fishing, open water swimming, boating and kayaking. And, for those who enjoy being in sync with Mother Nature while on holiday, there are two of Cornwall's best gardens – Trebah and Glendurgan – which are located just a hop, skip, and a jump away from the hotel's front entrance. Guests also have easy access to the coastal footpath that will give them a wonderful view of the nearby Cornish coastline.
The inexact nature of this hotel's address (Near Helford Passage, Mawnan Smith, near Falmouth, Cornwall) adds to the allure and mystique of this property which is, admittedly, a little off the beaten path. But, it's worth making the journey to this marvelous, detail-conscious, boutique-like hotel located along the southern coast of England's most southwesterly county.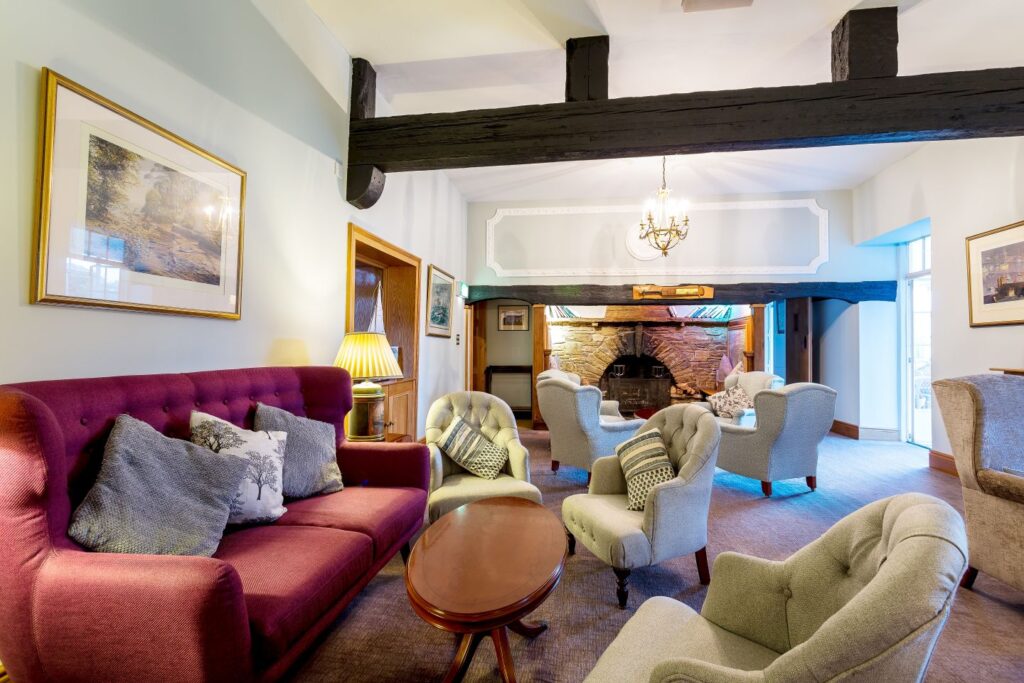 If you prefer a vacation where you wish to be pampered and treated like royalty, then you should take advantage of every treatment available at the Budock Vean's Natural Health Spa. They include massages, facials, manicures, pedicures, and salt scrubs. You will also have to make time to enjoy the sauna and the outdoor hot tub, as well as the indoor pool.
And, if there's a special occasion which necessitates a special bottle of wine, flowers, and chocolates, those can be delivered to your room or waiting for you in your room, upon arrival.
Whether you are relaxing or having an out-and-about type of vacation, you will undoubtedly develop an appetite for the first-class cuisine that is prepared every day for the guests at the Budock Vean Hotel. It's worth noting that this hotel has earned an AA Rosette Award for its delicious food and first-class service. In addition to dining in the restaurant, guests can enjoy lunch, afternoon tea, and dinner in the cocktail bar, terrace, and conservatory.
"The Budock Vean Hotel has echoes of a country house from an Agatha Christie-type novel.  I loved it. I remember the lovely grounds going right down to the river Helford," said Jill Evans of Glastonbury, a former guest at the hotel.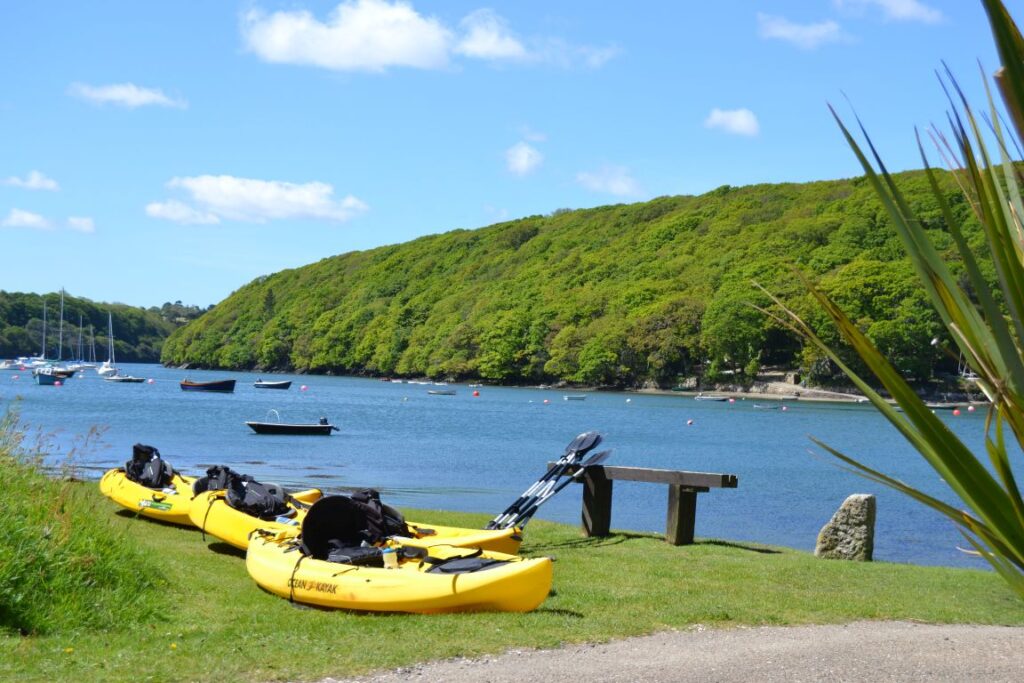 It's worth noting that actor Aiden Turner, the lead character (Ross Poldark) in the popular Poldark television series, has stayed at the Budock Vean Hotel. It was a memorable visit, to say the least.
"There was a rush of volunteers amongst our female staff to take his (room service) order up to his room!" recalled Martin Barlow, owner and managing director, Budock Vean Hotel.
The rooms are second-to-none at the Budock Vean. Everybody who plans to stay for a week usually wishes that they had made plans to stay for a month. In addition to being beautifully designed and decorated, these rooms have every modern convenience that you can imagine or will ever want. The standard extras include flat-screen remote control TV, free wi-fi, an iPod docking station, telephone, hair dryer, Elemis spa toiletries, and tea & coffee making machines. You are encouraged to use and enjoy the bathrobes and slippers which you will find in each room. And, of course, a complementary bottle of Cornish water can be found in every room, as well. Those bottles of water can be consumed on the premises or taken home as a souvenir from your Cornish getaway.
When it comes to getting some sleep, there are three room types to choose from — the more traditional décor of the Standard and Superior rooms or the contemporary luxury of the newly refurbished Signature rooms. As you would expect, the Signature and Superior rooms have better views of the golf course and hotel gardens.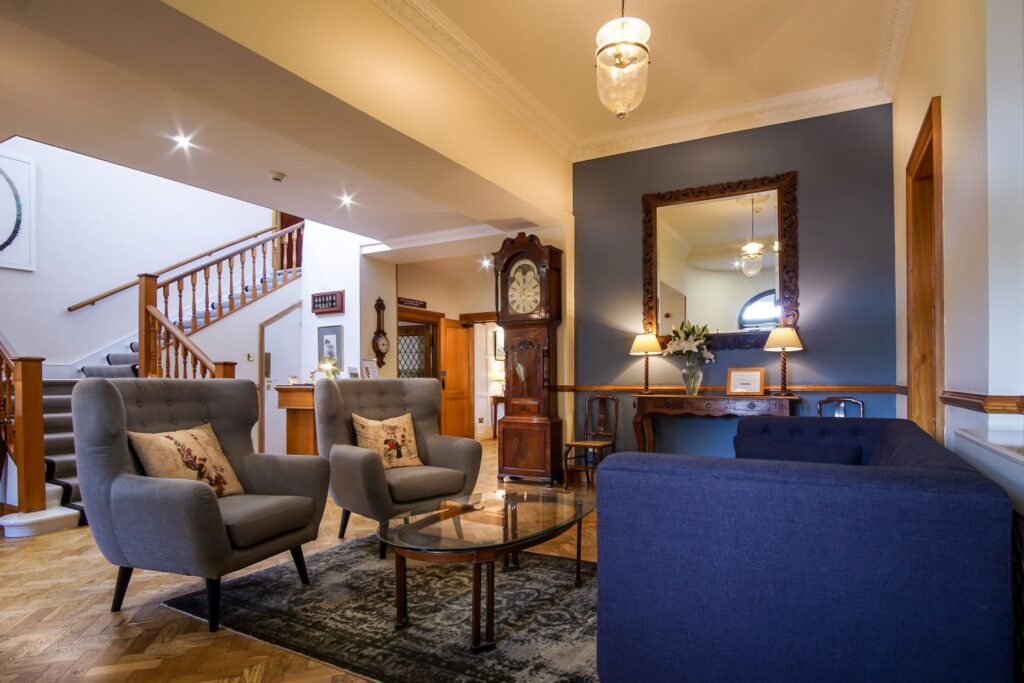 If 'Fido' wants to tag along when you visit the Budock Vean Hotel, then he or she is welcome, as long as you notify the hotel in advance that your four-legged, fur-covered companion is planning on making the trip to Cornwall, as well.
There are two other forms of accommodation here at the Budock Vean, which are great for small groups or families planning some type of big get-togethers or family reunions. They are the 5-star Gold Award modern holiday homes which include a luxury kitchen and can sleep six in three double/twin en-suite bedrooms.
Or, you can stay at the 4-star rated more traditional older style cottages and lodges.  These lodges have specific names: Old 19th, Beaver's Dam, Beaver's Lodge, and Badger Cottage. These are self-catering properties which are pet-friendly and allow full access to the amenities of the hotel.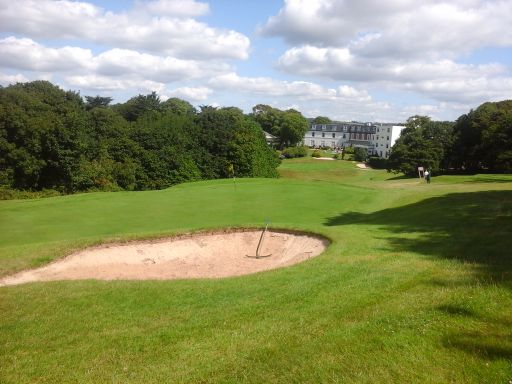 Throughout the year, this hotel caters to guests who have a mutual interest in specific activities. The special events include the ever-popular Bridge and Golf Breaks in April, October and November; a Watercolour Painting break in March; Yoga Weekend in mid-November; Gourmet Weekends in early March and late November; and special events during Christmas and New Year's to enjoy the holidays.
When visiting this hotel, bring your golf clubs so you can enjoy the Budock Vean Golf Club. Designed in the 1920s by five-time (British) Open Champion James Braid, this is a wonderfully designed nine-hole parkland golf course which has been constructed on rolling landscape, complemented by a beautiful mix of mature trees and flowering shrubs. This course's close proximity to the Atlantic Ocean and the Helford River also provide a refreshing breeze.
Even though the Budock Vean GC is just a nine-hole layout, golfers are offered a genuine 18-hole experience, as there's a different set of tees for the front nine and the back nine. Not only is there a different set of tees for every hole, the distance of each hole on the front nine are different from the distance of its back-nine 'partner.' And, every hole has a different name, as well. The names are special and creative, such as Hickman Hill (1st), John's Joy (8th), Admiral's Island (12th), and Little Beauty (17th).
"Although we are only nine holes, it is a cracking little course," says Barlow. "In this day and age with golf having to fight harder than ever to attract new players, both young and old, we have been working hard to promote the nine-hole game, now that England Golf has permitted handicaps to be established over nine holes and for nine-hole competitions."
If you want to enjoy one of England's finest hotels, which is truly a cut above the rest, call today (01326 252100) to reserve a room where you will thoroughly enjoy all the amenities of 'The Hotel on the River.'