We purchased flights to Hawaii, secured lodging and started making plans to hike volcanos and chase waterfalls on those islands filled with natural wonders. Then, COVID numbers increased, and Hawaii's governor pleaded with travelers not to visit. So, the plane tickets were converted to credits—like so many others in the past 18 months. While dealing with this latest travel disappointment I had an epiphany. I live in New York, and it turns out we have a rather large waterfall. Perhaps you've heard of it?
Roadside Waterfalls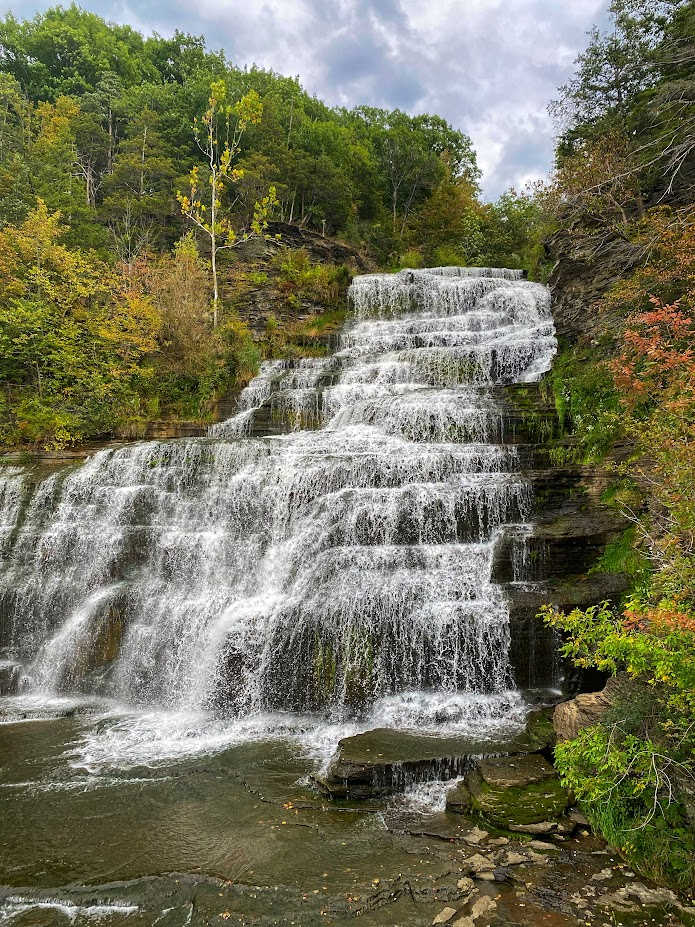 In what has become an existence of pivoting, I did just that and we loaded up the car to chase waterfalls across New York. We began in the Finger Lakes district in the utterly charming town of Watkins Glen. Our first evening, we enjoyed a sunset cruise on Seneca Lake aboard a sailboat named True Love. Along the way, Hector Falls came into view. From a height of 165 feet, water cascaded over several levels of rocks before flowing into the lake. We visited this roadside waterfall again from a bridge crossing it on Route 414.

Hiking Through Waterfalls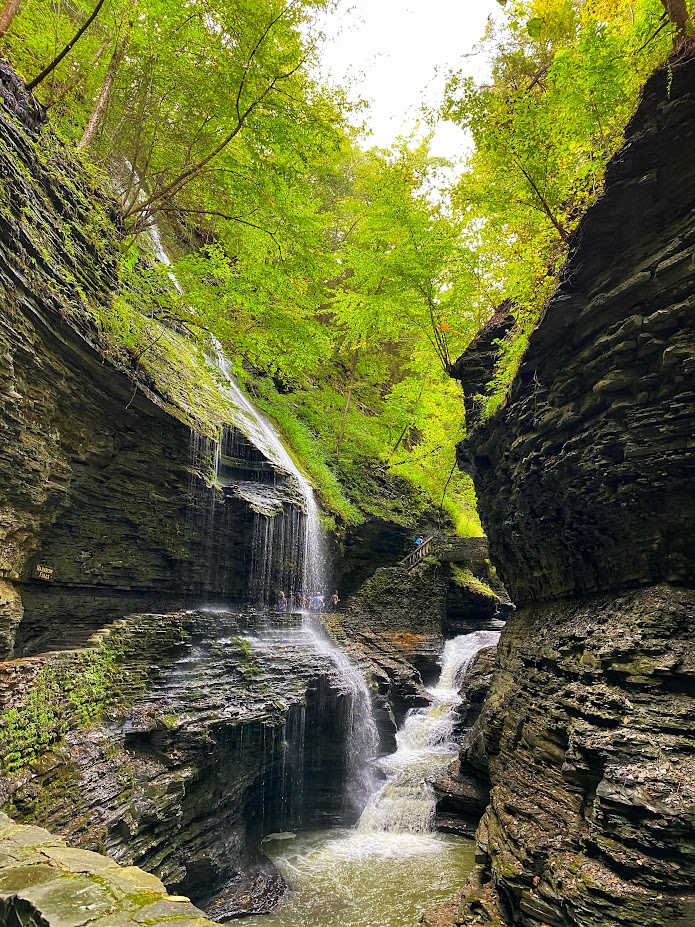 On our final day in Watkins Glen, we ventured into the state park of the same name. Located in the center of the village, this spellbinding park boasts 19 waterfalls displayed along the Gorge Trail. A 2.5 mile out and back trail, at every turn another stream of water plunges from steep stony cliffs to the depths of the gorge. The iconic Sentry Bridge was closed for repairs during our visit resulting in a detour up 300 stone steps to start the trail. Honestly, it was worth every breathless step to experience the wonders of this stunning park.

More Water to Admire in Letchworth State Park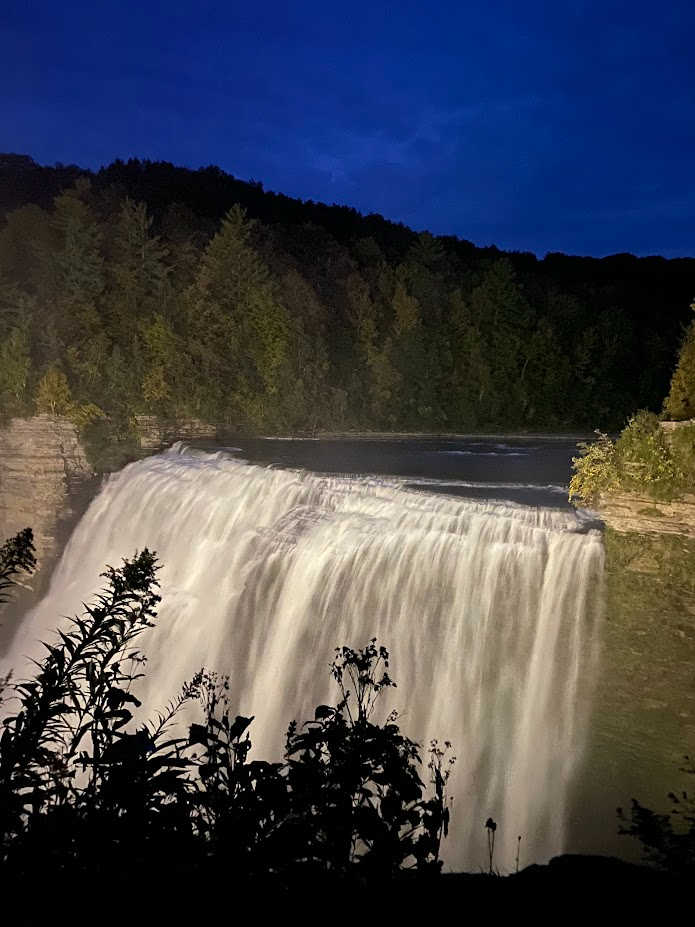 Renowned as the "Grand Canyon of the East," the Genesee winds through a deep gorge in Letchworth State Park. Along the way, three major waterfalls flow over cliffs as high as 600 feet in areas. Lush forests flank the sides of the gorge. Visiting in early October, the first signs of fall added rich shades of deep red, orange and gold to the already idyllic scene.

Hikers relish in 66 miles of hiking trails. Whitewater rafting, kayaking, horseback riding and biking rank among favorite active pursuits in the warmer months. In winter, cross-country skiing, snow tubing and snowmobiling add to the fun. For a bird's eye view of this lush wonderland, consider an early morning hot air balloon ride.

Don't rush out of the park before dark. Instead, find your way to the upper waterfall near the Glen Iris Inn to view the falls shining with illumination.

Experiencing the Majesty of Niagara Falls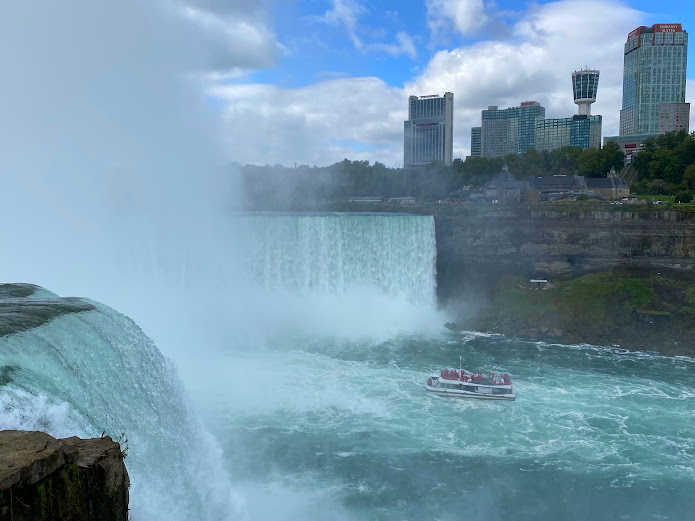 Miles before you reach Niagara Falls State Park in Niagara Falls, New York, the mist from the plunging water comes into view. Once you arrive and stand above the thunderous water, the sheer majesty of this natural wonder leaves you breathless. Having visited several times before, Niagara's waterfalls weren't new to me, yet I still found myself spellbound in their presence.

We began with a ride on Maid of the Mist—a 175-year-old attraction that takes you into the mist onboard newly transformed boats running solely on electricity.

An astounding 3,160 tons of water flows over the waterfalls at Niagara every second. Walking a series of boardwalks at Cave of the Winds brings you within 10 feet of the Bridal Veil Falls on the American side. A few seconds on the aptly named "Hurricane Deck" and the reality of all that water and its power sinks in.

After dark, Niagara Falls lights up in brilliant shades of red, green and blue creating art from nature in dramatic fashion.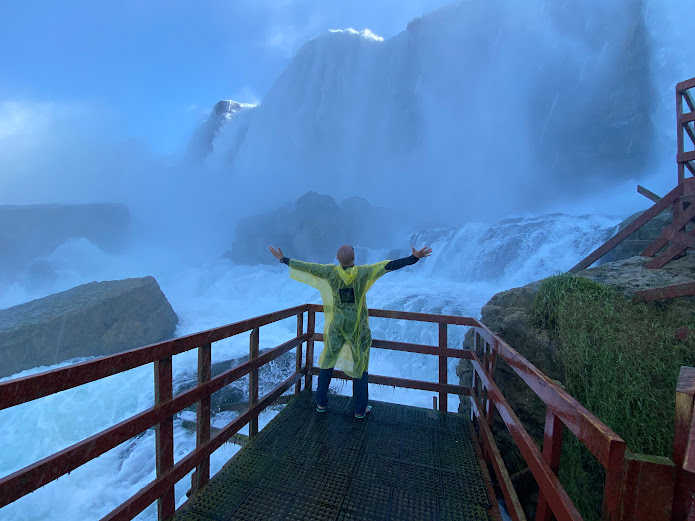 Yes, I Will Chase Waterfalls—Always

While Hawaii's waterfalls eluded me, New York's waterfalls certainly didn't disappoint. Yes, I know the ballad by TLC warns "Don't go chasing waterfalls" but who says we have to listen to that advice?