Cultural Corner
Color Therapy Courtesy of Maureen Fulgenzi
By Angela Shaw
US Bank's Palm Beach branch, with its neutral walls and modern furnishings, provides the perfect backdrop to exhibit Maureen Fulgenzi's wonderland of art. Customers may not get much banking done due to her happy distraction.
A few moments in the presence of Ms. Fulgenzi's paintings leaves the feeling of just having consumed a sumptuous meal. If a viewer happens to be a little on the melancholy side, his or her mood is quickly changed to nothing less than joyful.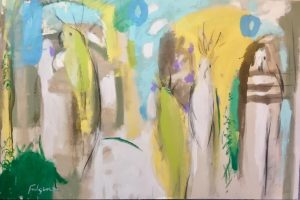 Ms. Fulgenzi's background and artistic process explain the response to her arresting creations. Maureen began her education and career in New York City. She spent several successful years in the fabric design business working with names like Mary McFadden and Diane Furstenberg, where she produced a well-received line of dresses. In addition, she partnered with an artist/designer to make hand-painted fabrics, and ran two businesses—Horito/Fulgenzi Designs and Gossamer Wind in Soho.
In the 90s, Maureen decided to follow her "smoldering desire" (as she puts it) to pursue painting. And paint she could! Beginning as a realist, her sophisticated style has moved into the abstract. Maureen dominates a variety of genres. She calls herself the "Sybil of Art" because she loves all styles. You could call it artistic schizophrenia—in a good way.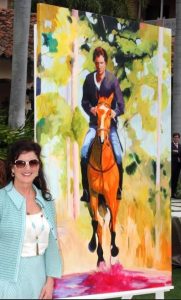 Maureen employs a mixed media technique, and utilizes interesting objects such as shells, fabric scraps, sea glass and even dried paint chips. The delightful discovery of these items in her paintings—usually found in obscure places—feels like finding hidden treasure. Her subjects include horses, birds, flowers, landscapes, and portraits. She has the ability to turn everyday sights into uncommon masterpieces. Her texture variation and boldness of color incite a truly emotional experience. And it's no wonder, because when she paints, Maureen throws her entire self into the process.
"I like the arm sweep of a large work," says the artist. "But sometimes I start small when adopting a new technique. It shows me where I'm going. Doing a smaller piece helps me identify the subject and concepts. Then I can expand it, and work up to a grander scale. I'm not always sure where I'm going. I keep painting, and it comes alive."
Ms. Fulgenzi enthusiastically explains her piece called Reposing. "To me this shows pure energy. I have to go really fast when I'm feeling it. The crux of it was done in one hour. But when people ask me how long it took me, I tell them it took me my whole life. I couldn't do this in one hour unless I'd had years of experience."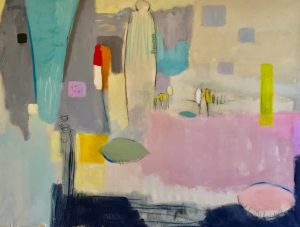 Another head-turning piece called Sunset Ponies caught my attention, and I asked Maureen how she arrives at her color choices. "I like to look at things in a different way. If a piece looks too normal, I always add something to make it look a little off."
Apparently, Sunset Ponies had been completed, and she was off to a different project, when she found herself with some excess Cadmium Orange on her brush. "What am I going to do with all this paint?" She thought. One glance at Sunset Ponies, and she decided to add the orange to the horses, which ended up being the crowning glory of the work. The pop of unexpected color provided just the thing to make it a little "off." Orange ponies! Obviously, she titled the painting after the leftover paint was added, which is her typical procedure. Most works get named after the fact. "Abstracts," she says," are a little harder to title."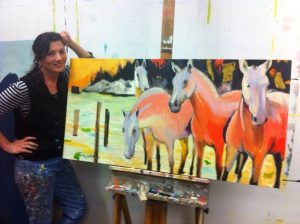 Other beauties at the exhibit are: Rest on Water, Quiet Breeze, Caged Free, and The Sail. The last one incorporates sea glass, seashells, as well as seaweed. Painted throughout Pax is the word, "peace" in several different languages. Even without the text, the work shows the triumph of serenity.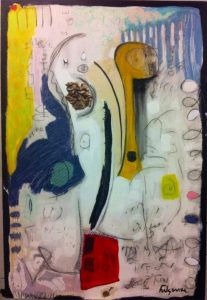 Maureen's works are passionate, energizing, and overflow with emotion. Some carry a subtle message. While not necessarily as obvious as in Pax, her art subconsciously effects a visceral and psychological transformation.
Don't miss the picture-perfect exhibit at US Bank in Palm Beach—which has been extended indefinitely, and is open to the public. Then, starting in May, you can also see Ms. Fulgenzi's flower-themed collection called "Brings May Flowers" at the newly renovated Derma Nu offices at 901 North Flagler Road, Suite 5, West Palm Beach, Florida, 33401. Her website is www.maureenfulgenzi.com, and artwork is available for purchase.