The Wellington Chamber of Commerce Welcomes
LED Source as New Members
The Wellington Chamber of Commerce recently had an "enlightening"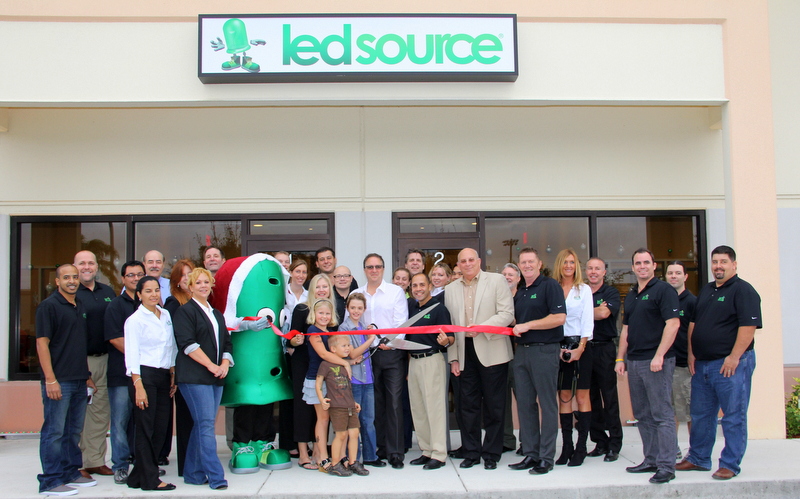 Ribbon Cutting Ceremony for LED Source to welcome them aboard as a new member.  Their new 13,000 square foot facility is located at 3281 Fairlane Farms Road, Suite 1, Wellington Florida.  Captains of the ship include President,CEO Marcel Fairbairn and Vice President Gavin Cooper.  Both got their start working in the music industry and ended up teaming up together in an LED lighting business.  Marcel said that their partnership is a perfect balance since he is more business oriented and Gavin is the technical guy with excellent contacts in the industry.  "I am the creative wave your arms in the air kind of guy and Gavin is the one who makes sure it all works." 
Marcel Fairbairn began his career in Hannah, Alberta, Canada as a singer in a rock band.  As early as the sixth grade, his band manager would get him leave school passes in order to play a gig.  Over the years, his entrepreneurial spirit grew and Marcel  soon owned and operated a music store.  While working there, he noticed that most night clubs were buying their lighting from music stores.  This appeared to be more lucrative and interesting than selling instruments.  So he gravitated into selling lighting.
Eventually Marcel moved to Chicago and worked for a lighting company.  He was offered a position in Florida which he accepted.  After that he successfully worked for several different lighting companies.  He worked his way up the corporate ladder to become a VP and CEO.
In 2002 Marcel grew tired of working as an employee and started up two lighting companies of his own.  One was Gear Source which sold professional lighting and sound stage video equipment.  It was a successful, global company and this was where Marcel met Gavin Cooper.  Gavin was his go-to guy at a lighting factory in England.
Gavin Cooper was born and raised near Leicester, England.  He worked as a DJ at clubs but said with a grin that DJ'ing wasn't paying the bills.  He decided to work in construction and soon after started his own  company that built high end residential homes.  There he got introduced to residential and architectural  lighting in addition to the DJ lighting which he already had an interest in.
Gavin later started working with a lighting company that sold DJ club lighting.  The company had just progressed to architectural six color lighting which was very successful.  He added that this was all pre-LED days.  They sold to large retailers, hotels, hospitality places, lounges, bars, clubs, and restaurants. 
 At this point, Marcel's business was doing business with Gavin's business.  Both began to devise a plan to get Gavin over to the U.S. in order to start their own company.  Gavin later moved from England to Florida and they both started working with a partner at a lighting business in Weston, Florida.  In 2005, they officially started LED Source in Wellington.  Gavin noted that the reason they chose Wellington was that it was well located between the larger cities of Miami and Orlando but had a "country" feel to it.
One day Marcel and Gavin happened to go to a store that sold a new item that caught their eye.  It was a color changing MR16 that had LEDs in it.  They started investigating how to buy those and then started to distribute red, green, blue LEDs.  At that point, no-one knew that there could be a color changing LED.
Marcel said, "In 2005 there was a need for color changing fixtures in architectural lighting which could be installed on the outside of hotels, buildings, and in theatres for rock and roll lighting."  He stated that hotels and theatres were buying their lighting from all sorts of odd places and added,  "We saw the need for one place to buy.  We saw the need for a LED only distribution company.  It took off instantly.  We were suddenly working with Royal Caribbean, a lot of rock and roll bands, a lot of hotel and night club projects, all sorts of retail,  also with big time designers and architects."
LED Source was booming and large manufacturers of LED lighting approached Gavin to become distributers of their products.
Gavin then discovered Cove Lighting which is basically a stick of white LED light.  Gavin realized this could lead to general lighting because it was more efficient.  "It was flexible, durable, (and) reliable.  This is why we were interested in it.  It wasn't for energy purposes.  It was good to use (it) for bridges and buildings where it's difficult to replace a blown light bulb." Marcel said,  "The original benefit was that it was reliable and lasted a long time.   The architectural world just clamored to this product."  Gavin added, "Rock and roll guys loved it as well.  Techs don't need to check all the lights before every show.  There are less moving parts.  Just plug it in and let it do its thing.  It's real easy.  It doesn't blow amps, doesn't get too hot.  You can just drop it in a tool box and go.  This makes load in and load out quicker. "
LED Source uses the best manufacturers in the industry.  Marcel said, "Cree, Phillips, Toshiba, Lighting Signs, all of the best brands are within our company.  From the beginning we decided, we are never going to make excuses for our products, we are only going to carry the best products we can.  Many of our clients  are Fortune 500 companies and they expect the best.  If we say it's going to work,  it's going to work."
LED Source is still growing today with 13 franchises and 14 opening in a few weeks.
For more information about LED Source  contact Marcel Fairbairn at 561.273.1111/ marcel@ledsource.com or Gavin Cooper at 561.273.0999/ gavin@ledsource.com.   Visit their website at www.LEDsource.com.  Also check out The Wellington Chamber of Commerce website at http://WellingtonChamber.com for all types of business and community information.
Pictured: Louman (Green Outfit and Boots), Marcel Fairbairn (White Shirt, Scissors), Mayor Bob Margolis (Holding Ribbon, Tan Jacket), Gavin Cooper (Black Shirt Holding Ribbon Next To Mayor)