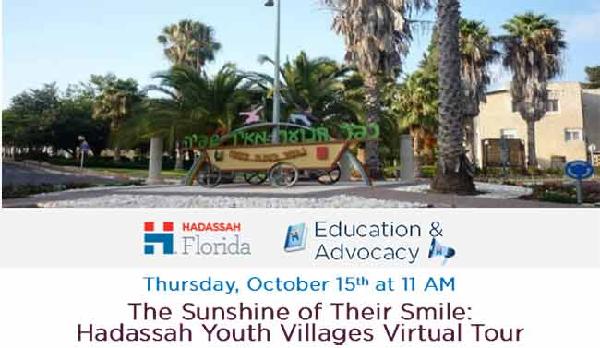 Explore Hadassah's Children At-Risk Youth Villages in Israel – Virtual Tour on Thursday, October 15 at 11:00am. Hadassah continues to serve at-risk Sabras (native-born Israelis) and young immigrants who are dealing with abuse, neglect and extreme poverty. Listen to the student's stories as they share their personal journeys. Hear our featured Speakers including former National President – Marcie Natan.
Purchase a virtual tour admission ticket at $18.00 per person.
Visit http://www.hadassah.org/events/youthvillages to register. Upon registration, you will receive an emailed confirmation with the link to the virtual tour. Questions – please call: 877-949-1818. To learn more about Hadassah visit: www.hadassah.org.