A SEASIDE ESCAPE FOR FRIENDS AND FAMILY
Florida's Anna Maria Island: "It's Paradise Without an Attitude"
By Mike May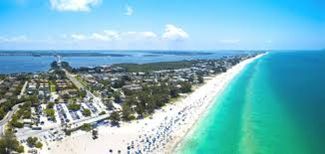 Holmes Beach, Bradenton Beach, and Anna Maria. Those are the three quaint, quiet, and low-key communities that comprise one of the last bastions of seaside tranquility — Anna Maria Island, Florida. This long, narrow sand spit (perched on the eastern shore of the Gulf of Mexico, just south of Tampa) is a throwback to the bygone days of simplistic and memorable days at the beach. Anna Maria Island – which is 7 ½ miles long and less than a mile wide — really hasn't changed that much since the 1948 MGM movie On an Island With You, which starred Esther Williams, Peter Lawford, Jimmy Durante, and Cyd Charisse.
Anna Maria Island is an area which caters as much to full-time residents as it does to the vacationers who come seeking a stress-free stint in the sun along the shell-strewn, sugar-white sandy beaches. Among the beachside cottages, bed & breakfast outlets, vacation villas, souvenir shell shops, and seaside eateries, Anna Maria Island's basic infrastructure features one narrow two-lane road (Gulf Drive) which links the three afore-mentioned communities and the wide array of full-time residences — small single-family homes, low-rise condominiums, houses on stilts, and bungalows. Visitors to Anna Maria Island are captivated by the variety of names given to the vacation getaways such as West Winds, Sea Pirate, Island Paradise, Runaway Bay, Summer Sands, Water's Edge, Lay-Z Liv-N, Sandy Toes, and the Rod & Reel Resort.
It's important to note that you can travel the width and breadth of this island at no charge, thanks to the existence of the Trolley (a renovated bus) which travels — seven days a week — from Coquina Beach in the south to Pine Avenue in the north. A complete round trip on the Trolley, which features an open-air section and one with air conditioning, takes about an hour. Or you might want to consider taking the trip on a bicycle, if you want a little exercise.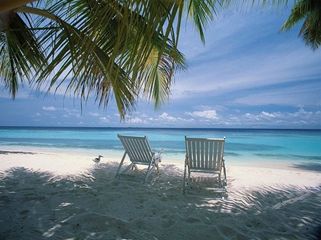 Without a doubt, bathing suits, gym shorts and T-shirts are the fashion styles du jour. Sandals, flip flops, and sneakers are the most popular forms of footwear, if people aren't walking around bare-footed. And, a small pick-up with a fishing boat trailer is considered by many to be the vehicle of choice, if you aren't riding the Trolley from one part of the island to another.
Not only does Anna Maria Island give you access to the clean, blue waters of the Gulf of Mexico, it is bordered by a bay to the east. That, in itself, is a totally different existence. Dolphin and manatee sightings, jet skiers, and local fishing expeditions in search of snook and snapper are often seen in the brackish waters that link Anna Maria Island to the mainland. The bay (actually the convergence of Sarasota Bay and Anna Maria Sound) is a vast body of water which serves as a playground for boaters. Whether it's a party boat, small fishing boat, sailboat, somebody on a jet ski, or a group of water skiers, there's enough room for everybody — without cramping anyone's style.
Long walks along Coquina Beach in search of sand dollars and brightly colored sea shells are hallmark traditions of this saltwater paradise. Scenes of mothers, fathers, and their offspring building their own 'Rembrandt' versions of sand castles are as common as the island's many turtle nests (mainly loggerhead) which hatch each summer.
If walking along the seashore, sun bathing, and shell seeking don't capture your fancy, then snorkeling, scuba diving, body surfing, parasailing, and beach casting are there for the taking. The proximity of an off-shore sand bar makes this area an ideal locale for swimming with and trying to catch the eatable inhabitants of the Gulf of Mexico! It's not uncommon to see dolphins and manatees in the area, as well. Scores of live sand dollars have also been spotted in the sand bar. Children's fascinations are captured by the presence of sea snails and minnows, both of which can be found in the ankle-deep waters where the surf meets the sandy shore.
Those in search of culture can take a stroll down Historic Bridge Street which features a number of cleverly designed shops, attractively decorated boutiques, quaint cafes, and locally owned restaurants. There's also a post office so you can send postcards to friends back home.
Three other distinctive landmarks on the island are the three piers — Anna Maria City Pier (est. 1911), Bradenton Beach Fishing Pier (est. 1921), and Rod & Reel Pier (est. 1947). All three are worth visiting.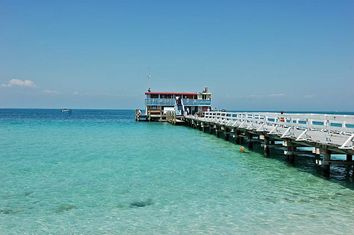 The Anna Maria Pier is 678 feet long. When it was originally built, it served as a docking point for supply and tourist boats. At the pier, you'll find the City Pier Restaurant where you can enjoy a dynamic grouper sandwich; a gift shop; and a bait shop where you can find everything you'll need to fish from the pier. The locals go there in search of grouper, tarpon, cobia, spadefish, and pompano. This pier has no railings so visitors must pay attention when they visit it. On most days when you visit the City Pier, you can also see the Sunshine Skyway Bridge – the link to Tampa – in the distance. Not far from the City Pier is the Anna Maria Historical Museum which contains an open-air jail, which is no longer operational.
The Bradenton Beach Fishing Pier, which features a picturesque clock tower, is on the south end of the island. Until 1921, the only way to reach the island was by boat. In 1921, Anna Maria Island was connected to the mainland via a wooden bridge. The Bradenton Beach Fishing Pier is what remains of that original bridge. These days, if you are fishing from the pier and you need a break from the sun, there are a number of wooden swings and picnic tables (all under cover) at your disposal. Just like the City Pier, there is a restaurant on the Bradenton Beach Fishing Pier. An all-you-can-eat grouper special on Friday nights is a good deal, if you are hungry.
The Rod & Reel Pier, located on North Shore Drive, also has the Rod & Reel Pier Restaurant which has some delicious seafood on its menu – where the 'Krab Cakes' are a bargain, the Reuben grouper is delicious, and the view of the Gulf of Mexico is priceless. The restaurant will seat nearly 20 people inside and 15 outside, where you can see the setting sun in the distance. Like the Anna Maria Pier, Rod & Reel has no railings either. It's located about less than a mile from the City Pier.
Another cultural option is a short excursion across the bay to Cortez — one of the oldest fishing villages in the southeast United States. Since the late 1800s, local fishermen have been distributing their daily haul — shrimp, crabs, mahi mahi, grouper, snapper, and tuna — to their customers at the local packing houses. Nowadays, seafood lovers can look for the daily catch each evening on the dinner menu at any of the local restaurants such as Sand Bar, Beach House, Gulf Drive Cafe, or the Seafood Shack Showboat, For those who don't want seafood, there's the pizza at Oma's or the cheeseburgers at Skinny's Place! And if you need some ice cream or sherbet to cleanse your pallet after dinner, an excursion to Joe's Eats and Sweets is a must. (Hint: The Tin Roof is decadent and delightful!)
As you ponder your next vacation destination, Anna Maria Island may be just the ticket if the sun, surf, sand, and seafood are what you need. But, don't tell anybody, if you want it to remain a quaint, quiet, and low-key paradise!
­­­­­­­­­­­­­­­­­­­­­­­­­­______________________________________________________________
Mike May, the author of this story, has taken many trips to Anna Maria Island. Mike lives in Wellington, Florida. He can be reached via email at: mmaymarketing@gmail.com.