Paws-itive Press
Fostering an Animal
By Barbara Masi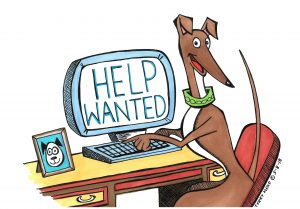 Fostering an animal is very rewarding to the person who fosters, the animal, the organization and the new owner of the pet. You volunteer to help transition the animal from whatever its life was before to what it should be for a successful adoption.
To foster an animal from a reputable group there will be training involved – depending on the animal that you are taking into your home. They should provide a manual with guidelines for you to follow, along with all the equipment necessary to take care of the animal. Ongoing support from the agency is critical as or sometimes issues arise that were unexpected during the foster period.
Fostering can be for a specified time or until the animal is adopted. It is important to know the commitment you are taking on for your time …. which can be daily for weeks or months. Believe me, the organization is constantly working on getting adoptive homes for the pet as that is their goal with each animal that comes into their care. Sometimes it just takes longer than others.
Now in the middle of summer, many families ae on vacation and there are fewer fosters available. That makes it hard on the rescues as there is still such a need. And shortly the children are going back to school and the family is wrapped up in those arrangements. But we always hope there is a way you can open up your heart and home to an animal in need.
What happens if you fall totally in love with the animal you are fostering? Most adoption groups will give you the right of first refusal and allow you to formally adopt the pet. And it happens more often than not which is the reason we always seek new foster parents.
At this time, we are looking for foster homes for retired racing greyhounds. I have four in our care currently and another six ready to come into our program. Fostering one of these sweet, gentle dogs bridges the gap between their track experience and what it is like to be a family pet. The demand of volunteers is great as it is prohibitive for us to pay boarding fees from the donations we receive. As an all-volunteer organization the monies collected go for the care of the dogs – not for salaries as we do not have employees.
Fostering can be fun and rewarding. Let us show you how. Contact me at AwesomeGreyhoundAdoptions.org or through our FaceBook page if you can help. Your help is much appreciated.