Happy November!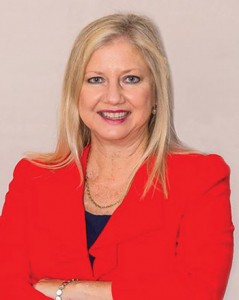 By Mayor Anne Gerwig
As we approach the end of the year, the days get shorter while Wellington gets busier. November is when we give thanks for our health, families, jobs, and our Great Hometown.   Please remember to "fall back" by setting your clocks back one hour on Sunday, November 1st for the change to Daylight Savings.
This month, as we continue to keep a safe distance to prevent the spread of COVID-19, Wellington has several family-friendly activities that you will not want to miss. On behalf of Council and staff, please join us in honoring all current and former members of the armed forces through our Virtual Veterans Day Tribute on November 11th. While we cannot meet for our annual parade and ceremony, we will continue to support for our troops and honor those in our community who have served our country.
Have you had a chance to visit the Twilight Green Market at Wellington? If you have not, I invite you to stop by the Town Center Promenade, a scenic waterfront attraction spanning the length of the Lake Wellington shoreline. The promenade is located directly behind the Wellington Community Center at 12150 Forest Hill Boulevard. The market offers a selection of unique, locally-sourced, fresh farm-to-fork produce from farmers and growers in addition to artists and crafters, locally grown herbs, fresh baked goods, breads, and pastries, and much more. The Market is open on Fridays, from 5:00 PM to 9:00 PM. Visit Wellington's website for additional details.
This month, we kick off the holiday season with decorations all around the Village. We hope you will join us as we celebrate the first night of Hanukkah with the lighting of the Grand Menorah on December 10th. We also invite you to take part in our annual Tree Lighting event. While this year's holiday traditions may look a little different, we continue to find ways to come together as a community and celebrate the spirit of the season. Follow the Village of Wellington on social media for specific event dates and details.
The day after Thanksgiving marks the official beginning of the holiday season.  As we enjoy fall, our thoughts turn to cooler weather and the holidays.
Throughout this busy time and holiday season, we must continue doing our part to keep our families and community safe. As we begin to plan for holiday celebrations, health experts at The Centers for Disease Control and Prevention recommend avoiding larger gatherings and considering attending activities that pose a lower risk, such as virtual gatherings, or celebrating with members of your household only. Visit the CDC's website for more COVID-19 holiday safety information.
Another important consideration is to keep things close to home during this festive time of year and enjoy shopping and dining with our local merchants.
There is no better time to get the family outdoors to enjoy our parks and go nature spotting at one of our beautiful natural preserves.  With no shortage of family-friendly fun around the Village, I am thankful to call Wellington home, and I look forward to seeing you around our Great Hometown this month.