AW Stories of the Month
Ideas Worth Spreading
By Lori Hope Baumel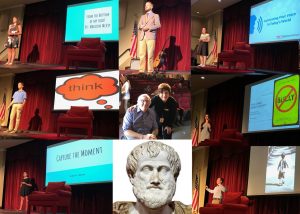 "I wanted them to learn about the grit and perseverance that it took to grow the germ of an idea through editing, drafting, re-drafting and rehearsal into an eloquent piece of oratory. I wanted them to believe that their 'ideas worth spreading' were every bit as worthy of taking the stage as the Emmy award winning artists and journalists with whom they would share the stage."
– Dr. Christina James, Academic Dean at The Benjamin School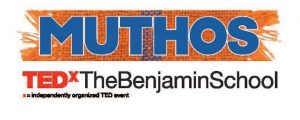 The Benjamin Middle School in North Palm Beach has a commitment to honoring creativity, diversity, project-based learning, 21st century skills, and sharing ideas. Based on this premise, the middle school presented a TEDx Talk event in their Barker Performing Arts Center on March 24, 2017. The theme for the event was Muthos, which is the Greek word for public authoritative speaking that has the power to effect change. The event featured numerous talks, some given by students and others by elite guest speakers.
Dr. Christina James developed a curriculum for her students to both understand the TEDx platform and develop their own TEDx talks. She wanted them to find a story deep within themselves that they most wanted to tell. As a result, the day was truly a celebration of the voices of middle school writers and orators. 27 students spoke on subjects that ranged from having big hair, living with the eye condition Nystagmus, and sharing a name with the actress Michelle Pfeiffer.
Guest speakers included:
John Hockenberry, the Emmy/Peabody award-winning journalist and host of the NPR news show The Takeaway who, despite being in a wheelchair since age 19, has been a foreign correspondent for both The New York Times and The Washington Post.
Alison Hockenberry, award-winning journalist for ABC News and producer for Freakonomics and NPR's Tell Me Something I Don't Know.
Laurie Coots, CEO of The Hawn Foundation and Mindup, the mindfulness program for children that teaches them about the functions of the brain and how to moderate their own behavior.
Cynthia Lowen, the writer and director of the documentary Bully (2011) and Netizens (2016), a film about the lack of legislation to protect women from cyber-stalking.
Steve Caras, former NYC Ballet dancer under Balanchine, dance photographer and subject of the PBS documentary, Steven Caras: See Them Dance.
Tina Reine, a business executive who, in her 40's, decided to become an aerialist. Marlo Thomas featured Reine in her book about 60 formidable women, It Ain't Over 'Till It's Over.
Ashley C. Harris, a filmmaker and young adult author of the novel Troll.
Nathan Ginnetty, a career teacher and professional songwriter who spoke about his journey as a musician and educator.
Each and every student demonstrated articulation and courage. A highlight of the event was an oratory given by Meyer Academy student Benji Gans, who, through the efforts of his parents, teachers and mentors had overcome some of the many trials and tribulations of autism. I urge you to take a moment to look over the program and read the names of the participants and their subjects.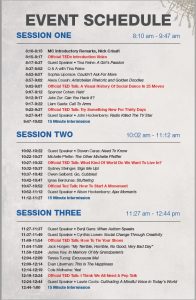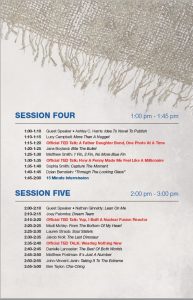 During intermission, I asked John Hockenberry what unique message he would like the audience to take away from his speech. He responded:
"We're living at the end of the age of celebrity and, sort of, 'top down' politics and the kinds of things where we decide our identities based on what's happening through institutions that are way above us. I think this is the moment of local power and locals connecting together. Our community, our democracy, our institutions are going to be rebuilt from the bottom up… and I think it's THAT lesson and learning to use those tools that's going to bring a positive outcome to this century."
– John Hockenberry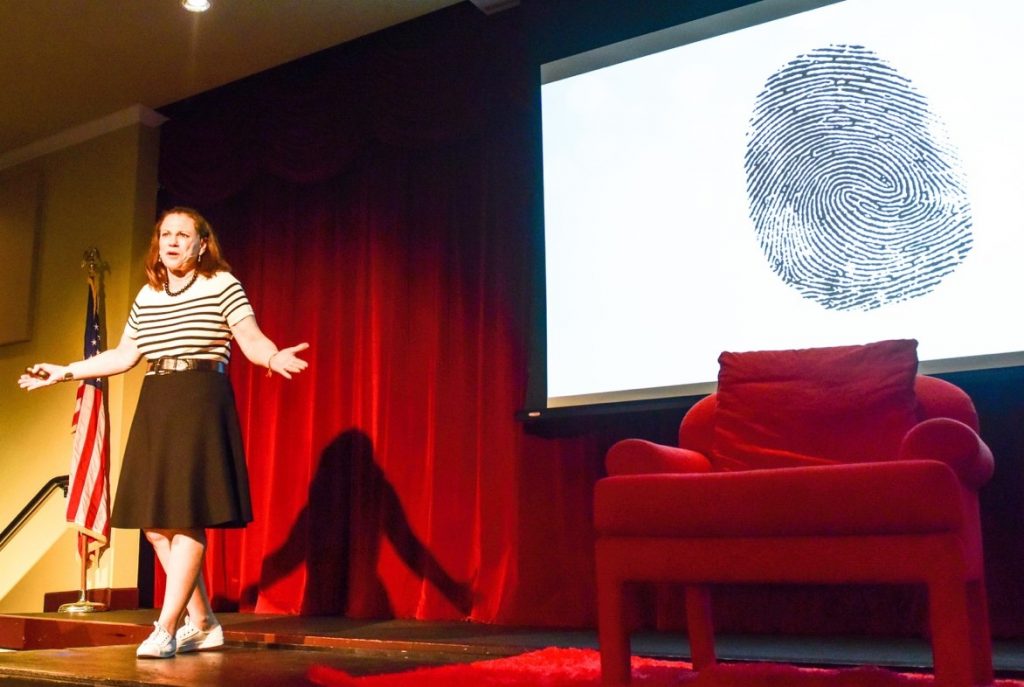 Upon projecting a photo of a fingerprint onto the screen above her, guest speaker Laurie Coots stated, "We are all unique, we all have our own DNA… and we should spend more time developing our own voice, one that is authentic. What do you value or love?" She highlighted studies that labels fear of public speaking as the first of the "top three" fears (followed by fear of heights and fear of snakes). Coots went on to discuss body language and tone of voice. She continued, "Breathe, don't be afraid of awkward silence – check in with your audience. The audience will see the value in what you think. The ability to speak publicly will increase your value by 100%."
The most surprising presentation of the day was that of Tina Reine, a businesswoman who as a child suffered many medical problems. She explained that when life presented challenges, she would go into her bedroom and dance to upbeat tunes. Reine noted that dancing was therapeutic and guided her through difficult times. As an adult, she never forgot the happiness that dancing brought her. At 43, inspired by Cirque du Soleil, she decided to become an aerialist (a term, quite frankly, I had never heard of). Just when we thought her oratory was over, she snuck backstage. The curtain went up, music was cued and Reine proceeded to demonstrate her stunning acrobatic skills on a rope of white fabric. The audience was astonished. In Tina's bio she states that her goal is to use aerials to inspire others to be courageous in mind and body and to "fly" in ways they never imagined.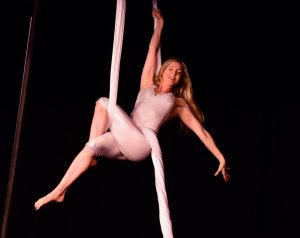 Muthos at The Benjamin School was more than a lesson in courage. It taught me that hope overcomes fear and that determination creates opportunities at any age.
Live… Go… Do!
To view a photo slide show of MUTHOS go to:
For more photos, student profiles and information about the event go to:
https://www.facebook.com/tedxthebenjaminschool/