'Confessions of a Jewish Shiksa' To Debut at Area Stage Company in Coral Gables
Back by popular demand, Rising Star Frannie Sheridan returns to Miami with her funny, dark, critically acclaimed play "Confessions of a Jewish Shiksa…Dancing on Hitler's Grave!"to be produced by Area Stage Company in Coral Gables beginning January 7th 2011 running through February 12 2011.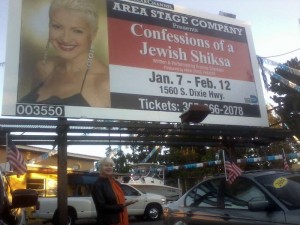 Directed by Shari Upbin, the play stars Sheridan in a groundbreaking solo 18-character performance. In "Confessions of a Jewish Shiksa," she shares the true and humorous story of being raised to hide her Orthodox Jewish identity behind a cloak of Catholicism. 
The story is told from the perspective of young Frannie, a nice Catholic girl who grew up with dumpling soup and candlesticks on Fridays, Manischevitz-spiked eggnog at Christmas, and a score of other traditions unfamiliar to her Catholic friends. Frannie's questioning leads her to discover her family's truth: her parents barely escaped the Holocaust and once in North America, were brutally attacked and left for dead by anti-Semites. These incidents caused them to shroud their history in secrecy, hiding their Jewish heritage even from their children.
'Confessions,' which has been referred to as a "Modern Day Anne Frank Story but with a happy ending" reveals the performer's family history through top-notch storytelling sprinkled with clever satire. A multicultural assortment of nosy neighbors and eccentric relatives round out the cast of characters of this one-woman show that will hit home with anyone who has struggled with questions of identity, family, and truth vs. appearances. The show has powerful crossover appeal, resonating with people regardless of faith, race, or sexual preference.
The reviews are in! "A gripping, powerful, story. From stand-up comedy to standout performing," said Mario Betto of the Fort Lauderdale Theater Examiner.
"A Dramatic and Comedic Gem," said Marla Schwartz of Around Wellington Magazine.
"She moved me to tears and laughter expertly performing a seamless range of characters from her unforgettable one-woman show." Arthur Hiller (Legendary Film Director of Love Story)
Since its January debut in Boca Raton, 'Confessions' has been produced at The Colony Theater, The Kravis Center, The Aventura Turnberry Jewish Center, Zinman Hall, as a fundraising goldmine for half a dozen organizations and internationally. Sheridan has won numerous writing and performing honors, including the prestigious Gabriel Award for a CBC documentary based on her story and mayoral proclamations from West Palm Beach and the city of Miami Beach. Her earlier play The Waltonsteins was published in'96 by IRT. She has written and acted in film and TV and completed a multi-cast feature film script based on her family story. www.franniesheridan.com
TICKETS: 305.666.2078 www.areastagecompany.com
Performances Friday and Saturday @ 8PM, Sundays 3PM Matinee
Area Stage Theater – 1560 South Dixie Hwy Coral Gables 33146