FOR IMMEDIATE RELEASE
Contact: 
Maureen Gross
Director of Development
Palms West Community Foundation
 (561)790-6200 office
(561)714-0887 cell
PALMS WEST COMMUNITY FOUNDATION'S
WOMEN IN BUSINESS SERIES
"LUNCH WITH LOIS FRANKEL"
"Lunch with Lois Frankel"—sold out event!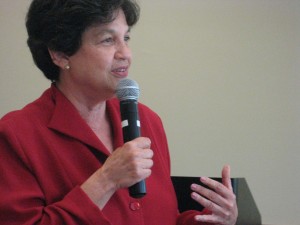 The Palms West Community Foundation held its second event of the year in their Women in Business series–"Lunch with Lois Frankel", sponsored by Boynton Financial Group.  Over 65 leading women from the business community gathered for lunch at Binks Forest Golf Club on June 24, as West Palm Beach's Mayor Lois Frankel, recounted her experiences and insights as a woman involved in the political and business community over the years.
Mayor Frankel began by sharing a brief overview of her life and career as a lawyer, state representative, minority speaker of the house ( the first Democratic woman to hold this position) and Mayor of West Palm Beach, all while juggling her personal life that includes being a daughter, wife and mother.  Then, much to the delight of the luncheon guests, Frankel took questions from the audience, displaying her entertaining and humorous ad lib abilities!  The questions ran the gamut…from what she plans on doing when her term as Mayor ends in 2011…to what she dislikes most about her job…to what she feels she had to give up, personally, in order to achieve her career goals.
No one left the luncheon early, even as the program ran longer than expected, as Mayor Frankel continued to take questions from the audience.  Even Dorothy Frankel, the Mayor's mother, passed her a note to "stop talking, dear", but the crowd applauded as Frankel decided to continue taking questions and to allow her own lunch to get cold.  By the end of the day, everyone felt that they had indeed just had lunch with a new friend, Mayor Lois Frankel!