By Mike May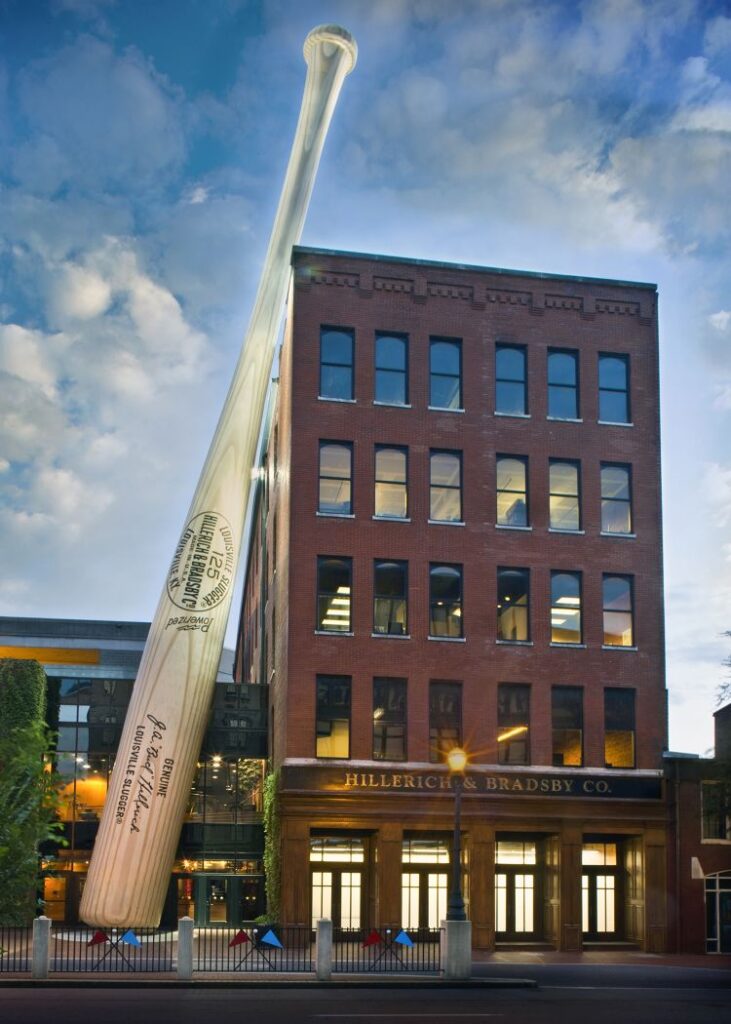 While many baseball fans make a point of visiting baseball 'shrines' such as Wrigley Field in Chicago, Fenway Park in Boston, the Field of Dreams in Iowa, and Baseball's Hall of Fame in Cooperstown (NY), one 'shrine' that should be added to your 'baseball bucket list' is the Louisville Slugger Museum & Factory (800 West Main Street, Louisville, KY; www.sluggermuseum.com). The great thing about this baseball 'destination' is that you don't have to wait for baseball season to go for a visit since it's open seven days a week, except for Thanksgiving Day and Christmas Day.
The Louisville Slugger Museum & Factory is far more than a factory where wooden baseball bats – from ash, birch, and maple – are made. This museum is a living, breathing 'monument' to baseball's past, present and future. It reveals interesting parts of baseball's past, it showcases where the game is today, and it gives you a feeling that baseball's future is bright, positive, and promising.
More than anything, the curators of the Louisville Slugger Museum & Factory have done a great job of preserving baseball's past so that future generations of Americans can learn about who played the game, their accomplishments on the diamond, and how the wooden baseball bat has evolved over time.
THE 'BIG BAT' & WALK OF FAME
When you get to Main Street in downtown Louisville, it won't be hard to find the Louisville Slugger Museum & Factory. Why? Because it has the World's Biggest Bat, 120-feet tall weighing 68,000 pounds, perched alongside Main Street, where it is leaning against the outer wall of the Museum. The 'Big Bat' is an exact-scale replica of Babe Ruth's 34-inch Louisville Slugger bat. As they say, you can't miss it!!
Before walking into this museum, it's worth taking a few minutes for a stroll along the Louisville Slugger Walk of Fame.  For a few city blocks along Main Street, the museum has created and placed bronzed Louisville Slugger baseball bat models, used by some of the game's greatest players, along the sidewalk.  These bats are permanently attached to the sidewalk for all to see.  Next to each bat is a bronzed metal home plate where the career highlights of the famous player, who used that bat model, are inscribed.  The Walk of Fame stretches for one mile from the 'Big Bat' on West Main Street to Louisville Slugger Field – home of the AAA Louisville Bats — on East Main Street.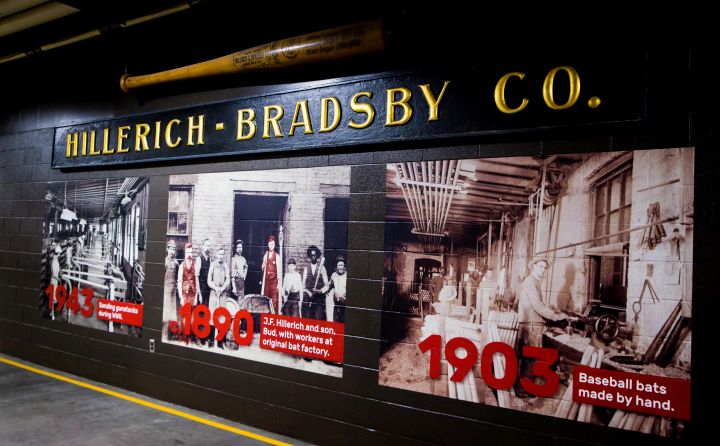 MLB SIGNATURE BATS
Once you walk in the front door of this museum, make a beeline for the Signature Wall where you will see the many, many, many signatures that have appeared on Louisville Slugger baseball bats. You'll see many baseball names that you will remember, a few that you didn't know used Louisville Slugger bats, and some not-so-familiar names. There is also a special section honoring Louisville Slugger's contracted players and managers who have been elected to the Baseball Hall of Fame in Cooperstown, NY.
THIS BUD'S FOR YOU!
Next, I would suggest that you visit Bud's Batting Cage, named after John Andrew 'Bud' Hillerich, one of the co-founders of Hillerich & Bradsby Co.  Bud was the company's original bat maker who made his first bat in 1884.  Inside the cage, you will get a chance to take a swing with Louisville Slugger's latest TPX or TPS non-wood baseball bat models….or try a swing with a wood replica bat used by some past baseball greats such as Ted Williams or Babe Ruth.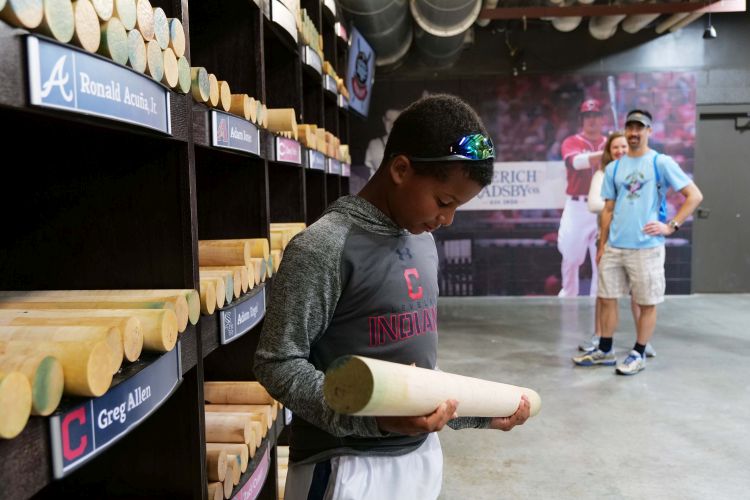 TOUCH & SEE
One of the great aspects of the Louisville Slugger Museum & Factory is that it is truly interactive. Museum operators encourage you to try, touch, hold, and feel many different items on display. One of those interactive sections of the museum is Gallery 125, where you can get face-to-face with the lifelike sculptures of Babe Ruth, Ted Williams, Derek Jeter, and Ken Griffey, Jr. You will also be able to stare down a 90-mph fastball from big-league pitcher Cole Hamels.
If you want to put on a pair of gloves and have your picture taken while you hold an actual wood bat used by baseball greats Mickey Mantle, Cal Ripken, Jr., David Ortiz, and Johnny Bench, that is possible, too! The background for the picture is a grandstand of an old baseball stadium from a bygone era.
Two of the most interesting bats on display in the Grand Slam Gallery are two of the bats that were used by Babe Ruth and Joe DiMaggio. On Ruth's bat, you will see carved notches for every home run that he hit with that specific bat during his record-setting 60 home run season in 1927. As for the DiMaggio bat, it was one of the bats used in 1941 when 'The Yankee Clipper' set his 56-game hitting streak, a Major League Baseball record that stands to this day.
During the actual factory tour, you will be told about the history of the company, which was founded in 1884.  You will also be an eyewitness to craftsmanship at work as you will see a solid piece of wood (either maple, birch or ash) transformed into an official Major League Baseball quality baseball bat.  Every one of Louisville Slugger's wooden bats is not only 'Made in America,' more specifically, it is 'Made in Louisville.'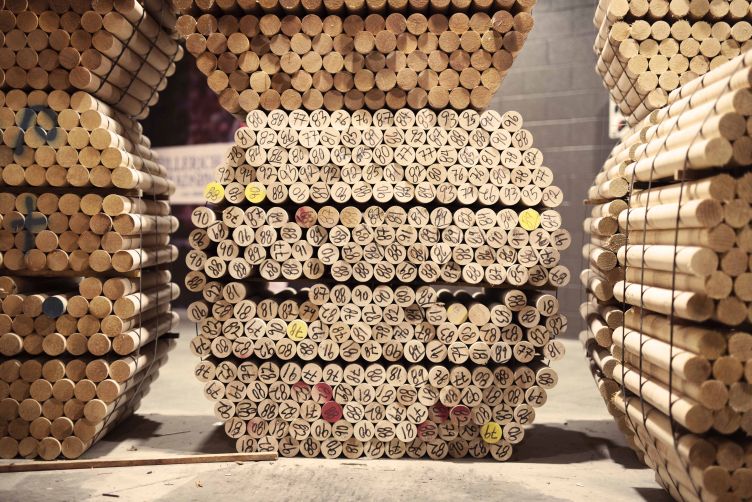 BASEBALL'S 'FORT KNOX'
One section of the museum that is not open to the public is a 'vault' where the 'spec bats' for each of its players (from past and present) are kept.
"We still have the ability to reproduce the exact bat that was used by every professional player who used a Louisville Slugger, from players like Honus Wagner and Babe Ruth to today's stars like Derek Jeter," states Louisville Slugger spokesman Rick Redman.
GREEN IS GOOD
If you are curious what happens to the wood shavings which fall to the floor, when a wooden bat is made on the lathe, they are swept up every day, collected, and then donated as 'bedding' for a turkey farm in nearby Jasper, Indiana.
"We've been 'going green' here at Louisville Slugger long before it became trendy and popular," says Redman.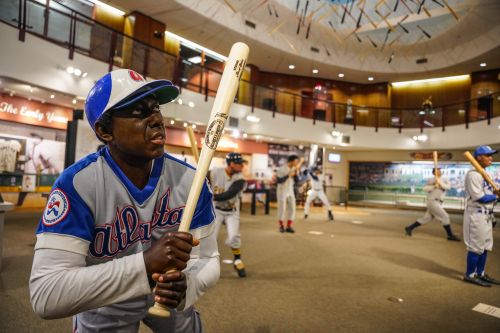 DETAILS, DETAILS, DETAILS
One of the bonuses of the factory tour is that you are given a complimentary miniature Louisville Slugger wooden bat at the end of your tour as your own keepsake souvenir.  You can also purchase your own personalized, full-size wooden baseball bat from Louisville Slugger, either in person at the museum or online:  www.sluggergifts.com.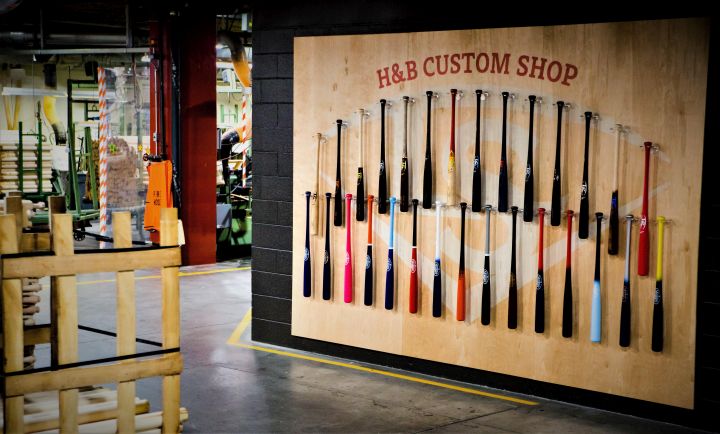 As for the opening hours and the cost of admission, the Louisville Slugger Museum & Factory is open seven days a week. The opening hours range depending on the time of the year. There's no admission charge for children five and under. It's $11 for children age 6-12; $18 for people from 13-59; and $17 for seniors (age 60+). It's worth noting that group tours are available.
Besides the chance to get a glimpse into baseball's past and the role of the Louisville Slugger bat in baseball lore, when you visit this part of Louisville, there are other cultural attractions in this part of town worth visiting. They include the Frazier History Museum, Glassworks, Kentucky Science Center, The Muhammad Ali Center, The Kentucky Center for Performing Arts, Kentucky Museum of Art and Craft, and the 21C Museum Hotel. This section of Louisville has been termed Museum Row on Main. Complete details are available at www.museumrowlouisville.com.
But, first, take your 'BATitude' and go 'Play Ball' at the Louisville Slugger Museum & Factory.  More than 300,000 people visit the museum annually and more than three million people have visited this baseball 'shrine' since it was first opened.  Will you be next?  If so, you'll be glad that you did.  Batter up!