Lose the "Quarantine 15" with Let's Move,
Palm Beach County's Biggest Physical Activity Challenge

Registration is now open!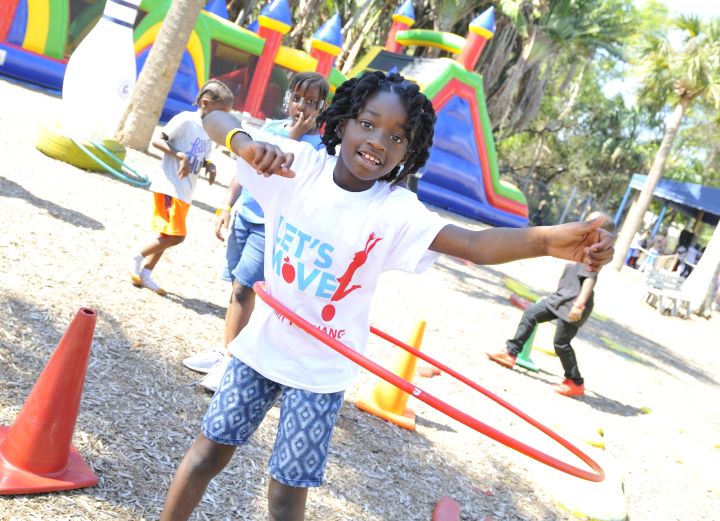 West Palm Beach, Fla.– Jeans fitting a little tighter? Having a hard time getting off the couch? Feeling a little down? COVID-19's restrictions to daily lives have contributed to struggles with weight gain, inactivity and mental health. The ninth annual Let's Move! Commit to Change Physical Activity Challenge is coming to the rescue to motivate Palm Beach County adults and youth to get up and get moving. Presented by Palm Health Foundation and Digital Vibez, Inc., Let's Move is a month-long free activity challenge open to individuals and teams to participate by completing and logging 30 minutes of physical activity every day March 1-31, 2021.

Registration for the Let's Move challenge is now open at www.letsmovepbc.org. Participants will benefit from a calendar full of fun and energetic events offered online and safely in person throughout Palm Beach County. Weekly prizes will incentivize residents to meet their daily 30-minute goals and teams will have the opportunity to compete for the highest number of collective minutes logged at the end of the month. A special $500 grant will be awarded to the school site or community-based/youth-focused program that logs the most minutes to support their physical activity programming.
Let's Move was first launched in 2012 by Palm Health Foundation, Palm Beach County's leading community foundation for health. Inspired by First Lady Michelle Obama's 2010 Let's Move national program to decrease childhood obesity, the foundation created the local challenge for adults and children to improve a variety of health issues through regular physical activity. The challenge promotes daily exercise as a way to combat illnesses like diabetes and heart disease, and strengthen brain health and life expectancy, among other benefits.
Last year, The City of Delray Beach team won the challenge with over 1 million minutes logged. Despite the pandemic interrupting the challenge, Palm Beach County collectively logged nearly 4 million physical activity minutes. New this year, Digital Vibez, Inc., a nonprofit dedicated to empowering youth through dance fitness, technology and the arts, will lead the Let's Move challenge, offering high-energy, innovative events and activities for all ages.
"We are excited to help people find new and fun ways to include movement and exercise into their daily lives for better health," said Wilford Romelus, founder of Digital Vibez. "COVID-19 made it difficult to stay active, but we are going to inspire everyone to move—whether it's a dance party in their living room or a walk in nature."

Let's Move will kick off on March 1, 2021 at 6:00 p.m. via Facebook Live and YouTube at https://www.facebook.com/DigitalVibezInc and YouTube.com/DigitalVibezInc. Teams with the highest number of minutes, and other awardees, will be recognized at a community celebration at the end of the challenge on April 16, 2021.
"Movement is critically important for healthy bodies and healthy minds," said Patrick McNamara, president and CEO of Palm Health Foundation. "We know Digital Vibez will inspire our county residents during the challenge and put them on the path for taking care of their wellness all year long."
About Palm Health Foundation
Palm Health Foundation is Palm Beach County's community foundation for health. With the support of donors and a focus on results, the foundation builds strong community partnerships, respects diverse opinions, advocates for its most vulnerable neighbors and inspires innovative solutions to lead change for better health now and for generations to come. The foundation supports health equity for Palm Beach County residents of all backgrounds, heritage, education, incomes and states of well-being. Palm Health Foundation has invested more than $85 million in Palm Beach County health since 2001. For more information about Palm Health Foundation, visit palmhealthfoundation.org or call (561) 833-6333.
About Digital Vibez, Inc.
Digital Vibez is a 501(c)(3) nonprofit organization based in Palm Beach County. Our mission is to empower youth in diverse and underserved communities through dance fitness, technology and the arts. Our innovative programs and events motivate and inspire youth to use their creativity and talents to develop healthier habits while expressing themselves through positive outlets and engaging activities. For more information about Digital Vibez, visit digitalvibez.org or call (561) 847-4521.