New Co-Op Offers Affordable Rooftop Solar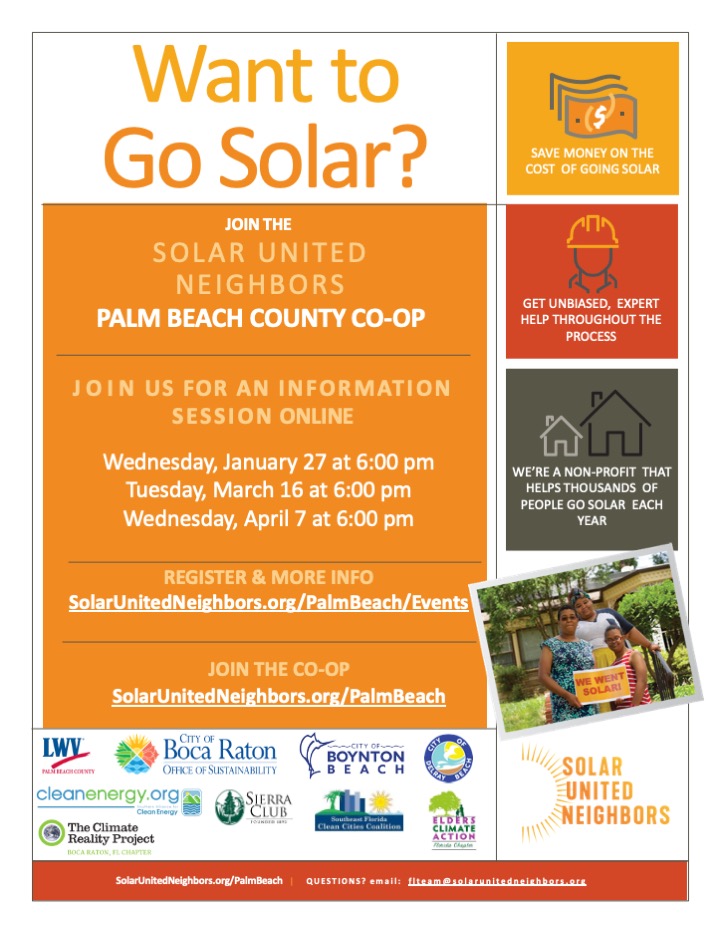 (West Palm Beach, FL – December 22, 2020) The League of Women Voters of Palm Beach County (LWVPBC)is partnering with Solar United Neighbors (SUN) to launch the Palm Beach County Solar Co-op on January 14 to help Palm Beach County residents go solar.
Other nonprofit partners on the co-op include the City of Boca Raton, City of Boynton Beach, Climate Reality Project Boca Raton Chapter, City of Delray Beach, Elders Climate Action, Sierra Club, Southeast Alliance for Clean Energy and South Florida Regional Planning Council Clean Cities Coalition
"The co-op will enable Palm Beach County homeowners and business owners to join the growing community of people saving money by harnessing solar power," said Laura Tellez, South Florida program coordinator for SUN. "Together, we're building a movement to transform our electricity system into one that is cleaner, fairer, and shares its benefits more broadly."
The co-op is free to join and open to homeowners and business owners in Palm Beach County. Together, co-op members will learn about solar energy and leverage bulk purchasing to ensure competitive pricing and quality solar installations.
After a competitive bidding process facilitated by Solar United Neighbors, co-op members will select a single solar company to complete the installations. Joining the co-op does not obligate members to purchase solar. Instead, members will have the option to individually purchase panels and electric vehicle chargers based on the installer's group rate.
Solar United Neighbors has hosted 60 solar co-ops in Florida since 2015. According to the group's estimates, the 1,800 homes and businesses that now have solar panels because of co-ops represent: 17+ MW of solar power, $39.2 million in local solar spending, and more than 585 million lbs. of lifetime carbon offsets.
Solar United Neighbors will host several free information sessions to educate community members about solar energy and the co-op. Individuals interested in going solar can sign up for the co-op or one of the upcoming information sessions by visiting the co-op web page at SolarUnitedNeighbors.org/PalmBeach.
Virtual information meetings are planned for:
+ Wednesday, January 27 at 6pm
+ Tuesday, March 16 at 6pm
+ Wednesday, April 7 at 6pm
About Solar United Neighbors:
Solar United Neighbors is a nonprofit organization that works in Florida and nationwide to represent the needs and interests of solar owners and supporters. Solar co-ops are part of the organization's mission to create a new energy system with rooftop solar at the cornerstone. Solar United Neighbors holds events and education programs to help people become informed solar consumers, maximize the value of their solar investment, and advocate for fair solar policies.
About the League of Women Voters of Palm Beach County:
The League of Women Voters of Palm Beach County is a nonpartisan political organization of women and men of all ages and backgrounds, encouraging informed and active participation in government through education and advocacy. The League of Women Voters of the United States believes that voting is a fundamental citizen right that must be guaranteed. For more information, please visit www.lwvpbc.org or www.facebook.com/lwvpbc.