To:  Around Wellington
From:  Wellington Women's Club
Re:  Spring Fundraiser – Mad Hatter's Tea Party
Date:  April 7, 2009
Contact:  Allyson Samiljan, ajsamiljan@aol.com,  561-798-6741
For Immediate Release
______________________________________
The Wellington Women's Club will hold its annual spring fundraiser, Mad Hatter's Tea Party, on Saturday, May 9, 2009, 11:00 a.m., at Binks Forest Golf Club in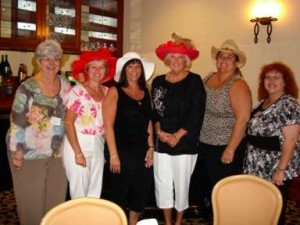 Wellington.  In addition to a lavish lunch, the event will feature a silent auction with many fantastic items including dining gift certificates, a Coach pocketbook, rounds of golf at area clubs, a one-year membership for the Palm Beach Yacht Club, and services at Eau Spa at the Ritz-Carlton, Manalapan.
Guests will be magically entertained by the Amazing Mr. A, Richard Adler, with close-up table magic provided by Mr. Bob Barwald.  And a Mad Hatter's Tea Party would not be complete without a hat contest!  Prizes will be awarded for the best hat in several categories.
Monies raised from this event support the Club's two main charities, the Y.W.C.A. of Palm Beach County Harmony House, a shelter for abused women and their children, and college scholarships for area high school seniors.
Tickets for the luncheon cost $40 and can be obtained from Faye Ford, 561-790-7625.
For additional information, please contact Allyson Samiljan, 561-798-6741.