Mounts Botanical Garden Offers
GARDEN-TO-GO
12 Fun & Educational Activities for All Ages
Available for Purchase at the Mounts Gift Shop
(West Palm Beach, FL – July 17, 2020) Perfect for families seeking fun and educational things to do this summer, Friends of the Mounts Botanical Gardenis now offering GARDEN-TO-GO, 12 amazing projects and activities for people of all ages.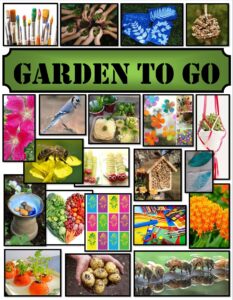 Available for purchase at the Mounts Gift shop ($20 for members, $25 for nonmembers), each GARDEN-TO-GO package includes a Garden Guide with information and instructions for a dozen different creative learning experiences:
+ Garden Themed Projects: Make a bird feeder, build a bee house (to attract garden pollinators), creative garden markers, how to make a rain gauge, and build a bee bath.
+ Gardening Activities: Indoor potato gardening, kitchen scrap gardening, and creating garden themed snacks.
+ Art Projects: Have fun with sun prints, create leaf print art, make your own plant holder, and create flowers & butterflies with coffee filters.
"Each GARDEN-TO-GO package includes yarn, a succulent plant, soil, coffee filters and sun-print papers," says Diane Robaina, Youth Program Manager at Mounts. "The remaining project supplies can be easily found around any house. And we encourage all participants to use#mbgardentogo when they post to Facebook, Instagram and Twitter, so we share on our pages."
Mounts Botanical Garden is now open to the public 9 am to 3 pm, Tuesday through Sunday. The Mounts Gift Shop is located by the entrance on North Military Trail.
In compliance with county, state and public health department recommendations, during the current COVID-19 pandemic, Mounts Botanical Garden has safely implemented new Policies and Guidelines. For example:
+ Entrance to Mounts continues to be limited to no more than 100 people at a time.
+ social distancing is required throughout the garden.
+ All picnic tables have been removed.
Visitors to Mounts are strongly encouraged to review the new policies and guidelines atwww.Mounts.org/Reopening prior to arrival.
Admission to Mounts has been reduced to $10 (general); $5 (children 5-12), and free for members.
Two family-friendly and ecology-conscious exhibitions are still in place at Mounts Botanical Garden:
+ Ribbit the Exhibit, which features a collection of larger-than-life frog characters,is expected to remain until mid-July.
+Cutting Corners: A Stickwork Exhibition is a massive, willow sculpture located in the Great Lawn area.
Updated program information about Mounts can be found on the Garden's official website at www.mounts.org.
About Mounts Botanical Garden of Palm Beach County:
With a mission to inspire and educate through nature, Mounts Botanical Garden is Palm Beach County's oldest and largest botanical garden. Visitors to this 14-acre tropical oasis will see an acclaimed collection of 25 unique garden areas containing more than 2,000 species of tropical and sub-tropical plants, including Florida natives, exotic and tropical fruit trees, herbs, palms, roses, cactus, bromeliads and much more. The award-winning Windows on the Floating World: Blume Tropical Wetland, completed in 2017, is a guest favorite. Mounts Botanical Garden is part of the Palm Beach County Cooperative Extension Department, in partnership with the University of Florida and the non-profit Friends of the Mounts Botanical Garden. This project is sponsored in part by The Board of County Commissioners, the Tourist Development Council and the Cultural Council of Palm Beach County. Mounts Botanical is located at 531 North Military Trail in West Palm Beach. For more information, please visit www.mounts.org.