New Awards Honor The Arc's Service
Palm Beach Gardens, Fla. – The Arc of Palm Beach County continues to raise the bar in programs and proficiencies, and partners are taking notice. The nonprofit is the proud recipient of the Community Champion Award from the United Way of Palm Beach County and the Financial Organization of the Year Award from AmeriCorps.
"It's an incredible honor to be recognized for our lifeworks," said Kimberly McCarten, president and CEO of The Arc of Palm Beach County. "Receiving these awards from those who have entrusted us with their time and resources, reaffirms that our efforts are truly felt in every corner of our community."
The esteemed Community Champion Award was given during the Simply the Best Awards ceremony, recognizing a nonprofit that represents the highest standards and ideals that align with United Way's mission. The United Way has provided funding for The Arc's programs that empower children and adults with disabilities. The nonprofit has made it a focal point to provide education to achieve greater success in cognitive function, recreational activities to people with disabilities, and group housing to help promote independence. The Arc's career services promote financial stability, and in-home or center-based respite care helps parents find balance as they care for their child.
"United Way of Palm Beach County is grateful to be a partner in the incredible work that The Arc is doing in our community. Like United Way, their programs were created in direct response to the community's need for basic services so that everyone can achieve their full potential. The Arc is a champion for individuals in our community with intellectual and developmental disabilities, and it was our honor to recognize them for the significant impact they are making," said Dr. Laurie George, president and CEO of United Way of Palm Beach County.
Additionally, AmeriCorps founded the Financial Organization of the Year Award for The Arc and its strong financial responsibility. Thanks to a grant from Volunteer Florida, The Arc was able to recruit, train, and engage 27 AmeriCorps students who dedicated 300 to 900 hours of service to form one-on-one relationships with people with disabilities. Throughout the initiative, The Arc exemplified financial excellence, whether it was submitting their monthly reimbursements on time or tendering well-documented expenses.
"This year, there was one organization that we felt was so deserving of recognition, we created the new Financial Organization of the Year Award," said Tracie Lambright, senior financial analyst for Volunteer Florida. "They have become an exceptional role model for other organizations, and those who are struggling in this area should reach out to them for guidance."
Learn more about how The Arc is helping to better the community and the future for people with disabilities by visiting arcpbc.org.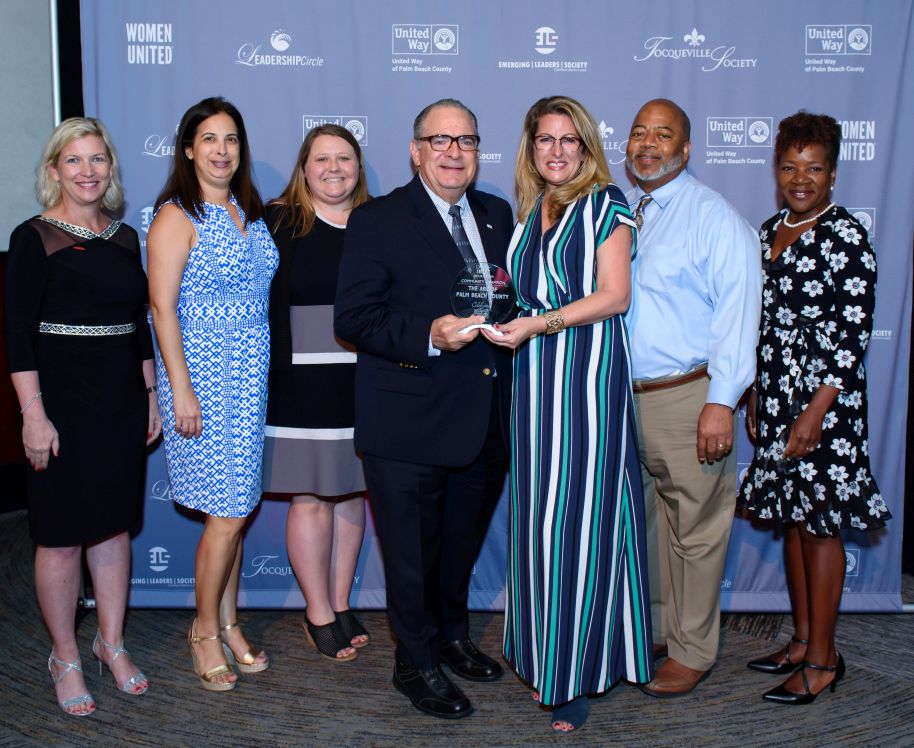 Photo credit: Tracey Benson Photography
Photo: Laurie George, Maria Bertuzzelli, Kristie Giles, Bob Salmore, Kimberly McCarten, Russell Greene, Kim Jones at the United Way Awards
About The Arc of Palm Beach County
The Arc of Palm Beach County is changing the conversation around disabilities by defying definitions, inspiring possibilities, and improving the lives of the people we serve, their families, and our community. Since 1958, The Arc has envisioned a community where every person feels welcome, connected, and well cared for.