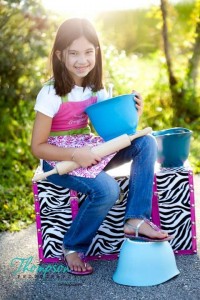 Sofia's Yummy Treats for Kids
By Sofia I. Sanchez
Objective: To share quick recipes kids can make on their own with little to no adult supervision.
Requirements: A positive attitude, a desire to learn, and a HEALTHY appetite!
November, 2011 – Pumpkin Pie
In my opinion the perfect ending to Thanksgiving dinner is a delicious slice of Pumpkin Pie.
I love pumpkin pie because it is creamy, but not too sweet.
It's so easy to make pumpkin pie — wait till you see how fast it is.
You can use canned pumpkin if you don't want to spend the time preparing an actual fresh pumpkin, which is what I ALWAYS do. For this recipe you will need a small bowl, a large bowl, a pie pan, a whisk, and a knife. 
Please ask an adult to preheat the oven to 425 degrees.
Here are the ingredients you will need:
1/2 tsp salt
3/4 cup sugar
1 tsp ground cinnamon
1/2 tsp cloves
1/2 tsp ground ginger
2 eggs
1 (15 oz) can pumpkin
1 (12 oz) can evaporated milk
1 pie shell
whipped cream
Start off by getting your sugar and spices ready.  Mix sugar, ground cloves, ground cinnamon, ground ginger, and a little bit of salt.  Then prepare the wet ingredients in a large bowl.  Crack two eggs and beat well (don't forget to wash your hands every time you handle raw eggs). Stir in the pumpkin.  Whisk up the eggs and pumpkin until they are nicely blended and then add the sugar and spices.  Mix really well…can you smell the sweetness and spices?  Once you have mixed well, add the evaporated milk.  There will be a lot of liquid in the bowl, so mix it really slow to begin with till you start to get the liquid mixed in really good.  You'll know your finish stirring when it's one solid color – you don't want to see any swirls – stir until it's one solid creamy color.  You're done!  Now just pour your filling into your pie crust carefully. 
Have an adult place the pie into the oven — remind your helper to stay steady and to carefully slide in the pie! Bake the pie at 425 degrees for 15 minutes.  Then reduce the temperature to 350 degrees and bake the pie for another 40 to 50 minutes.  Have your helper check the pie after about 40 minutes with a knife — if the knife comes out clean, your pie is ready!
Once your pie is baked, you can eat your pie warm or at room temperature.  I like my pie with whip cream.  Yummy!
Sofia I. Sanchez is seven years old. She aspires to be a future baker and bakery owner. She loves baking and cooking in her kitchen at home and invites other kids to do the same