By Briana D'Andrea
Sweeping valleys, rolling vineyards and the most exquisite hospitality experience is what you'll find if you pay a visit to Napa Valley. Just an hour north of the Bay Area of San Francisco, wine country is a must do for a weekend getaway or a special occasion. My husband and I decided to take a trip to the wine capital of the U.S. to celebrate our 12th wedding anniversary! Let's face it…after doing our best to celebrate our tenth anniversary under COVID restrictions and being under quarantine for almost 3 years with our family, we knew it was just the perfect place to get away from it all.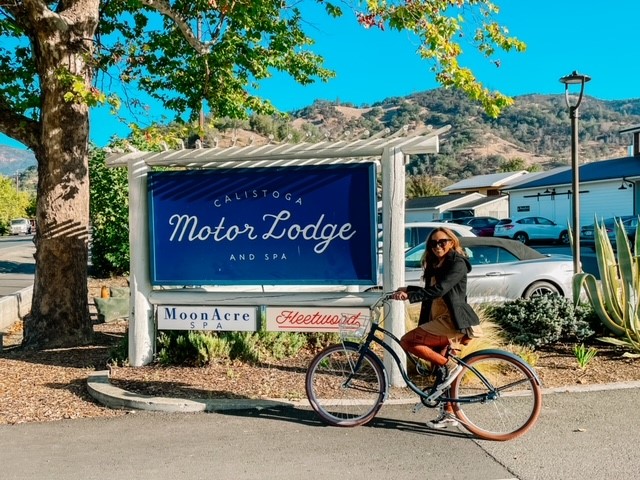 After extensive research we settled on Calistoga, an adorable little town just north of Napa, known for its wellness and hot springs experiences. We knew we wanted something of a small town feel and away from all the hustle and bustle and The Calistoga Motor Lodge and Spa was the absolute perfect place. Located at the beginning of the Silverado Trail, this brand new retro-modern inspired boutique hotel has it all. From beautiful views, several mineral pools at different temperatures, free bike rentals, bocce ball courts and an incredible restaurant  with the most amazing food, called The Fleetwood, not to mention their spa (more on those in a minute). As soon I laid eyes on the property, I knew it was the exact vibe we were looking for and it exceeded our expectations. It's a laid back, Californian, word of mouth hotel, that doesn't miss a beat. Inspired by the great American Road trip, their website describes it as, "The classic roadside boutique hotel, but better." I couldn't agree more. You can choose from their super nostalgic camper rooms, that are a play on camper vans or their newly renovated vista rooms, complete with balconies overlooking the Vaca mountains, which is what we opted for. Every detail accounted for, every person with a smile on their face. As I sit here writing this, I'm already trying to figure out how to make it back out there.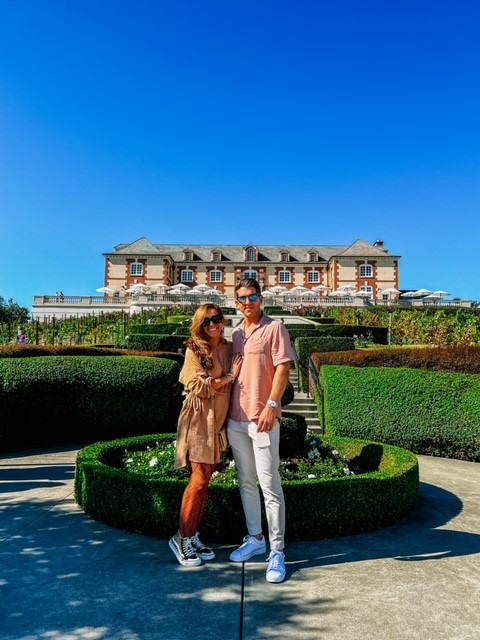 Coming from Palm Beach, we live in one of the top travel destinations in the U.S., so our standards are pretty high and our trip lived up to them all. Below is an itinerary of our trip. Hope you find value in it.
*We did partner with Calistoga Motor Lodge and Spa, but all opinions are my own.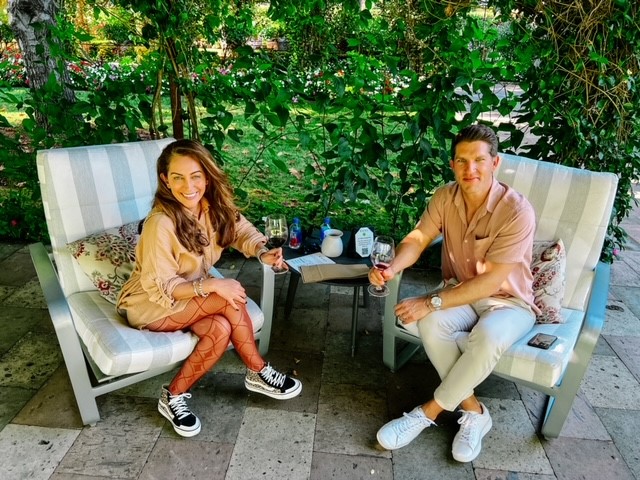 NAPA VALLEY 12TH ANNIVERSARY TRIP
DAY 1 FRIDAY OCTOBER 7TH
9:25A Est JET BLUE FLIGHT FLL TO SFO
12:30P pst ARRIVE
1:30P TAKE UBER TO GRAB PORSCHE
-We used a company called Turo, it's sort of like an airbnb for cars. Highly recommend.
2-3P DRIVE TO SAUSALITO & HANG OUT
-We ate at an incredible place on the water called The Joinery. We shared a falafel burger & a beet salad.
3-4:30P DRIVE TO CALISTOGA MOTOR LODGE AND SPA & CHECK IN
-They have the most adorable little lobby and we were welcomed by the staff with open arms!
6P PRISONER WINE DINNER
-Prisoner is not your average winery, it's modern and sexy and almost counter to what you think a winery should be and we LOVED it. Prisoner Wines is one of our faves and we were thrilled to learn they had a Friday night DJ experience, complete with Chicago style pizza and 2 bottles of wine! Highly recommend making a reservation ahead of time. Read on . . .