Home of Great Seafood, Steaks, Service, & Smiles — in Rip City
Certain sports entities spring to mind when you think about the greater Portland, Oregon area. It's the headquarters for Nike, the North American hub for Adidas, the home of the NBA's Portland Trail Blazers, the home of the MLS's Portland Timbers, and the site of the LPGA's annual Cambia Portland Classic golf tournament.
Portland also has its own distinct geographic identity as its downtown is split by the winding Columbia River. While Portland, admittedly, is often overshadowed by its metropolitan neighbor to the north — Seattle, Washington – one area where Portland stands second-to-none is its inventory of restaurants, specifically those that specialize in serving seafood.
One dining destination which stands out from the competition is Salty's on the Columbia River (3839 NE Marine Drive, Portland, Oregon; 508-282-2201; www.saltys.com)
If you are craving seafood, Salty's should — er, must — be your first restaurant choice in Portland. Perched along the banks of the Columbia River, Salty's provides two dining options – either inside its quaint, well-decorated dining room or to go or for delivery via Uber Eats, Door Dash, Caviar, Grub Hub, or Seamless. Open for lunch and dinner, the views of the Columbia River — with Mt. Hood in the background — from any location of the dining room at Salty's help add to the overall experience.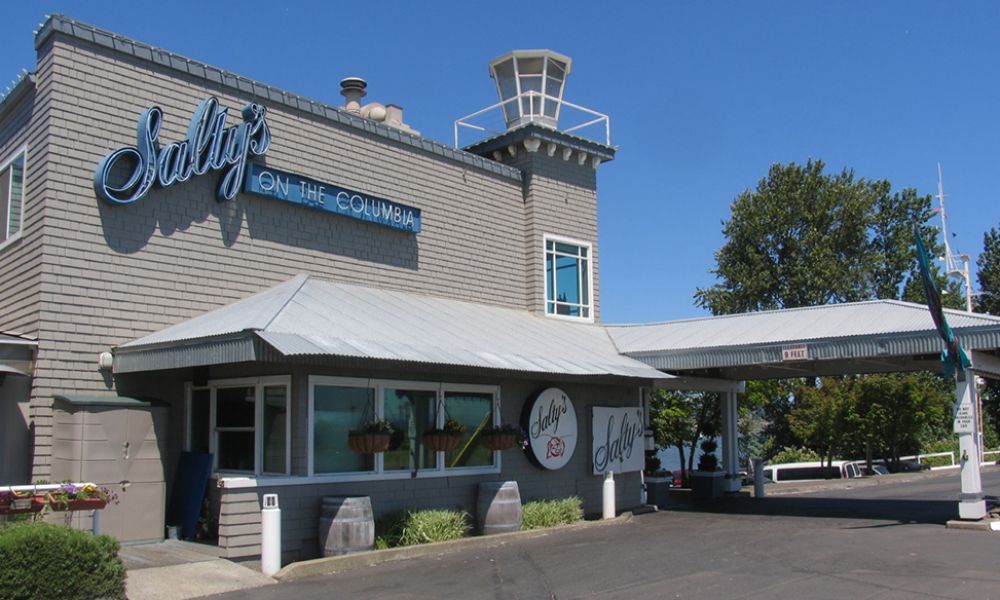 As for the selection of seafood on the menu, it can only be described as mouth-watering, tasty, and delicious. Delectable is another way to describe what's served at Salty's. As the menu clearly indicates, Salty's specializes in seafood — always has and, hopefully, always will. This is not the kind of place where you go if you want fried chicken, lasagna, or a grilled pork shop, but there are some red meat exceptions – three of which are the 7 ounce filet mignon, the 12 ounce New York strip, and Salty's Burger and Fries. At Salty's, the specialty is seafood – all day and all night. And, it's always spectacular.
If you are interested in eating prawns, scallops, crabs, crab cakes, clams, calamari, halibut, lobster, steelhead salmon, or cod, you will find multiple combinations and permutations at Salty's. Its appetizers, soups and salads also help put an exclamation point on any visit to Salty's. The four side dishes – charred green beans, pesto risotto, creamy Brussels sprouts, and crispy smashed potatoes – are all first-class additions to any entree. And, the four of the desserts – peanut butter pie, white chocolate mousse cake, spiced apple cheesecake, and key lime pie — may well be as good as you find anywhere west of the Mississippi. And, definitely, the best along the Columbia River.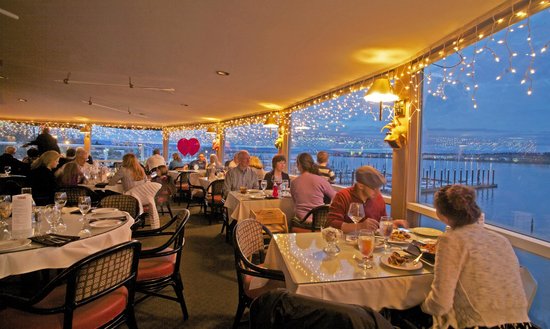 This story would be remiss if it didn't provide complete details on Salty's World-Famous Seafood Chowder. The standard portion includes surf clams, Oregon Bay shrimp, scallops, Washington potatoes, and applewood-smoked bacon. You can also order it with Dungeness crab. Simply put, this seafood chowder gets better with every bite.
And, for those who have a few dietary restrictions, four items on the menu are gluten-free. They are blackened cod tacos, Adobe halibut tacos, grilled halibut, and smoked Columbia River steelhead.
The wide variety of Oregon-based craft beers and wines on the menu further emphasizes the emphasis on locally sourced food and beverages which are served and enjoyed at Salty's. The wines come from Oregon, Washington, California, Argentina, France, Italy, and New Zealand.
"Salty's is a great place to go for wonderful, first-class seafood," says Bobbie Montgomery, a resident of nearby Vancouver, Washington. "Every item on the menu is exceptional and the views of the Columbia River add to the overall experience. It's one of Portland's great seafood restaurants. My favorite is the prawn pasta."
"It's a great place for a date, special events, and when you have a hunger for seafood," adds Bonnie McCutcheon-Scruggs, a resident of Happy Valley, Oregon, a suburb of Portland. "I enjoy the halibut and I love the clam chowder."
As for that Salty's Burger, it may well be the best burger in Portland. The burger is served on a brioche bun and includes carmelized onion mayonnaise, bacon, Tillamook cheddar cheese, vine-ripened tomatoes, butter lettuce plus sweet and spicy pickles.
In order to stay current and trendy, Salty's has a footprint within the world of social media as its hash tag on Instagram is saltysonthecolumbiapdx. And, its website is saltys.com.
Next time you visit Portland, bring along an appetite for seafood and make plans to visit Salty's on the Columbia River. It's a dining experience that is mouth-watering, tasty, and delicious. And, second-to-none. It always has been and always will be. And, don't forget to order that Seafood Chowder.