FORMER PALM BEACH CENTRAL BRONCO GREAT COMPLETES STELLAR COLLEGIATE SENIOR SEASON
By Mike May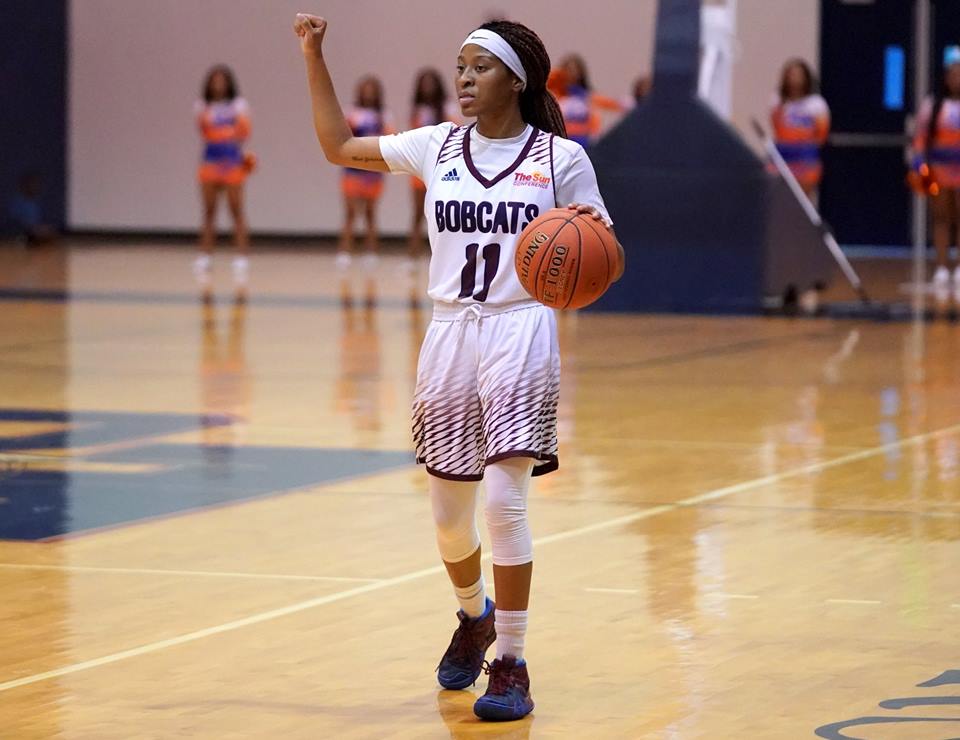 The recently completed 2018-19 collegiate basketball season was a memorable one for current St. Thomas University senior and former Palm Beach Central High School basketball point guard Samara Auguste. In fact, the last four seasons have been memorable ones for Auguste, a business administration major at the Miami Gardens-based university. Athletically, St. Thomas competes in the National Association of Intercollegiate Athletics (NAIA).
During the just completed 2018-19 season, Auguste averaged 18.7 points per game. She led the Bobcats in points per game, steals (2.6 per game), assists (5.12 per game), three pointers made (63), and free throws made (110). Her statistical totals in points, steals, and assists ranked 12th, 14th, and 18th nationally in the NAIA, respectively.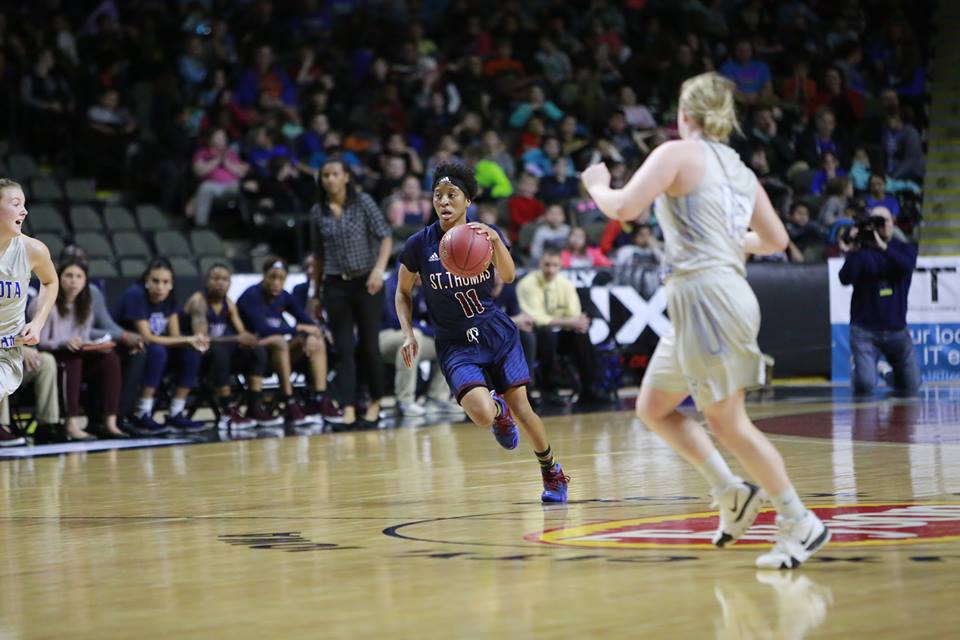 At the end of this season's regular season, Auguste led her team to an overall 21-9 record and a second-place finish in The Sun Conference regular season. The Sun Conference features a total of 10 universities in Florida and southern Georgia. On an individual basis, Auguste received high honors from the Sun Conference this past season as she received the Sun Conference's two highest honors: The Sun Conference's First-Team All-Conference Team and The Sun Conference's Player of the Year award.
At the end of her junior year (2017-18 season), Auguste was named The Sun Conference's Defensive Player of Year and was selected to the First-Team All-Conference Team. Last season, Auguste led the Sun Conference in steals-per-game (3.74) and in total steals (116). On a national NAIA Division II level, her defensive prowess ranked second in total steals; third in steals-per-game; and 19th in total assists (137).
As a junior, Auguste also led the Bobcats in scoring (17.6 points per game) and assists per game. In mid February 2018, she eclipsed the 1,000 point mark in career collegiate scoring.
After her junior and senior seasons, Auguste was named an NAIA Division II Women's Basketball Honorable Mention All-American.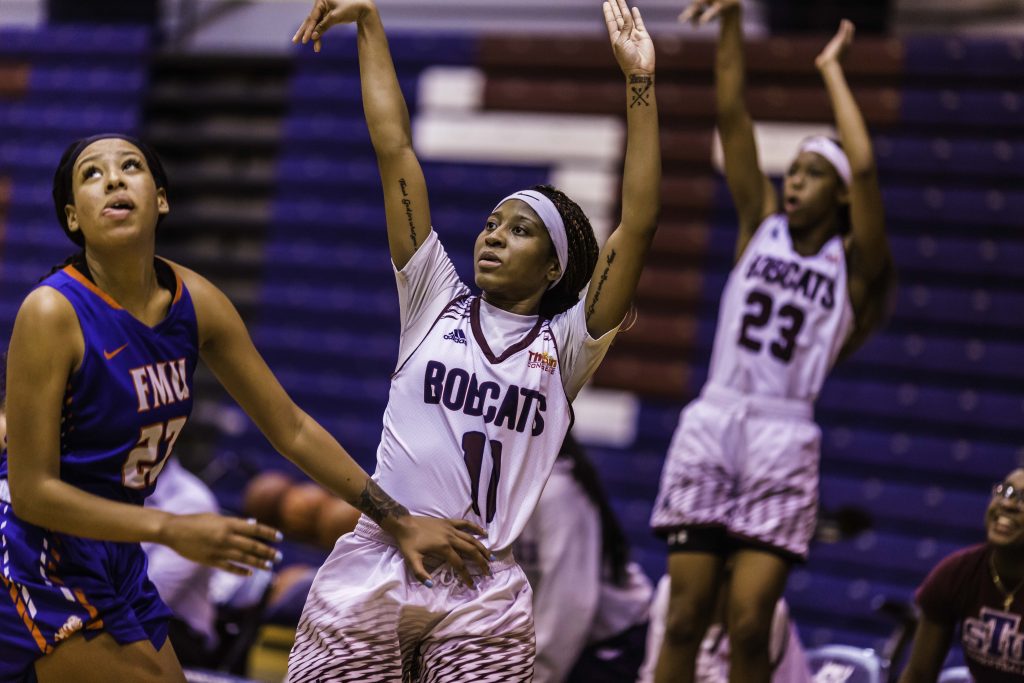 After her sophomore year, Auguste was named to The Sun Conference's Second-Team All-Conference Team and to the conference's All-Defensive Team, based on 4.3 steals per game. In her freshman year, Auguste was named to The Sun Conference's Second-Team All-Conference Team and was tabbed as The Sun Conference's Freshman of the Year.
Auguste's on-the-court achievements have drawn words of praise from her head coach.
"As a junior, Samara had a tremendous impact and influence on our success that season," said Candace Walker, St. Thomas University head coach of the women's basketball team. "She has worked tirelessly to improve her game — not only skill wise, but mentally as well. During her junior year, not a week went by where Samara wasn't getting up extra shots in the gym or asking coaches for extra film sessions. Her extra work outside of practice paid off in a huge way and helped her to play at such a high level for the entire year. In her senior year, she continued her hard work and was recognized by The Sun Conference as its Player of the Year. I'm very thankful that The Sun Conference recognized her outstanding play this past season."
Auguste credits her collegiate success to her off-season conditioning program. She was equally committed to building her strength, speed and quickness during every summer.
"Going into my junior year, my goal was to make it on The Sun Conference's First-Team and I did," admitted Auguste. "Every summer, I worked out every day – not missing a day — whether I could get in a gym or not."
In The Sun Conference 2018 post-season tournament in Lakeland, the Bobcats advanced to the conference championship game, where they lost to Southeastern University. At the time, Southeastern was ranked #1 in the nation in NAIA Division II poll. Still, St. Thomas received one of The Sun Conference's two automatic bids to the 32-team national NAIA Division II tournament, held in Sioux City, Iowa. At last spring's national tournament, Auguste and her Bobcat teammates (21-10) lost a heartbreaker in the opening round of the tournament, 70-66, to the two-time defending national champion Marian (Indiana) University Knights. Auguste led by example in that game as she played 34 out of the game's 40 minutes, scored 16 points, handed out four assists, and snagged four steals.
This past spring, the Bobcats received another bid to the NAIA Division II tournament in Sioux City. Unfortunately, the Bobcats lost again in the opening round of the tournament, this time to the defending national champion (South) Dakota Wesleyan to close out their season with a 21-10 mark. In her college basketball finale, Auguste played 33 of the game's 40 minutes, scored 15 points, grabbed six rebounds, dished out six assists, and had three steals.
Auguste finished her career with 1,572 points.
As she reflects on her four years of college basketball at St. Thomas, she says it went by in a flash.
"It was a very quick four years," reflected Auguste, 21.
She does have pro basketball aspirations, but she's content if that dream doesn't materialize.
"I would love to play professional basketball, if I get a chance," stated Auguste.
She doesn't rule out coaching basketball one day, but she says it won't happen for a few years.
But she does have a few words of wisdom for anybody who is serious about playing college basketball.
"Play with passion, energy, and heart," advised Auguste. "Give it everything you have – in practice and in games. I did. It was a great experience."
And for Auguste, her hard work in basketball reaped a big dividend, which is something she is hoping to do with her business administration degree, soon after graduation.