Sofia's Yummy Treats for Kids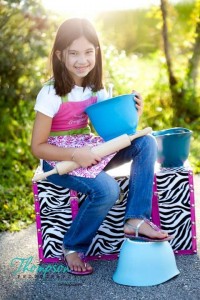 By Sofia I. Sanchez
Objective: To share quick recipes kids can make on their own with little to no adult supervision.
Requirements: A positive attitude, a desire to learn, and a HEALTHY appetite!
SEPTEMBER 2011 – Perfect Fruit Salad . . . just in time for BACK TO SCHOOL
One of my favorite things in the world is fruit. I will admit, I tend to be picky sometimes and it drives my parents BANANAS! However, I make up for it by eating tons and tons of fruit. My favorite? Sweet Strawberries….yum yum yum. There are lots of fruits I've never even heard of like Rambutan (ram WHAT???), which is a sweet and juicy garden fruit tree used for jelly or Mora fruit, which my Dad uses to make delicious smoothies.
To kick of the new school year, I thought I'd share with you my favorite snack – FRUIT SALAD. This is a healthy snack which you can make yourself using a butter knife. Pack it in a small aluminum thermos with your school lunch and enjoy! Fruit has vitamins which stimulate your brain, helping increase your brain power so you can be more alert in school!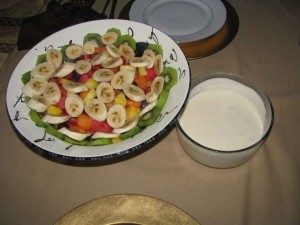 For my fruit salad I use watermelon, cantaloupe, kiwi, strawberries, blueberries, grapes, pineapples and bananas. You can also use any combination of other fruits in season. Cut up each fruit in slices or squares and layer on top of each other (I put the bananas last). You can also make a dip using light cream cheese, light sour cream, the juice of an orange (either half an orange or a whole orange) and powdered sugar. Mix well and spoon over the fruit individually. It's delicious. Kinda tastes like cheesecake on fruit.
Sofia I. Sanchez is seven years old. She aspires to be a future baker and bakery owner. She loves baking and cooking in her kitchen at home and invites other kids to do the same.