Sit, Stay, Lie Down and Watch This!
Huge Nationwide Watch Party for the feel-good documentary, Life in the Doghouse, June 27, 2020, at 7pm.
Join your friends, neighbors, community and everyone in the country with a TV or a laptop as we watch the feel-good documentary "Life in the Doghouse" which chronicles the life of partners Danny Robertshaw and Ron Danta, two men with a singular mission to rescue dogs.  The story covers 10 years and 10,000 dogs saved. That's a lot of tail wagging and a lot of people watching a movie all at once.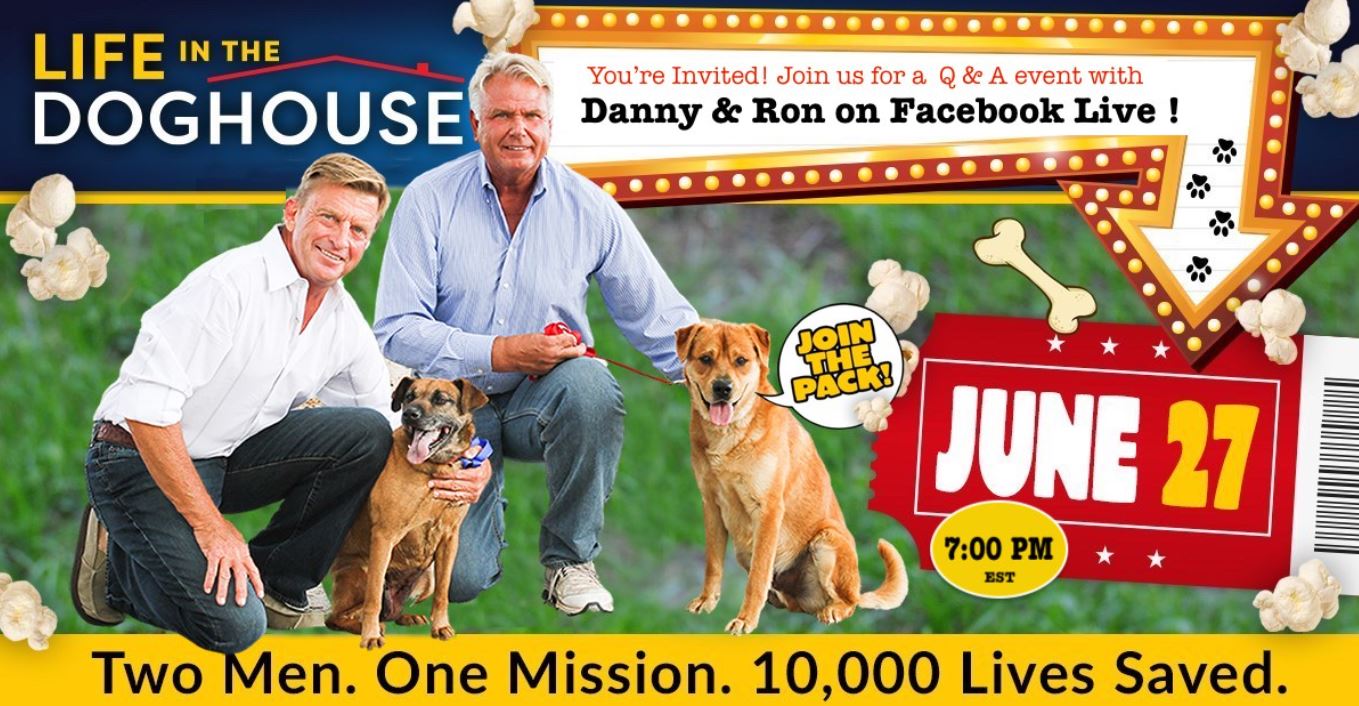 JUNE 23, 2020, CAMDEN, SOUTH CAROLINA—We hate to bark orders like this, but you simply have to join the huge nationwide Life in the Doghouse Watch Party June 27th, 2020. Whether you curl up on the sofa solo and stream it via Netflix, iTunes, Amazon, Google Play or Microsoft, or invite everyone you know to watch it all together, dog lovers everywhere are going to be participating. The online party features real time social media events, trivia questions, Danny and Ron LIVE, and opportunities to win some doggone great prizes!
So what's the big deal? Well, while the rest of us for the past decade have been walking, feeding, bathing and throwing the Frisbee to our dog, (or dogs), there were these two guys in South Carolina, Danny Robertshaw and Ron Danta, largely doing the same. Except, when we say "largely," we mean saving 10,000 rescue dogs over a period of 10 years, caring for them in their own home, and then finding forever homes for each of them. Life in the Doghouse chronicles these two amazing men, and we're celebrating their mission on June 27, 2020, with this huge watch party.
"We didn't set out for the attention," says the Ron half of Danny & Ron's Rescue. "But we love animals, and after getting our feet wet in New Orleans in 2005—both figuratively and literally—while rescuing Hurricane Katrina dogs, our outreach just grew from there."
The attention grew first organically, then in the press, and now in a full-fledged movie! Join the party June 27, 2020, at 7pm via Netflix, iTunes, Amazon, Google Play or Microsoft.
Danny & Ron's Rescue
Danny & Ron began their rescue mission in 2005 after Hurricane Katrina left countless dogs homeless, and their outreach continued to rapidly grow from there. Today, Danny and Ron rescue puppy mill dogs, bait dogs used in dog fighting, abandoned dogs, abused dogs, and kill shelter dogs, many just minutes away from being euthanized. Their 501(c)(3) nonprofit also delivers pet food and supplies to the elderly living in poverty and helps subsidize veterinary bills.
Danny and Ron bring these animals first into their own home because neglected and abused dogs, they say, recover and trust again much more successfully in a loving home. With help, they care for each and every one of their rescue dogs both physically and emotionally until they're ready to be saved. Currently, Danny and Ron have increased the "10,000 dogs saved" benchmark depicted in the movie to near 12,000.
For more information, visit lifeinthedoghousemovie.com.