STICKBALL IS A WAY OF LIFE – WITH HALL OF FAME IMPLICATIONS
By Mike May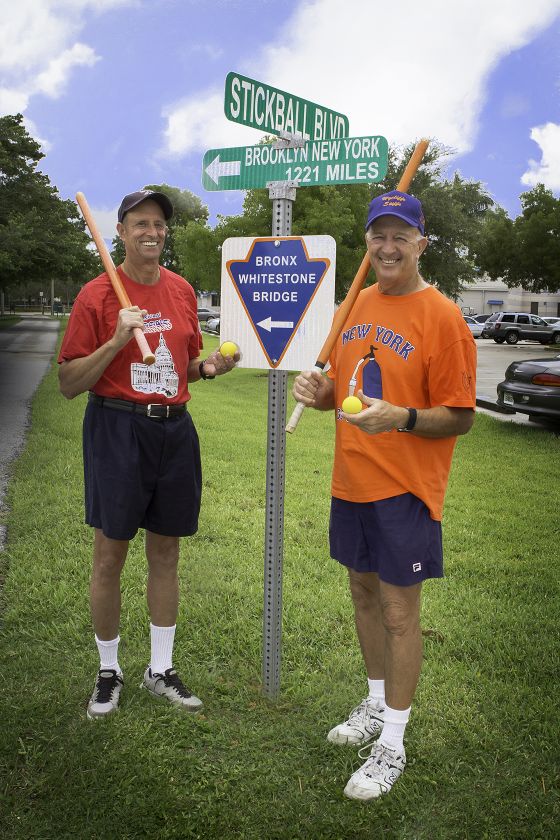 It's well known that Canton, Ohio is the home of the Pro Football Hall of Fame…….Springfield, Massachusetts is where you'll find the Basketball Hall of Fame…..and Baseball's Hall of Fame is located in Cooperstown, New York. But, it's not-so-well-known that Wellington, Florida is the home of the Wycliffe Stiffs Stickball Hall of Fame. Yes, the street-based diamond-sports game of stickball, which entertained hundreds of thousands children in the greater New York area for decades, remains alive and well in South Florida, thanks to a group of seniors from New York and New Jersey who are still playin' ball during their golden years.
Every year, these transplanted and seasoned 'Gotham-area' stickballers hit the streets in the late fall and keep playing until late spring. They play once a week – on Tuesday afternoons – in the South Florida sunshine, but not in the rain. This group of ball players compete in the Wycliffe Stiffs Stickball League in Wellington, Florida. By the way, Wellington is a western suburb of West Palm Beach.
"We call it Stickball Boulevard South," says league founder and Bronx native Marty Ross, who is affectionately referred to as 'The Commish.' "We are dedicated to keeping stickball a tradition, not just a game."
In recent years, this stickball league has featured five teams and the names of the teams have a distinct New York City 'flavor:' Bronx Clippers, Dukes of Flatbush, Brooklyn Bums, Long Island Whalers, and the New York Egg Creams. Within the last two years, the Syracuse Nationals were added to the mix because interest in the league was so strong that another team was needed to accommodate expanding rosters. Clearly, stickball is on the rise in South Florida! By the way, another stickball team from the past in Wellington was the New York 2-Sewers.
According to Ross, the South Florida membership of this stickball league has a rock-solid connection to the Big Apple. In fact, many of the players have strong ties to a number of Brooklyn-area neighborhoods such as Ocean Park, Boro Park, Flatlands, Sheepshead Bay, Bensonhurst and Flatbush. The Bronx, Queens, and Long Island are represented, too.
"We have four corner street signs that denote 1,221 miles to Brooklyn, or the Whitestone Bridge, Yankee Stadium, Ebbets Field, and the Polo Grounds, where Willie Mays reigned as a baseball and stickball king," added Ross.  "But that's not all because we have added two more signs to Stickball Boulevard South — one for the old Madison Square Garden, where we could see almost any sport played for 50 cents, and a sign for the new Madison Square Garden where the same seats are now a little more expensive."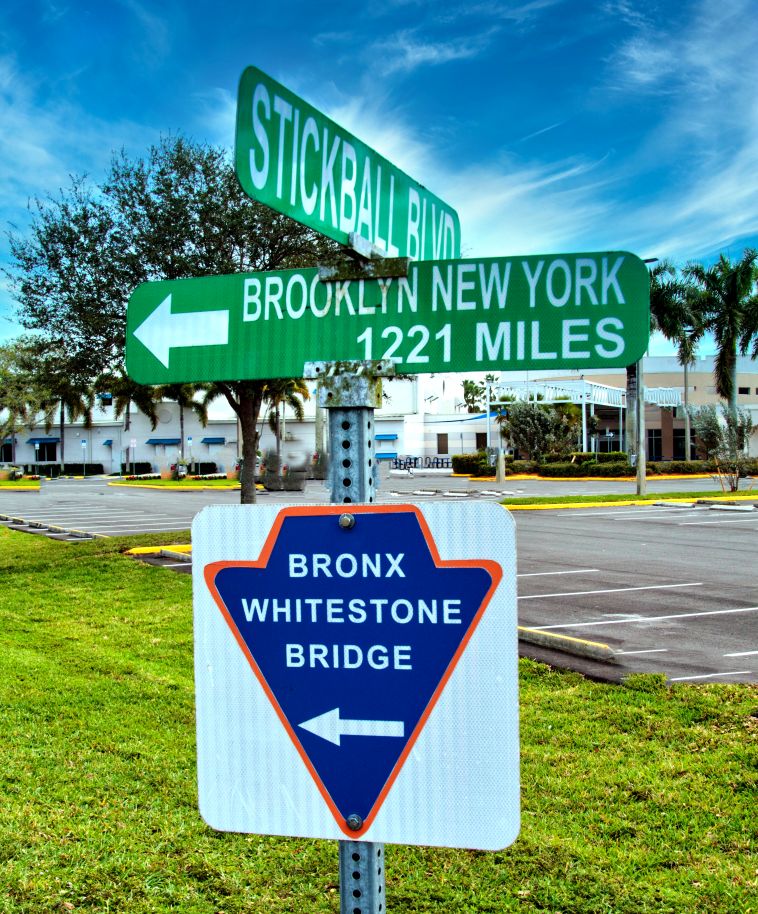 Just like the big leagues, the Wycliffe Stiffs Stickball League has an Opening Day and the playoffs which conclude the season. And, at mid-season, there is a Hall of Fame ceremony. Sadly, there's no ESPN coverage, yet!
According to league publicist and Long Island native Philip Strassler, getting into the Wycliffe Stiffs Stickball Hall of Fame is not easy, as it requires commitment and longevity. It helps to be a good ball player, too.
The Wycliffe Stiffs Stickball Hall of Fame was created in 2009. According to Ross, the purpose of this Hall of Fame is to recognize the accomplishments of players who have contributed their time and effort over the years to ensure the success of the league. To be inducted, individuals must have played in at least 75 percent of their team's games for at least six seasons. It's worth noting that scorekeepers and other league personnel are also eligible for induction.
The most recent inductee into the Wycliffe Stiffs Stickball Hall of Fame is Alan 'Happy' Wilans. He is the 74th member of this Hall of Fame. Wilans was presented with his Hall of Fame plaque by former Bensonhurst resident Harry Klaff, the Wycliffe Stiffs director of operations. The ceremony was not held during a banquet or a dinner event. Instead, it was held on a Tuesday afternoon in between the two scheduled stickball games.
Wilans earned his way into the Hall of Fame with his hitting prowess. He batted at least .400 in his first three seasons. In the 2018-19 season, he had a career high 14 hits. He has served as a co-captain of the Bronx Clippers. He began his Wycliffe Stiffs stickball-playing career with the now-defunct Manhattan Swingerz. But, the roots of Wilans' stickball playing career began as a youngster while growing up in Queens, back in the day.
"We played stickball all the time as kids," recalled Wilans. "And, I plan to keep playing for as many years as I can."
And, when he's not playing stickball, he's playing tennis, golf, and bocce ball with his friends and neighbors at Wellington's Wycliffe Golf and Country Club.
"It's not a bad way to live," said Wilans. "I highly recommend it."
The news of his Hall of Fame induction caught Wilans by surprise.
"I was told about this honor about three minutes before it was announced," revealed Wilans. "I was touched, shocked and surprised."
As for his nickname, 'Happy,' he credits one of his relatives.
"One of my aunts said I was always a happy baby," added Wilans. "The nickname stuck."
According to Strassler, each stickball team roster contains 16-17 players and there are always 15 or so newcomers to the league every year.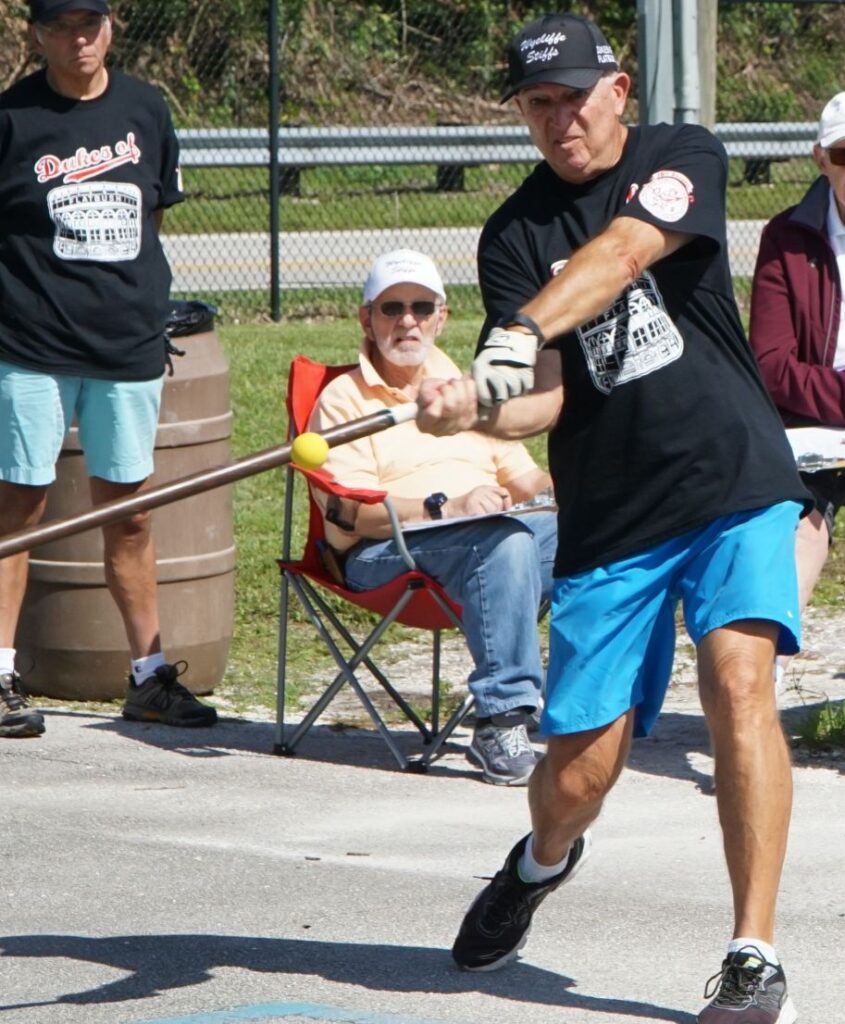 In addition to his publicity duties, Strassler also plays for the New York Egg Creams.
For entertainment on a Tuesday afternoon during the south Florida winter, Ross, himself a Hall of Fame inductee in the inaugural class of 2009, says his league offers the "best bang for the buck" for sports fans.
"There's no charge to attend our games, which are fun to watch and very competitive," noted Ross, who plays for the Brooklyn Bums and grew up idolizing Joe DiMaggio of the New York Yankees and Willie Mays of the New York Giants. "And, chocolate egg creams, made with Fox's U-Bet Original Chocolate Syrup from Brooklyn, are served at the games."
Finally, it's worth noting that men don't have the exclusive domain over stickball in Wellington, as a number of ladies from Wycliffe are swinging for the fences too.
According to Ross, approximately 30 women are playing stickball. They play four times each season, but their camaraderie doesn't end there.
"They are celebrating after each game," said Ross. "The women's spirit is here."
Nancy Malchi and Sally Wechsler, two of the organizers of Wycliffe's women's stickball program, are experienced stickball players.
"I personally played stickball in Bayonne, New Jersey," said Nancy Malchi. "It was a regular game on our street and we played coed, which was unusual."
Wechsler says that stickball's social element is what attracts participants.
"It's the camaraderie and the spirit that everyone loves," added Wechsler. "It also allows every age to play and I'm sure for the older women in their 80s, it brings back great memories."
Without a doubt, a good time is always had by all the men and women in the Wycliffe Stiffs Stickball League.
While Ross remains a central figure within the Wellington Stiffs Stickball League, other leaders in this local stickball community – such as Phil Strasser, Allen Lebowitz, Harry Klaff, and Art Spector – are helping to guide this local league so that, in the words of Ross, "Stickball Boulevard South and stickball will continue as a tradition and not just a game."
Like many locally organized programs, their ability to be successful depends on what kind of support is generated by the local business community. The current sponsors of the Wycliffe Stiffs Stickball League include: Anthony's Coal Fired Pizza; Climate Control Services; G.R.S. Mgmt. Association; Gutterman Warheit Memorial Chapel; The Karp Law Firm; Mark & Son Roofing, Home Improvement, Remodeling, and Mold Remediation; MCS Management Concierge Services; Mississippi Sweets BBQ Co.; River Bridge Dentistry; Rosner's; Select Physical Therapy; Sheila G's Brownie Brittle; The Siegrist Group; Stonewood Grill & Tavern; Wellington Physicians Urgent Care; and AroundWellington.com.
For more information about the men's and women's Wycliffe Stiffs Stickball League in Wellington, Florida, contact Strassler at 516-729-5555.