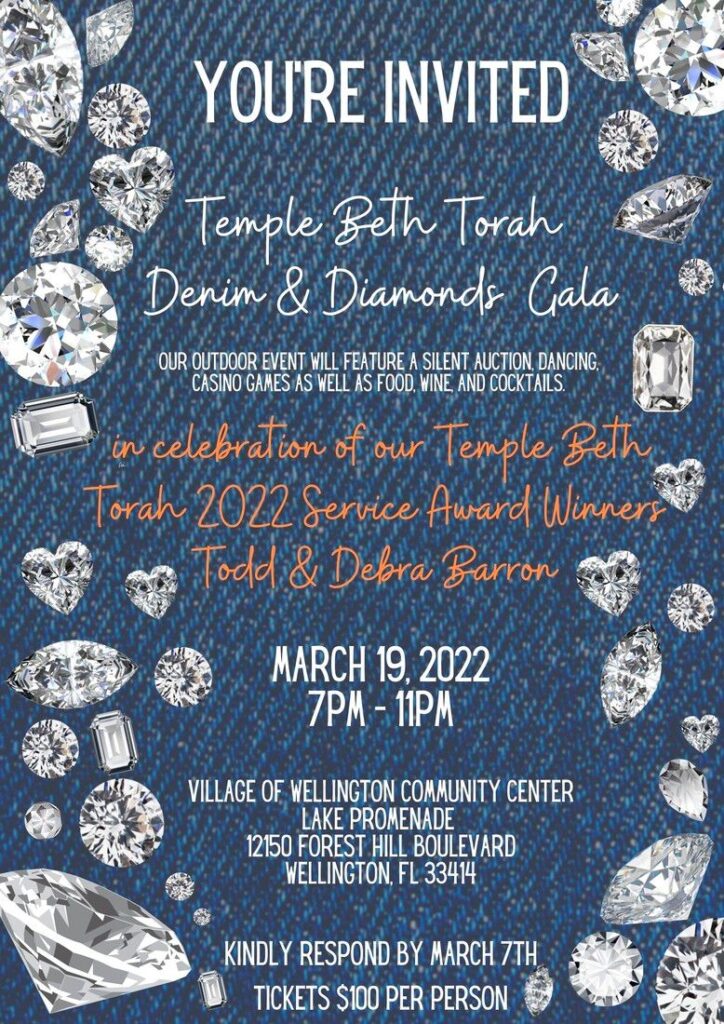 Wellington, FL (February 24, 2022) – Temple Beth Torah, in recognition of the remarkable contributions of two of its esteemed members, Todd and Debra Barron, will host their annual gala on March 19, 2022.  The Temple Beth Torah 2022 Gala Service Award will be presented to Todd and Debra for their dedicated time and service to both the temple and preschool.  
The gala will be held at the Village of Wellington Community Center Lake Promenade in Wellington. This outdoor event will feature a silent auction, dancing, casino games as well as food, wine, and cocktails. Join us for a fabulous evening honoring Todd & Debra and raising money for Temple Beth Torah, a family of families! More information can be found on the Gala's website: https://templebethtorah.net/2022gala/. Tickets can be purchased online or by contacting the Temple directly at: 561.793.2700.
The theme of Temple Beth Torah's gala this year is Denim & Diamonds, to honor the outdoor venue and the diamond-level service Todd and Debra have provided TBT.  Guests will enjoy festive entertainment, a variety of wines and specialty cocktails, and delicious and diverse cuisine provided by various food trucks. This is a unique opportunity for temple members, preschool parents, and friends from the local community to come together for a night of fun and fundraising.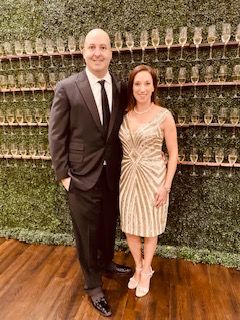 Todd and Debra Barron served as the Temple Beth Torah Gala committee chairpersons for four years. They are the reason we have this wonderful event today! Temple member attendance increased considerably each year the Barons were at the helm. Their work is celebrated and honored as it has impacted our Temple immensely!
Todd Barron graduated from the University of Florida with a B.A. in business administration in 1996. He has worked as a financial advisor since that time. Todd has always been passionate about giving back to the community through volunteerism and philanthropy. He has served as President of the board of the Boys and Girls Club of Wellington and was the founder and former President of the board of the Young Friends of the Palm Beach Symphony. He volunteers his time to numerous event committees, and his unique skills as an auctioneer to many charity organizations in the area including Maltz Jupiter Theatre, Boys and Girls Club, Transplant Foundation, Crohn's and Colitis Foundation and Habitat for Humanity. In 2015, Todd was honored with the Community Impact Award from the Young Professionals of Wellington. Todd loves to travel with his wife Debra and their two daughters, Sarah and Lilah. Todd and Debra were married in 2006 and have been members of the Temple Beth Torah congregation since they moved to Wellington in 2007.
Debra graduated from the University of Florida with a B.M. in Music Education in 2001. She was an elementary music teacher in downtown Lake Worth for the ten years following her graduation. During her time as a music educator, she became passionate about grant writing and raising money to provide underprivileged children with a comprehensive instrumental music education program. She received a grant from VH1 Save the Music Foundation to start an elementary band program and wrote additional grants to create a band camp at Florida Atlantic University that was free to her students. Her work with underprivileged students inspired her to pursue an M.S. in School Counseling, which she attained in 2007. Debra worked as a middle school guidance counselor prior to having her two daughters, Sarah and Lilah. When she returned to work in 2016, she took on the role of high school guidance counselor. In this position she dedicated herself to creating programs that promoted college awareness to first generation American students and scholarship opportunities for all students in Wellington and the surrounding areas. Debra's greatest joy has been watching her daughter's Sarah and Lilah grow up. She especially cherished the many years the girls spent at the Temple Beth Torah Pre-School.
The event will be made possible by the generosity of Presenting Sponsor: Irene and Joel Levine
Diamond Sponsors: Hightower, Stratton, Novigrod, Kantor
Ruby Sponsors: Micheal and Brenna Barron, Todd and Debra Barrom
Topaz Sponsor: Ellen and Steve Shapiro
In- Kind Sponsors: Agliolio
Additional sponsorship opportunities are available for those interested in underwriting this worthwhile event.
The Gala committee looks forward to a night of celebration and fundraising on March 19, 2022. Todd and Debra will be enthusiastically highlighted for their dedication to TBT both past and present. The Temple community will have the opportunity to recognize and thank them all for their contributions to its continued success.