The Latest Project for Jeffros Heroes – A Thrift Shop
By Krista Martinelli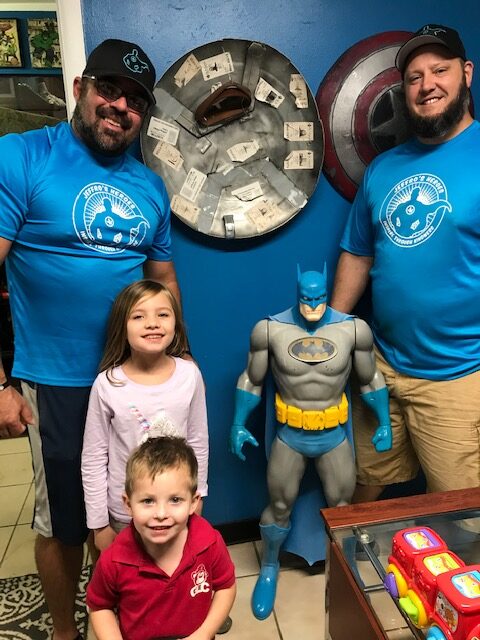 You might remember Jeffros Heroes from a story we did 3 years ago – https://aroundwellington.com/jeffros-heroes-bringing-smiles-to-kids-in-hospitals/.  Or maybe you've seen Jeff Ritter and his cast of superhero characters on the TV news.  Or even caught a glimpse of their capes as they enter local hospitals and visit kids, making their day.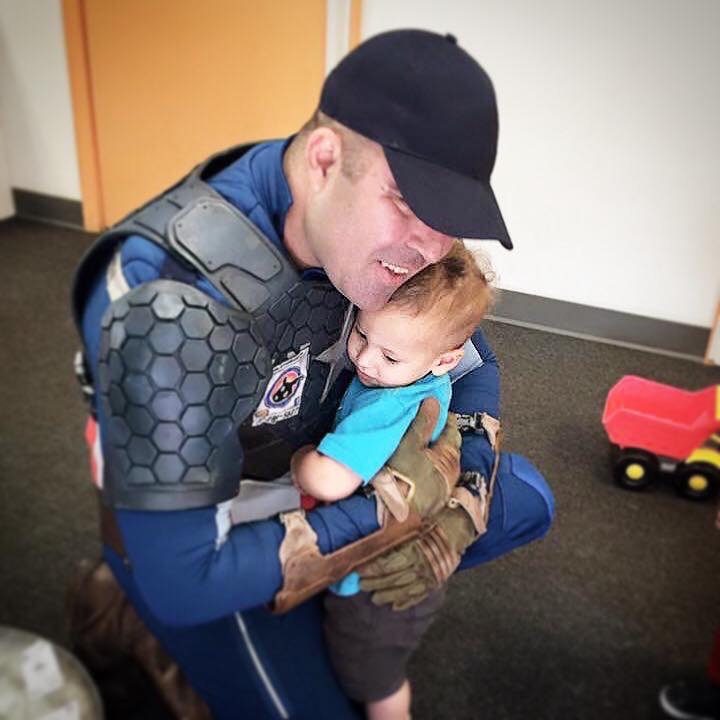 Jeff Ritter and his friend/business partner Joe Lenz have teamed up to make their project of bringing cheer to kids in hospitals even better.  They've opened a thrift shop named Heroes for Humanity. Just last month they opened their doors to the public and began finding new ways to make a difference.
Located just South of Blue Heron Boulevard, it's tucked away, but visible from Military Trail.  They're open Monday thru Saturday from 9am to 5pm.  It's best to call ahead, just in case both Jeff and Joe are off picking up some furniture donations. As you enter the shop, there's a colorful wall of superhero paintings done by a local artist. Since it's still new, it's not as organized as a more established shop, but you can definitely find trinkets and cool finds, among the larger furniture items.  It's like a treasure hunt.  And everything upstairs is $15 and under.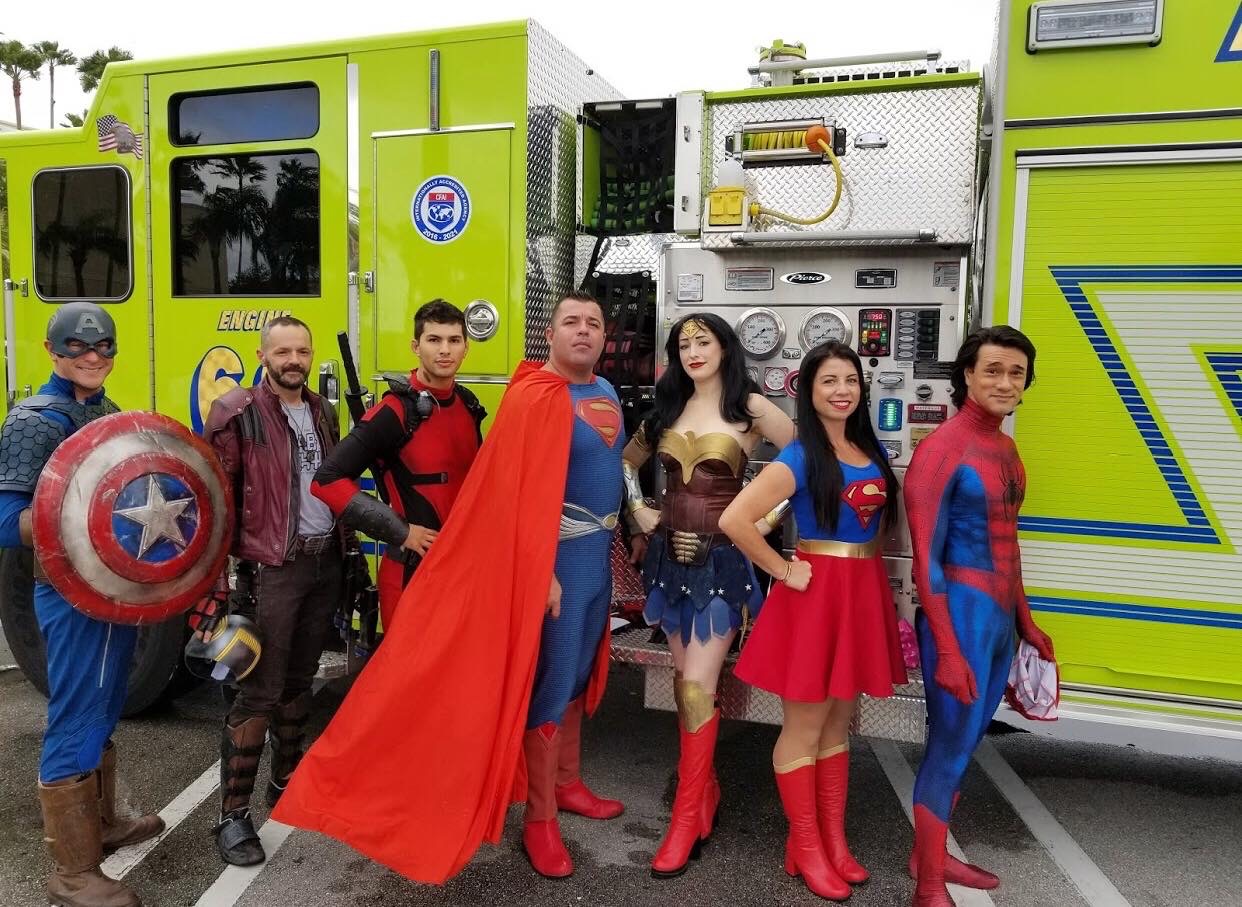 Before even officially opening their doors, they were able to help some people in need.  They helped with furniture and other donations when it came to a whole family who had been exposed to human trafficking. They also came upon a woman from Jamaica who had been homeless for ten months – now she has an apartment. But they found that she had nothing but a bean bag chair, so they gladly furnished her apartment and she was immensely grateful.
"Everybody needs help at one point or another," says founder of Jeffros Heroes Jeff Ritter.  He realized that many people, including himself, can be just one missed paycheck away from being homeless.  Jeff has a big heart and is not ashamed to show it. He talks about his regular "caped" visits to kids in hospitals, many of the kids staying for extended amounts of time.  "I can't sing, I can't dance and some days, I can barely tie my shoes.  But empathy is my biggest gift." Their slogan at Jeffros Heroes? "Inspire through Kindness."
I asked Jeff and Joe about why they do it – why they dress up as superheroes and make hospital visits. Joe explained that he had several businesses before joining Jeffros Heroes, including pressure washing. But on his first visit with Jeff to a hospital, he watched as Jeff, dressed as Captain America, won over the heart of a young boy. The boy's mother said that he hadn't cracked a smile in three months, not until now. The hospital was in Miami, and Jeff and Joe drove silently back to Palm Beach County, both with tears streaming down their cheeks. Joe explains, "I've worked in a lot of jobs, but never had such a rewarding day as my first day here."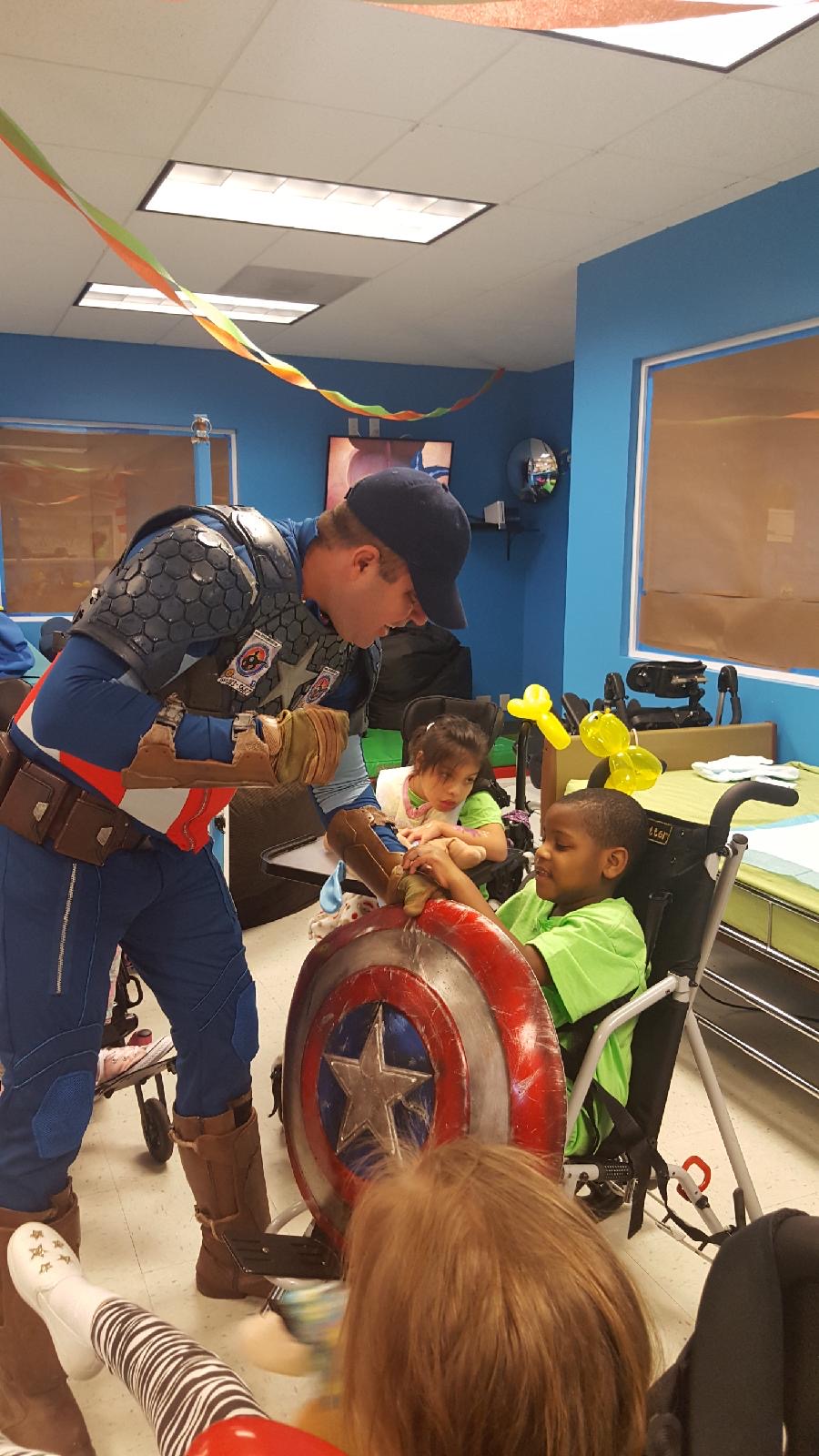 Personally, Jeff changes into Superman, Batman, Captain America, Dead Pool, Wolverine, and Black Panther. They have a team of seven people who all, by the way, have real jobs, but are on call to be Jeffros Heroes. They have a firefighter, a teacher, a CEO – all of them ready to drop into local hospitals and make someone's day.  Jeff finds out from the parents or from the nursing staff who a child's favorite superhero is. And then they make their magic happen.
Ritter has visited enough children in hospitals to finetune what his message is. "Don't say 'stay strong,'" he says. "Tell them they ARE strong. It's not what they should be – it's about who they are. Tell them that they are brave." He clearly has a gift and listens intently when children tell him their hopes and dreams.
"So why a thrift store?" I asked Jeff and Joe.  After the past nine years of fundraising, Jeff says he wanted to find a way to give back without asking for donations.  He did a few days of work at Goodwill, and it came to him that having a thrift shop might be the way to go.
They began collecting donations and started off with a couple of storage units.  Then the donations increased and they had as many as 10 storage units. They realized they needed a store, not just storage units.  Today they take all kinds of donations, except for clothing.  If they receive clothing, they donate it to another charity organization.
"It's a trifecta of good will," explains Ritter. "People give donations to help us. We keep the prices low for buyers. And then, through Jeffros Heroes we help others. So it's a win/win/win."
As a 501c3 organization, they are growing quickly. And the superhero element makes it fun. "Who doesn't love dressing up in a cape?" says Ritter.  Also, he adds, they are very transparent. They have no big overhead and give directly back to people in need.
This is the project for now – the thrift store in addition to the hospital visits.  In the future, Jeffros Heroes would like to open a couple houses near local hospitals, similar to Ronald McDonald houses.  By St. Mary's hospital and Palms West hospital.
Jeff Ritter and Joe Lenz are inspired by the children they visit.  About a month ago, Jeff visited a young girl at Quantum House.  He asked her, "If you could change one thing in the world, what would it be?" Instead of wishing for more toys or more candy, her wish was for everyone was "no more pain."  Ritter was profoundly moved by this.  It's the kids that inspire him, every visit.  Meanwhile, Jeffros Heroes is inspiring others, every day.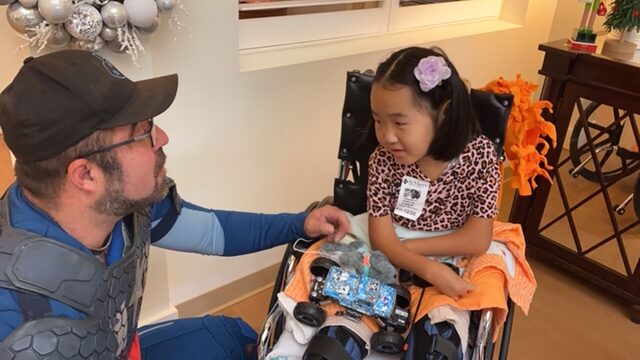 Jeffros Heroes
Heroes for Humanity Thrift Shop
(561) 437-HERO (4376).
Email: JeffrosHeroes561@gmail.com
Jeffros Heroes is on Facebook, Instagram and YouTube.
Donate: Visit their GoFundMe page.
Check out their Parking Lot Sale