An Interview with Holly Stewart, Executive Director of the Young Singers of The Palm Beaches
By Denise Marsh
Everyone knows my affinity for music – how it continues to be therapeutic and mandatory in my life.  But, one thing that has always piqued my interest has been how singers get started.  So, when I saw "Young Singers of the Palm Beaches" share their headline  on Facebook for "20 years of singing" I knew that this would be my next article.  We all have our favorite musical artists from various genres and backgrounds and they all have a story to tell.  I think you will find this story to be very different than the rest and will have gained some great insight into the musical world that is geared to youth.  I didn't know this organization existed prior to my research and I hope it deepens your appreciation and support for young singers and their journey.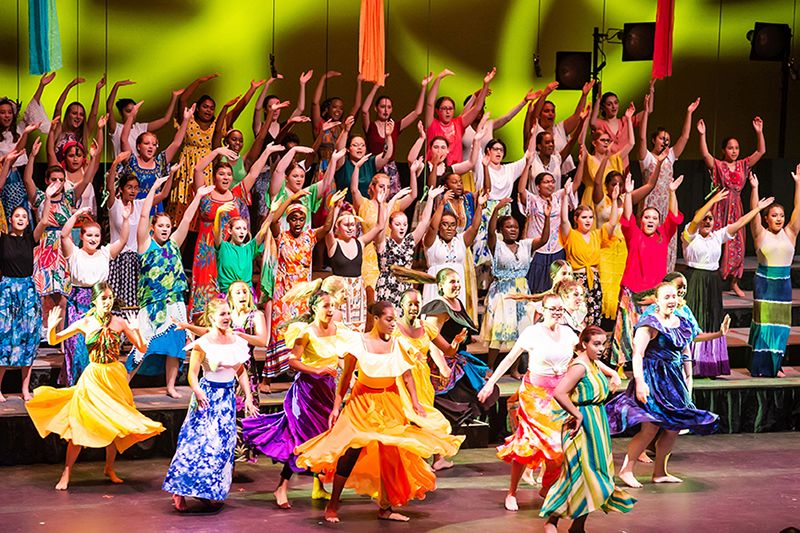 Hitting All the Notes
AW: Please tell me the very inspirational story you had shared previously on how you got started with the Young Singers of the Palm Beaches.
HS: I had a daughter enrolled in Young Singers in elementary school. Unfortunately, she was not able to remain in the program because she was diagnosed with Scoliosis. It progressed very quickly as the result of an asymmetrical growth spurt which caused her to develop a severe S curvature of the spine; her rib cage was pressing on her lungs and heart, impacting breathing. She was not able to pass the initial pulmonary test which would have cleared her for surgery until she started using her belly breathing exercises from rehearsal. She went on to have a very successful surgery restoring her spine to a normal curvature. She was invited to be part of a commercial for the children's hospital who performed the surgery and her case study was featured in a medical journal. She is now 25 and volunteers hemming singer uniforms.
AW: Can you provide an example of how your organization has helped children and teenagers? I read that you accept children from second to twelfth grade – is that accurate?
HS: Young Singers of the Palm Beaches provides high quality vocal education for youth in 2nd through 12th grade across Palm Beach County. We believe choral music education is a valuable resource in the development of productive participants in our society. We transform the lives of young singers in our community by: breaking down social barriers, developing life skills, providing an outlet for creativity, and fostering good citizenship. We provide children an atmosphere of artistic excellence in which they develop teamwork from supportive friendships and serve as ambassadors in our community. Programming is designed not only to teach vocal skills but support the whole child by focusing on three impact areas: artistic excellence, personal growth, and social development.
Over a period of months, I watched singers evolve from retiring, shy "wall flowers" to confident singers capable of performing a solo of the National Anthem or performing on the stage with the Palm Beach Opera. This confidence and discipline reaches far past the stage. One of our alumni, who is now finishing his doctorate in Astrophysics at Notre Dame, explained that he learned to solve 6-and 7-hour equations by rehearsing. It gave him focus and determination to accomplish great things if he just stuck to it. In addition, his brother, who is working to address food sustainability, perfectly described what it feels like to perform. "You're standing on stage with your choir in the dark. All you hear is muffled applause and then everything goes silent. As the curtain rises, cool air from the house washes over you. You're looking at 2000 people who came to see and hear you. In that moment, you know you have a voice."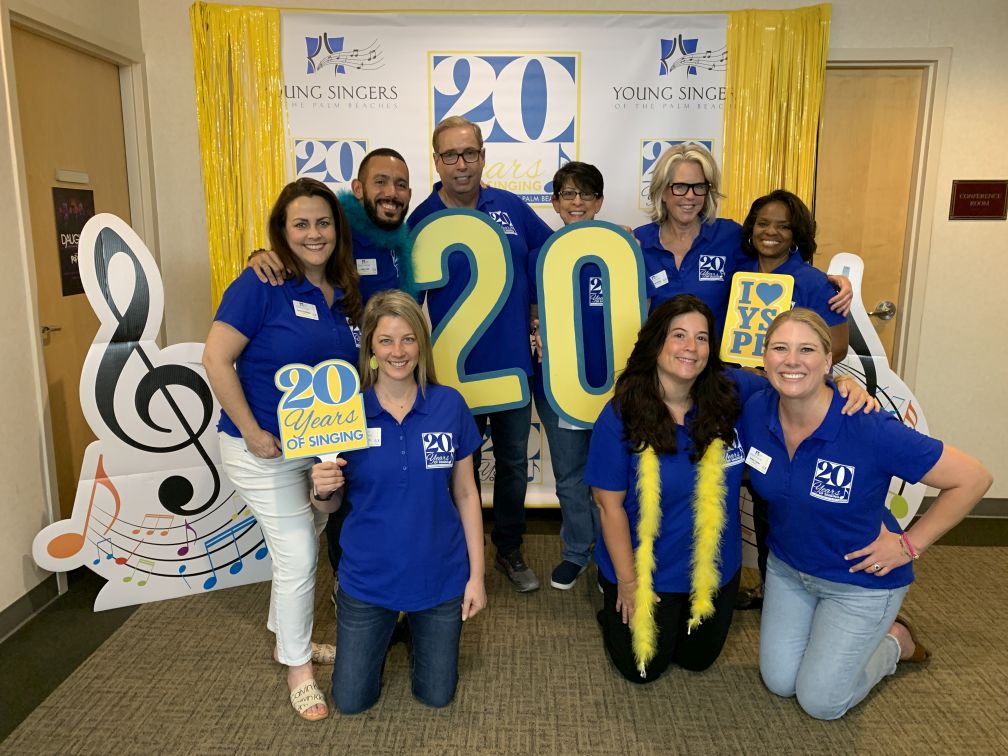 AW: I understand that you operate as a Nonprofit organization. How do you raise the funds necessary to cover expenses for the organization and the singers?
HS: Young Singers of the Palm Beaches receives funding from numerous supporters. Our afterschool outreach program which supports over 1,500 elementary school students, mostly from economically disadvantaged Title 1 schools, is supported by funding from Prime-Time Palm Beach County and Children's Services Council. Our elementary choir in the Glades and Lakeshore Middle School Teen Choir receives support from various foundations including Community Beach Cultural Center. They are tuition-based, but that only covers one third of the cost of running the programming. We receive support from the Cultural Council Palm Beach County and the Tourism and Development Council as well as State of Florida's Culture Builds Florida. As a 501-C3, we receive support from individuals, corporations and foundations in order to keep our tuition low, and no child is turned away for financial reasons. Families can apply for a scholarship on a sliding fee scale from the Mary Murray Scholarship fund and Jacobs Family Foundation Fund. About 50% of children receiving financial assistance live at or below the poverty level, but we also provide support to working families under ALICE (Asset Limited Income Constrained, Employed) guidelines set forward by the United Way. Families are asked to assist us with fundraising in various ways: through volunteering, participating in the Annual Mary Murry 5-K Fun Run/Walk, donating to our silent auction, volunteering at the Honda Classic where we work a concession in exchange for tips and a percentage of the proceeds, etc. Our scholarship families are some of our most dedicated volunteers and contributors. With a full-time staff of only 4 employees, none of this would be possible without the support of over 200 volunteers, providing an estimated 1,000 hours of assistance each year.
AW: How would someone apply if they were interested? Is there a special audition or screening process?
HS: Information about auditions or our performance choirs are available at our website at https://www.yspb.org/auditions.
While we have closed enrollment for our Kravis-based Choirs until the Spring semester, we are accepting students in 2nd through 8th grade at our Boynton Beach location every Wednesday. Contact us at: information@yspb.org or by phone at 561-651-4429 for more information. We will be announcing new dates to audition for the Kravis Center program in December and January.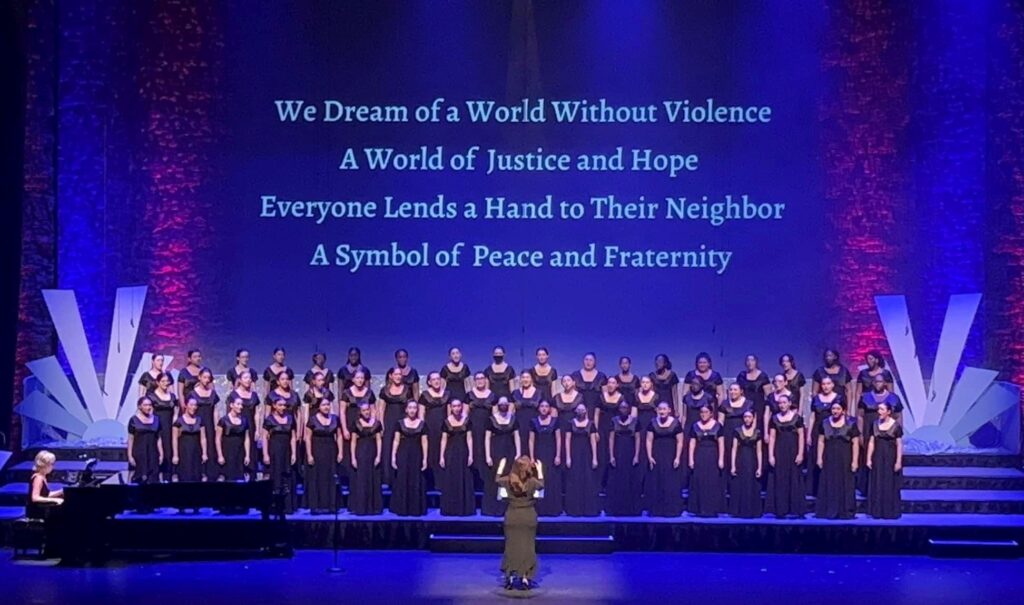 AW: what is your FAVORITE part of the job? The most CHALLENGING part?
HS:
Favorite- Everyone thinks it would be our concerts; after all, they are full productions utilizing the full resources and top talent of a world-renowned performing arts center to near sell out crowds. However, that is just the final show; the literal "icing" that people see. My favorite thing is the rehearsals: that is where all the work and the magic happen. You get to watch nervous candidates audition for music programs and professional performances and go off to college, most on scholarship. We are not just supporting artistic excellence; we support personal growth and emotional development. My daughters are both gone and out of the house, but I still have the honor of being just a little part of these children's lives.
Challenge- Fundraising. We know that music education in promoting academic performance increases IQ, supports math and science, yet arts programming in schools continues to be cut from schools. Young Singers of the Palm Beaches was established to fill the gap, to provide a place for community-based choral activities unconstrained by school boundaries, religious affiliations, racial bias, socio-economic barriers, or funding cuts to arts education. Over the past 20 years we have grown from a grassroots organization with 79 singers to a 1 million nonprofit with 4 full-time team members, and 29 part-time team members. When Covid closed in-person performing arts in 2019, we rose to the challenge of providing virtual services and have since more than doubled our outreach into underserved afterschool programs to over 1,500 elementary students. Still, we do not have the funds to meet demand. Every year ,we need to raise more scholarship funds to meet demand. Over 30% of our students qualify for assistance and last year we provided almost $50,000 in scholarships. This year with the support from Impact 100 Palm Beach County, we were finally able to start a South County Choir for students in 2nd through 12th grade. Up until now, some of our students have been commuting over 25 miles one way for rehearsals. Many families simply do not have the time and resources to make that journey every week, no matter how dedicated. Even though we have been able to increase the number of afterschool programs, there is still a waitlist for programs requesting services. Just this week, I submitted a request to fund another 38 programs which serve over 1,500 children in under-resourced communities lacking arts education.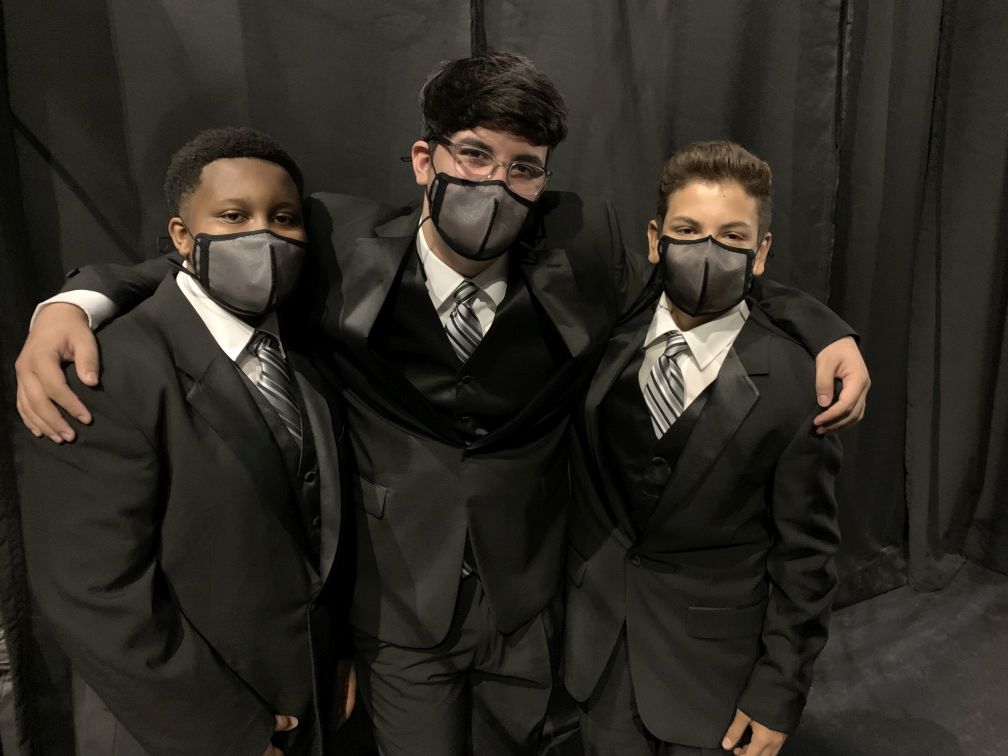 AW: Do you sing? Did you ever want to sing?
HS: Unfortunately, while I enjoy singing in private, I am not very talented. I wish I had the same opportunities that these children have. Singing is something that can be taught early on and carried throughout your adult life. Rarely do you still see Pee Wee Football and T-ball players still playing in their 50's, but our children will still be singing in 40 years. Unfortunately, at my age, it is a lot harder to learn.
AW: Do the kids ever perform out of the country or globally?
HS: Annually, a group of our children travel the American Choral Directors Association conference to perform with children from across the country. The event can best be described as the Junior Olympics of the choral world. Last year, in addition to having a number of our singers selected to perform in the Honor Choir, we were also asked to perform as a "special" in the Festival Choir. Pre-Covid we also have taken our younger singers to perform at Disney and have participated in national tours. As things return to normal, we are not only planning to perform at the national ACDA Conference in Cincinnati and Disney – we will be the featured choir at Carnegie Hall in June 2024!
AW: What are some events that you are proud of?
HS: Wow, there are so many… I love our annual 5-K because you get to see the younger kids and the older kids interacting, families enjoying each other, even alumni come back. Community performances are also amazing. After all, who wouldn't want to be backstage at the Palm Beach Opera listening to the maestro complementing your singers? I think I am most proud of our senior recognition events. Every year, in the Spring, we pay tribute to our graduating seniors who have gone on to post-secondary education, most with scholarships. The last one turned down a full scholarship at Palm Beach State College studying police work to serve his country as a Marine.
AW: Is there anything coming up or "on the horizon" for the organization?
HS: We have many exciting performances coming up this year. We are in the process of filming "Sounds of the Season," a Palm Beach Symphony special which will air in December. On October 7th, a group of our singers will be backing up Pink Floyd Nation at the Kravis Center for the Performing Arts. We have ensembles scheduled to perform for the City of Boynton Beach Holiday Celebration, Lake Clarke Tree Lighting and Palm Beach Roundtable Holiday luncheon, Tickets for the 20th Anniversary, "Winter Tapestry 2022" Concert at the Kravis Center for the Performing Arts go on sale October 1, 2022 at https://go.kravis.org/live/index.php. We are already working on our May 7, 2023 concert, "Hear the Future."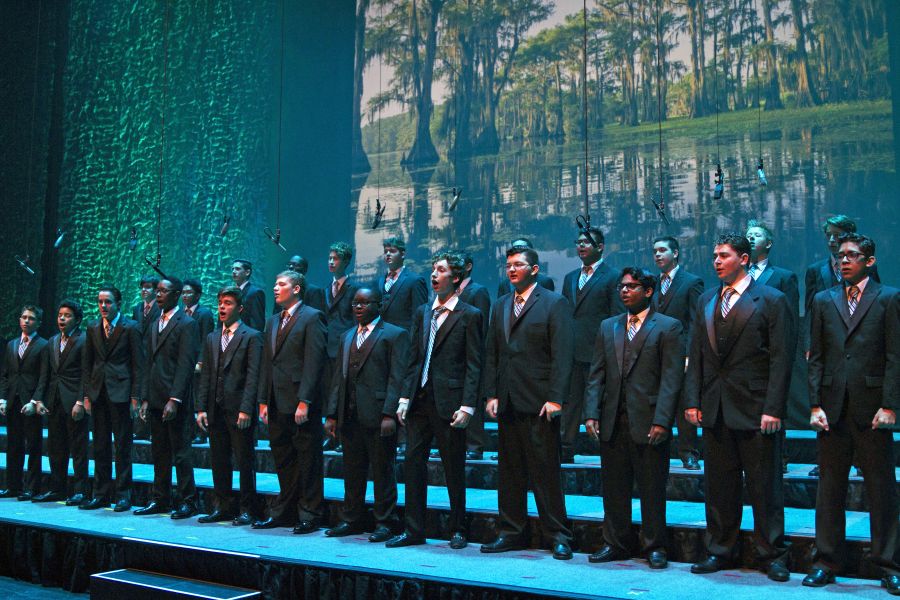 AW: Congratulations on your 20 Year Anniversary of being in business! What are your future plans for YSPB?
HS: We will be releasing a 5-year strategic plan in the next couple of months which will outline our growth through the coming five years. Even as we continue with our very successful programming at the Kravis Center for Performing Arts, we will be expanding our choirs in Boynton Beach and North and Western Palm Beach County. With the return of in-person events and performances, our youth will be singing across Palm Beach County, including many events that are free to the public. We will return to touring both domestically to New York and Carnegie Hall and internationally in future years. Prime Time Palm Beach County and Children's Services Council Palm Beach County continue to support our expansion plans to provide music education to under-serviced communities. We also continue to seek out community partners willing to support our mission to provide equitable access to high quality vocal education for all children in Palm Beach County while adding to the rich arts and culture of South Florida.
AW: What is the best way for someone to get in touch with you? Do you advertise anywhere besides Facebook?
HS: The best source of information regarding our programs, events, and fundraising initiatives is our webpage at https://www.yspb.org/. You can find links there which allow you to register for an audition, get tickets to a concert, book one of our choirs for your event, or contribute to our fundraising efforts. I recommend you also check us out on our Facebook page and Instagram. For a sample of our performance, please visit our YouTube page at https://www.youtube.com/c/YoungSingersofthePalmBeaches/videos. For more information email us at: information@yspb.org or call 561-651-4429.
Accoutrements
I I have not met Holly in Person as of yet, but I definitely will make this a goal in my life. Despite, "we were meant to be in each other's lives being a cliché," in my life it has been a mainstay with people and situations that have served my highest good. Holly Stewart has literally given a voice to many young children, eager teenagers and young adults. I would definitely label Holly as an "Apollo" to the youth of Palm Beach County and a hero for the overlooked, and underprivileged who have voices that deserve to be heard. As a school teacher, I know how vital music is to our youth and how many kids welcome this subject where they can feel liberated, expressive and take a break from all the formal subjects. Music is a magical force, a bridging factor and a therapeutic component in the lives of so many. Thank you, Holly, for letting me and so many be enlightened by your voice and your vision. I cannot wait to see some of the performances that you have mentioned. After all, the greatest singers all started off somewhere