Costumes Aren't Just for Humans
By Tricia Roberts
Family costumes are so much fun when they include pets. Here are some ideas that are sure to make people giggle.
These costumes require minimal accessories for your pets.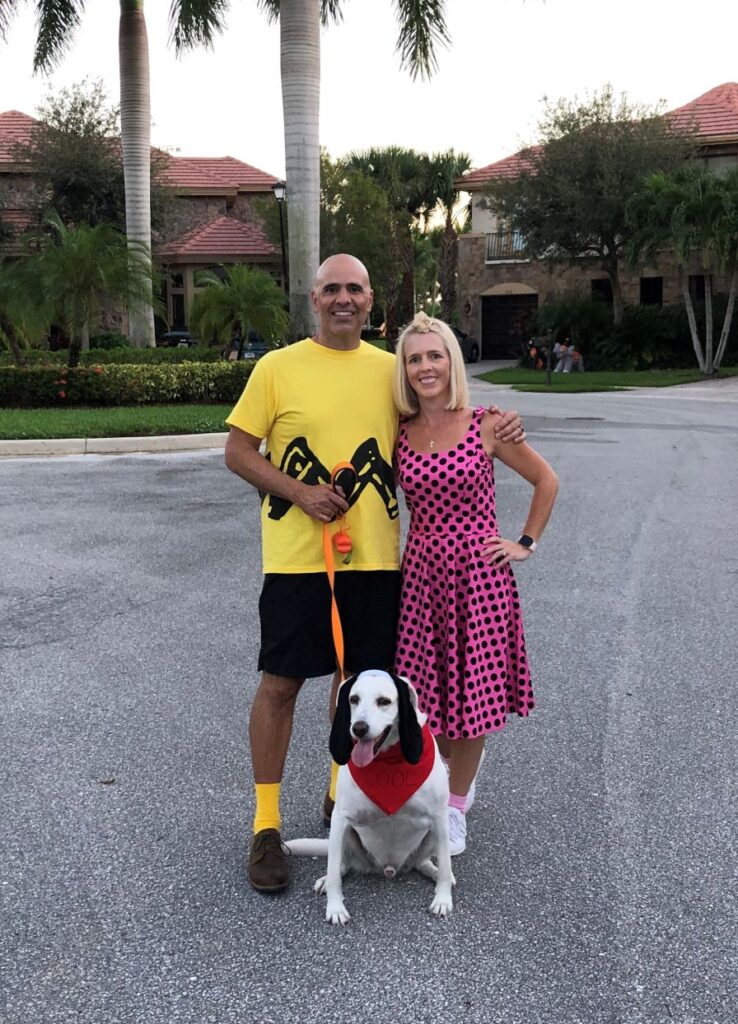 Wizard of Oz – Perfect if you already have a dog that resembles Toto! If your small dog doesn't quite look like the original, just find a picnic basket to put him or her in. Or if your dog is a larger breed, find a lion's mane to make him the cowardly lion. Then dress up family members as Dorothy, Scarecrow and the Tin Man.
Charlie Brown – You don't have to have a beagle to pull it off. Once your dog has a pair of long black ears (attached to a headband) and stands beside Charlie and Sally, he turns into Snoopy. Add a red bandana that says "Joe Cool" to complete the look.
Ratatouille – Add a pair of mouse ears and a curly tail to your pet while you wear a chef's hat and coat.
Shrek – Your pet gets the easy end of the deal here. If your cat will don a feathered cap or your dog will tolerate donkey ears, all you have to do is paint yourself green, add some horns and dress in medieval clothes.
Dr. Dolittle – Have a lot of pets? Throw on a doctor's coat and stethoscope and you're all set!
Ace Ventura Pet Detective – Another easy one for the pets. Just have them around while you wear an unbuttoned Hawaiian shirt over a white tee.
M&M's – Add a white 'm' to any solid-colored bandana or shirt and your pet can be one of the tasty candies. Choose solid tee shirts in other colors for the rest of the family.
Men In Black – Have a pug? This one is for you.
Now for the ones that are a bit more involved, but just as much fun.
Pirates of the Caribbean – What's cuter than a pet dressed as a pirate? With plenty of characters, there are enough costume options for everyone in the family.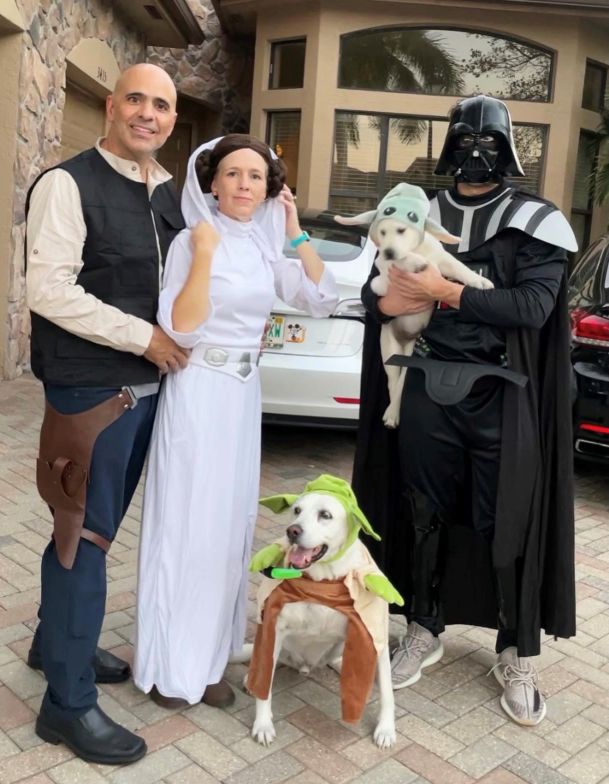 Star Wars – So many options here! Your pet could be Yoda, Chewbacca, Darth Vader or almost any other character from the films. Possibilities are endless for the kids and adults too.
Peter Pan – Once the humans are dressed as Tinkerbell, Captain Hook and Peter Pan, dress your dog in a crocodile costume and he's Tick-Tock. We did this one a couple of years ago and people still talk about it.
Alice in Wonderland – This one is especially cute if you have a cat willing to wear a Cheshire Cat costume.
Scooby Doo – If you have the right amount of people, this one is a hit. There are dog costumes for Scooby Doo and The Mystery Machine.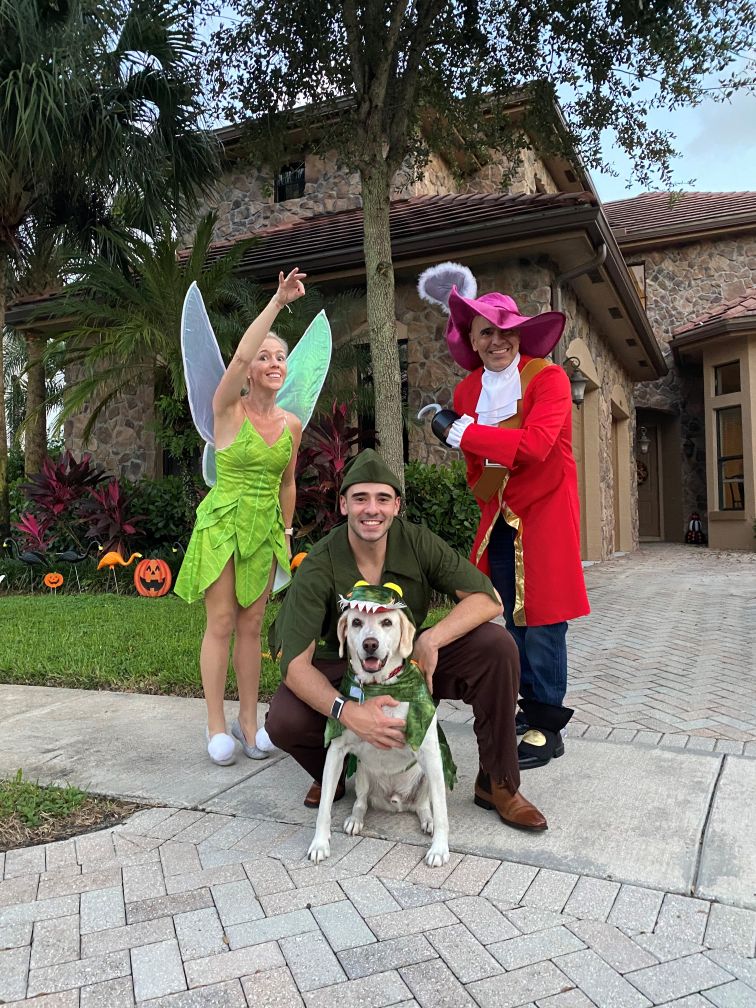 Finally, the costumes just for pets with no participation necessary from the humans.
Garfield and Odie – If your pets are the right color, you won't even need costumes for this. Just add a pan of lasagna to make it obvious.
Cheech and Chong – This requires your pets to wear wigs and clothing, but if you can pull it off, it will be remembered for years. (Photo credit: @haoleboysurfs on Instagram)
Super Mario Brothers – Dress one pet as Mario and the other as Luigi.
Ghosts – This one is super easy. Just cut some holes in a white sheet and drape it over your dogs. Have them hold a jack-o-lantern bucket in their mouth for added smiles.