By Denise Marsh
Art 101
I am no stranger to the art world.  When I was  younger, I watched my mother draw Cinderella and the Rice Krispies characters for contests.  Although my mother never won either  contest,  she taught my sister and I the magic of creamy pastels and gave us a love and appreciation for art beyond measure.  She was indeed an "artist".  I "thought" I had inherited the same artistic genes when I painted the Notre Dame in Middle school but it never reached any kind of fame other than hanging in a hallway closet.  I later  found my "art" with words instead of paint.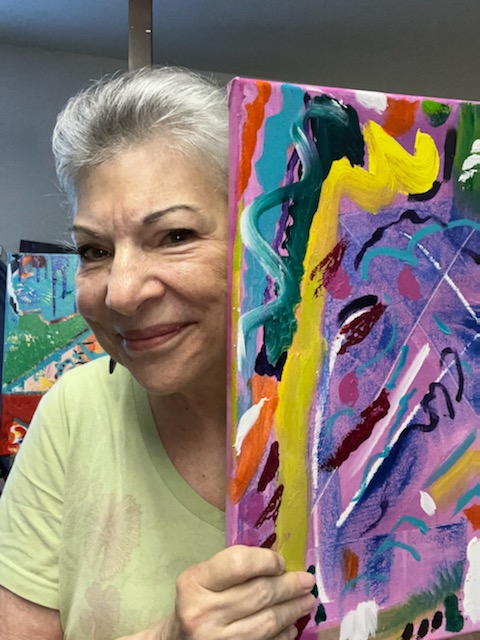 Before I met Laura Jaffe I was never impressed with Abstract art. I snubbed Picasso. If I couldn't interpret it, I was not interested. I favored Dali and Degas, Kahlo and yes, Monet. But my life was transformed when I met Laura at a 360-degree Art Show event at the Wellington Green Mall about 2 years ago. I had introduced myself and explained how I was a writer. Laura smiled and replied, "Then you are also an artist" – that day my thinking changed for the better and my world was anew with adventure and affirmation.
When I looked at Laura's art, I didn't even think of my former aversion to this type of art. Suddenly, I saw trees, mermaids, hearts and hidden pictures and everything had such depth, but the best part was, it was my OWN vision. And the other wonderful part was, there was no right or wrong – just feelings, emotions and personal interpretations. Laura taught me that "Art is for everyone" – and that is exactly why you most definitely should meet the Abstract artist who has titled herself, "the Queen of Color", Laura Jaffe. Let's dive into the interview…
Activating the Canvas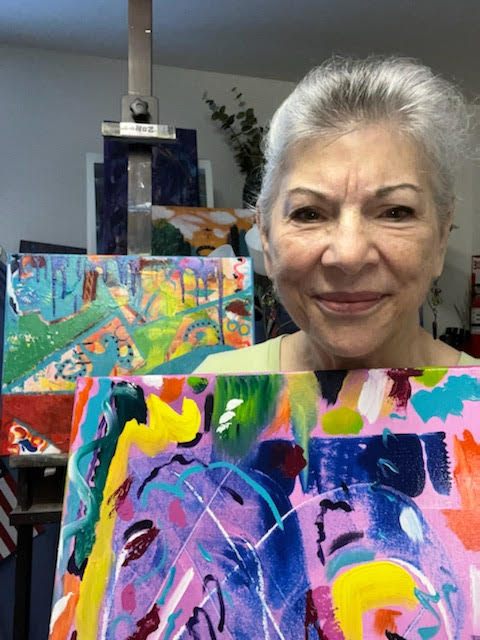 AW: When did you first know that you wanted to be an artist?
LJ: I had no clue that I would be a visual artist. I have always been creative one way or another but didn't do really well in art classes in High School. It wasn't until I went to "sip and paint" and took a few of their art classes that I discovered how much I loved to paint. I loved applying the paint and making it move around the canvas and seeing what happened. I saw how much fun it was to just paint. My stuff never looked like anyone else's . I thought, "well, since I cannot do what everyone else is doing then I will do it my own way" and that is exactly what I did.
I am very excited about my art.   I am very glad how it has been evolving in so many ways and not just with my art.  (She laughs, not a "ha ha" laugh but one of personal understanding). It has taken almost three quarters of a century to get there. I did take  private lessons from another artist, but I think I outgrew her very quickly.  I wasn't getting from her what was helping my art progress. After a while I took three classes at the Boca Museum School of Art and I did a still life there, but wasn't that happy about it. I ended up painting over it – recreating.  But that is what artists do with their materials. Canvases are never to be wasted.    
AW: Why did you choose Abstract Art as your medium?
LJ: The truth is, I don't think I can draw realistically enough but furthermore, I never had the patience for the fine detail that is needed for Realistic Art that has to be more precise. But Abstract Art is more difficult in its own way. It is not something that is simple throw and paint of a canvas and having someone say, "oh that's an elephant or a monkey". What goes into the art is the composition or the palette, the value differences and it all has to come together. The best art has lots of layers. There is depth. The more one paints and looks at art, the more one becomes much more aware of these characteristics, traits, parameters…the necessities…whatever you want to call it.
There are people that say that they "don't understand this type of art," so they don't like it.
I tell people that art "reflects the soul of the artist". You shouldn't buy something unless you love it and how it makes you feel. One person may love something and another will feel quite differently. You need to like the art that you are putting in your house because you will be looking at it. Art can promote feelings like peaceful colors will appeal to people who need it and some colors provoke feelings of anxiety if it is chaotic – it is all what the art will bring to you and your "space" where you hang it.
AW: What are two of your favorite paintings from your own collection?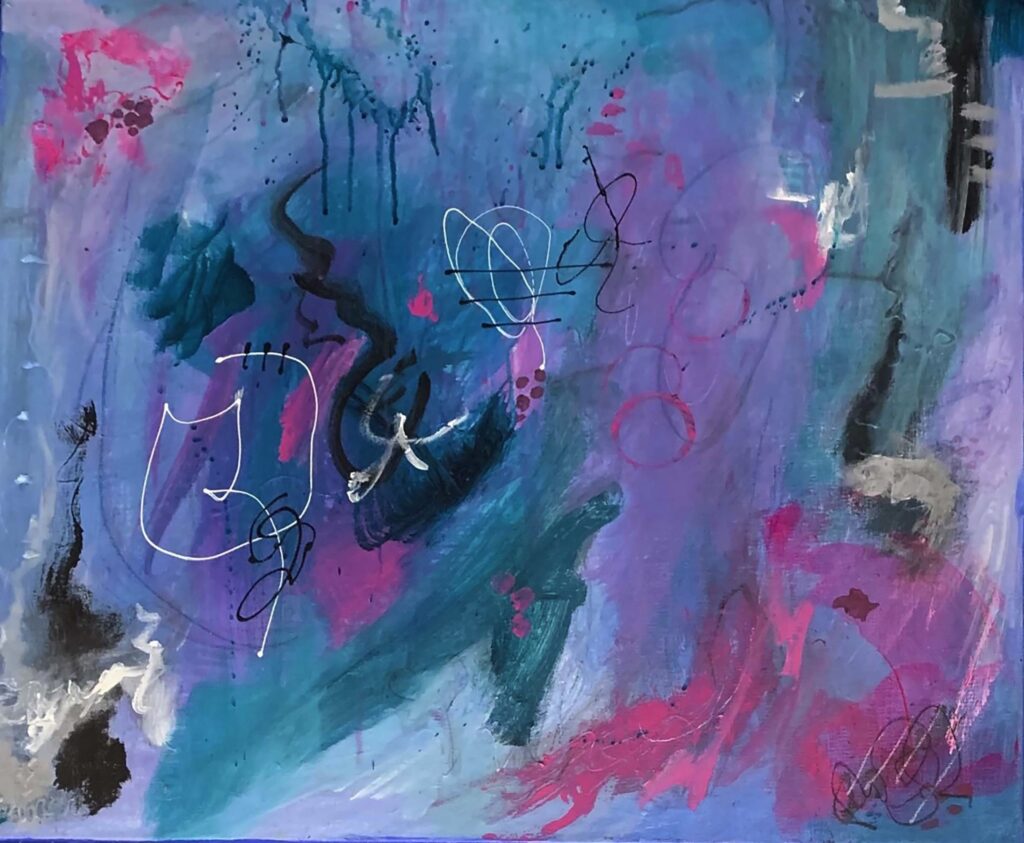 LJ: One of my favorites is the one you bought, "Dance". I love the blues but more than that I love the way it dances across the canvas (which is also what I love about it). I love how the colors dance across it in such a serene way. I see calm dances like waltz, modern ballet, ballet and I don't see a tango or a paso doble. This is more calming art.
I also love the Owl one I just did. It was my first foray into animals and I love how it turned out – the background. I have to see an animal or something in the picture – it has to say to me " this is this" and that's what I did. Currently, the response has been phenomenal, so I also did a cat and a dog one. It is an entryway into more "whimsical art".
Side note:   (The timing of this article being written was actually during the major sale of Laura's art from Friday, November 19th through November 21st). Laura actually sold reproductions of both "Dance" and the "Owl" amongst other beautiful pieces of art.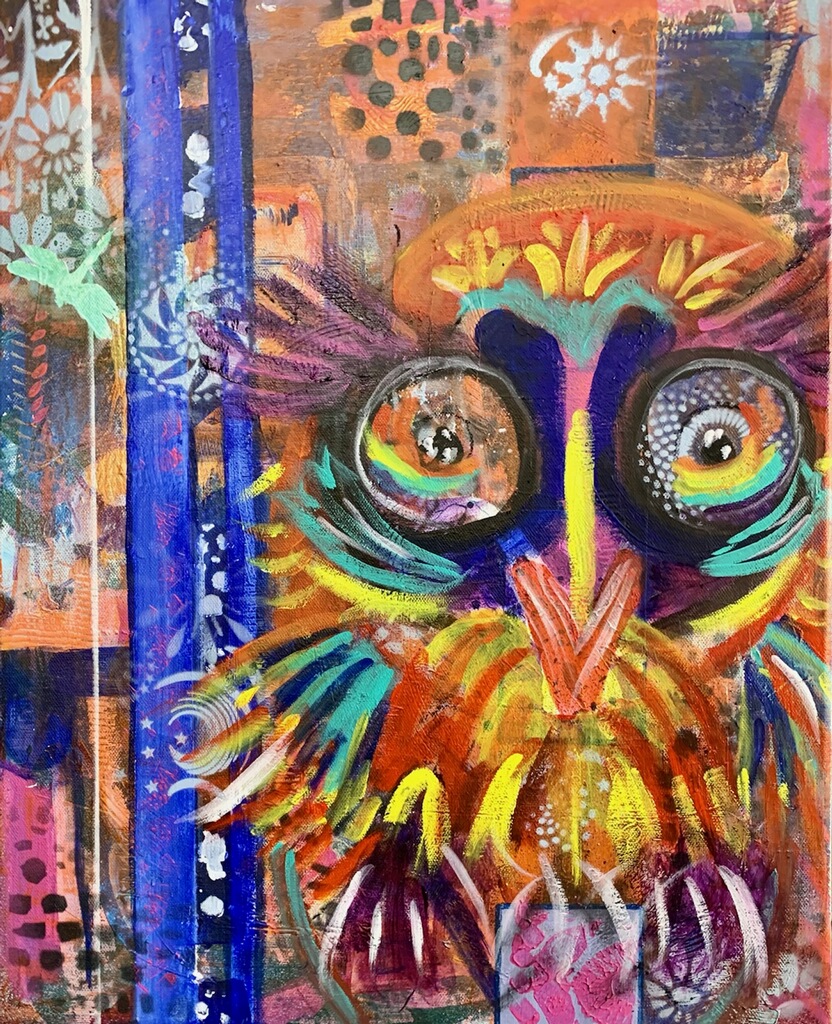 AW: Who has provided you with the most inspiration?
LJ: There hasn't been a specific artist. Because again, I am definitely more self-taught in that respect. I didn't go for a fine art degree or anything like that. My art is a reflection of what's in my head, my feelings and experiences at the time. I consider myself "more freaky," so people like to say "you never know what's going to come out". I don't have a specific style that someone might come out and say "that's a Laura Jaffe," but someone might look at a painting and say, "that looks like work from Laura Jaffe. I don't do any "series" of work.
In terms of commission work, it is easier for me to create a new piece than try to recreate another piece. For example, if you see an original in another size like a 16 by 20 and you want it in a different size you can do this, but only some of marks or palettes can be recreated. In essence, it is a lot harder than starting from scratch.
AW: Can you tell us about your work with Wellington Art Society and Facebook Live?
LJ: Let's talk about the Wellington Art Society first. Before I started painting to a great extent, I knew that this organization would be a great help to me. I believe it has been about six years or so, I didn't do much with it the first year. But then when I started painting more, I realized that I could learn a lot from these people. I loved the demos, the camaraderie of being around other artists, I loved shared what I was working on with them and seeing what they were working on; part of my development has come from all of that. So, I got on the Board and this is my second year as President. It has been challenging as the first year we had to deal with Covid, which affected a lot of things at the time. We had been meeting over Zoom which actually worked out particularly well, especially for our members that were from out of state. We had one member who had moved to Connecticut and this really helped everyone stay in touch and "present" as much as possible. I wish we could figure out a way to go "hybrid" with this particular approach and bring this to everyone. We are always looking for new members. Membership is only $60 for a year and we have gotten in membership from some very young members, in fact one member was nine years old and another ten or eleven; they come in at a student price of $10. We like to see them come in and watch them grow.
One of the best things to know about the Society is that we have given out scholarships. We have given out more than $125,000 in scholarships; these scholarships go to promising art students who are looking to make a career out of the visual arts. We go into the high schools (our campaign is just starting for this year) and they have to go through a big application process. The applicants then go through our committee who picks through them all where we choose the artist that we feel we can connect with the most. We look for applicants that are serious about what they are doing and where they have applied to college. We also see (depending on funds, of course) if we can find someone who is currently at FAU. We look for some applicants from there as well.
There have been some wonderful projects such as Art for Kids where we go into hospitals like Palms West. We do Kids Cancer Foundation, Kids Cancer in Palms West and some others. Covid definitely had an impact on things; Pre-Covid we were allowed to go into the hospitals. We are always looking for new ways to raise funds for this. I am happy to say that just recently we were granted permission to return to the hospitals again!
So, our next reception is on December 7th which will be between the two venues of the Wellington Community Center and City Hall. We will have light refreshments, door prizes and People's Choice Awards as well. People will be able to go through the galleries that we have up in those two galleries. The art that is up in those venues is absolutely stupendous! City Hall has just put up new art, we will be putting up new work in our Community Center on November 30th. Currently, we have a Virtual gallery that you can access through our website: WellingtonArtSociety.org . The exhibit is called "Celebration". It should come up under "events."
AW: Is your organization "Nonprofit"?
LJ: We are a 501C3. This is how it works: Whenever a piece of art is sold, 20 percent of sales goes back to the Art Society. In turn, sales help fund the scholarships. All the art is for sale. If people go and see something they like, they can speak with the artist directly. We need more members and people that can help with our social media to promote the Art Society,
AW: Back to the Facebook live….This is dear to my heart because I actually watch it and love how once  can be "active" in the art process.  Please explain more about this venture.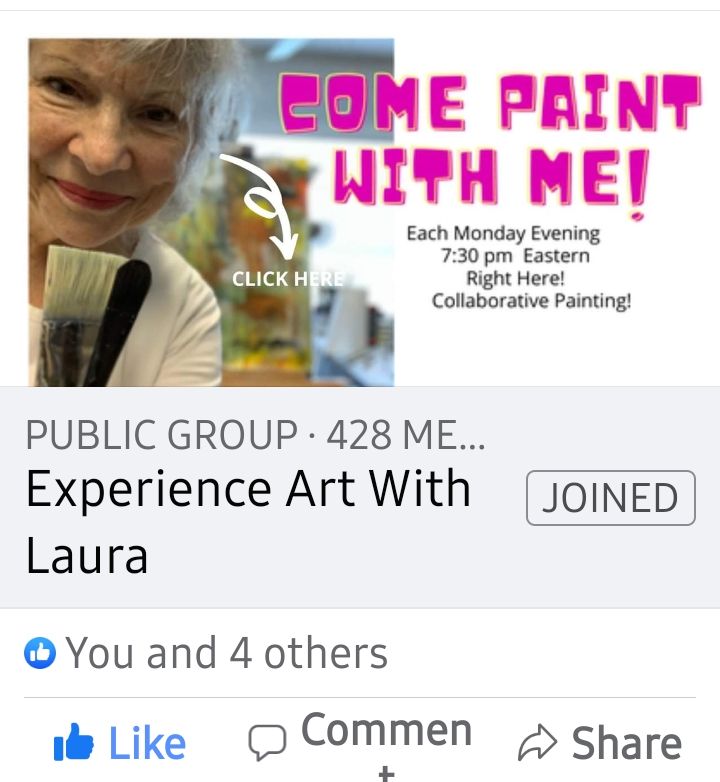 LJ: This is an idea that I had about a year ago. I thought about having a venue where you wouldn't just watch the artists paint. I mean, what's the fun in just watching? Whenever I've watched art shows it was always just people viewing and not always understanding exactly what the artist was doing so, I wanted to change this. I wanted to invite people "participate" in the process of creation of the art. Sometimes I start with a totally blank canvas and we talk about mark making and we go into various things like collage and stencil. I do my Lives on Monday nights at 7:30 for about an hour or so. It is a perfect forum for making new friends and a great place to relax and be creative. I even have my own theme song, literally. A very special person who frequents my show often, Rochelle Kabran wrote and published a song for me . The song has one line "collaboration is near. We'll have an abstract today." It is even called, Laura's Song". I play it at the beginning of my live and I even sing to it – such an honor to be the recipient of such a personalized gift. On my live, I also invite everyone to bring their "beverage of choice", unwind, chat with each other, make comments and either participate or just watch – no pressure involved.
The link to Laura's live is: Facebook.com.groups/ArtwithLaura If you see a painting you love, I do take Commissions- in person, email, phone call and zoom. We can discuss what the buyer's needs are. Some of the questions I pose are:
What room will art go in? Are you  looking for specific colors, theme? Or something that evokes a particular mood? How will it fit into their lifestyle?   There are people who want seasonal colors or centering their furniture around the colors in the art.  Art is something you will look at all the time if it is in your living or working space, so it must be something that you will love. Whether it goes with your décor or a "stepping point" to start a new room.   
AW: What are the Pros and Cons of being an Abstract painter?
LJ: The cons are easier to explain. Again, it goes back to people needing to have a solid sense of what they are looking at and it needs to jump off the canvas and show what it is . I don't see it as a con because all art has its own place. In today's world Abstract art has become popular because it is very contemporary, modern. So there is still a big need for more contemporary art. Personally, I don't like having to think through details of a realistic painting. I like to work from the "seat of my pants" based on certain theories of art. But I don't particularly like to draw. I would rather pour the paint on and make forms, lines and shapes and just see how I feel about it as I do it. I go through my art and sometimes I think I love the energy in this painting or the way the colors jump off. I just discovered stencils and I spray and move the stencil and pick up different sprays which look 3 dimensional. It is not easy to do but very cool and I loved the way it turned out. When you first pick up the blank canvas you must do something called, "activate the canvas" so it "moves", speaks to you, or creates a mood. It gives you a certain sense of freedom for all of the possibilities you can do or not do. You move with the brush, the stencils and paints creating layers of work on a background. You end up with a finished piece evoking flow and rhythm. And other times you start off one way and completely change everything.
A.W: What are the demographics for your FB "show"?
LJ: My customers are primarily women, 40 and up. There are some men in the group. I have a collector friend that watches the show. My followers are also family oriented. People who are very much interested in theatre, writing, reading and are appreciative of the arts. Everyone has different art and artists that they follow.
A.W: What advice would you give someone who is looking to purchase your art?
LJ: I would say, "Zoom with me so I can show you the art" unless you are local. Then, I can come to your home. In general, I would tell them that I hope you know and like the artist that you are buying from. I would tell them that when they purchase art, they are going to be hanging a piece of the artist's soul on their walls.
A.W. What are your future plans for art? Any upcoming events?
LJ: I am kind of going with the flow right now. I don't know what is down the road but I know what I would like to see. I don't have anything carved in stone., I just want to keep creating and bringing joy. There is so much light that is needed in the world these days and I think that art is one way to share it. I just so agree with the peace, calm and joy aspect of hanging art in your home – it should make you happy. After all, we all deserve happiness.
I will probably do some event sometime in January but that hasn't been planned yet.
AW: What are your most popular works? Please name 2 or 3 of them.
LJ: The "What the Hoot" (the "Owl" painting ) is popular and the one that you bought (and love) "Dance". There have been quite a few. As you know, when the original is gone the giclees which are printed on canvas and are very popular and can come in any size. I will hand embellish and hand sign so that it might as well be an original. So, if you ove something let me know. Also, Commission pieces run higher in price because they take longer – there's more detail and an ongoing conversation in the process with the purchaser. It isn't just "here's the money, now paint". It is more ongoing to show the person and make sure that they are happy with the art.
I am still thinking about a question you asked earlier about "pros and cons". I would like to elaborate. So, with Abstract, I don't have to think about "drawing" per say. Again, that could be my own lack of self-confidence. Obviously, anyone can draw if they want to. They can just copy what they see in front of them . I am sure I could become a good "drawer" if I put my mind to it, but it just hasn't appealed to me, I would make rather play…yes… "play" with color, and form, shape and lines and just see what I can pull out of that. To me, it is just much more exciting. I don't find it fun to recreate a photograph. There are a lot of painters who do this. Okay, every artist does as they please. But, why not make something new – actually, creating a new and unique piece? I find it more interesting that with an Abstract you can see how all the "puzzle pieces" fit together. Some abstracts you can look at and say, "this is a bird, a floral or "this is a tree" but they are still abstract because they may not have the colors of reality; they may have brush strokes that are very different from what you see in real life. For example, an animal might have colors in its fur that aren't especially realistic or something about them that you know what you are looking at but it's been abstracted – the main component of it has been abstracted or taken away from the exact reality – you can still make out what you are looking at despite all of the changes used to make is different. Whereas, with my abstract, it is more of an Abstract expressionism where it is not based on anything in reality at all.
AW-interjection: When I watch your live and I see hidden pictures of genies or someone raising a flag, how do those pictures get in there? How do you know what will be going into the painting?
LJ: It is all about what the viewer "sees". I have ideas that come out as I paint. The canvas is sometimes turned and at a different angle, all images become different. That is the beauty of abstract art. Some of my pieces I don't even sign in the front because people might want to hang it differently. But I think I would rather sign the back which is authentication. There are many times I won't sign it until the buyer has made a decision on the way they want it to go.
The End but also The Beginning…
Itruly could talk about Laura for days. She is definitely a person whose personality must be "experienced".  If you are an art lover or even a novice to the art world, watch Laura's "Paint with Laura" Live on Facebook on any given Monday night at 7:30PM –  I promise you that you will fall in love with Laura Jaffe's charisma and big heart.  But more so, you will ALWAYS have an open invitation to not just see art, but to be an active participant in each creation.  Laura can help you find your "true colors" as she has done with so many, especially me.