Looking for a special place to kiss this Valentine's Day? From romantic statues to bridges to a boat and even a cemetery, here are six places to get your smooch on. Don't want to commit to a kiss? These spots work just fine for selfies too.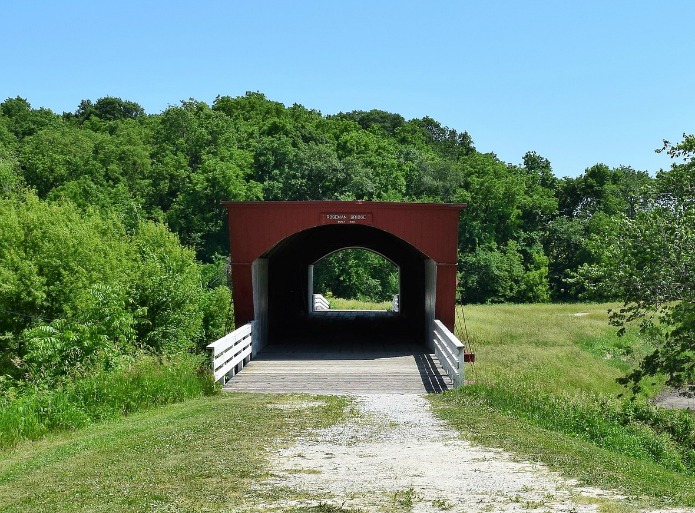 The Bridges of Madison County – Iowa
Who can forget the covered bridges in the heart strings-pulling movie Bridges of Madison County?  Nicknamed, "Kissing Bridges," romantics believe covered bridges exist for the sole purpose of stealing a kiss. The practical-minded folks say they were built to resemble barns so farm animals would feel more at home and not stampede as they were driven across rushing waters.
You can find these historic covered bridges scattered throughout the USA, but if you want to reenact the Meryl Streep and Clint Eastwood romance, Madison County, Iowa is the place to go. As the Covered Bridge Capital of Iowa, Madison County has the largest group of covered bridges that exists in one area in the western half of the Mississippi Valley.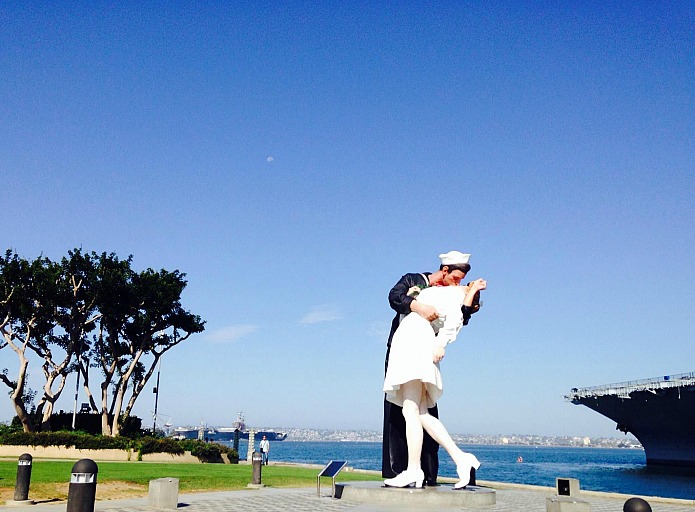 Unconditional Surrender – San Diego, California
Photographer Alfred Eisenstaedt immortalized the kiss that celebrated the end of World War II in Times Square when he captured it in his iconic black and white photo. Now that kiss is a giant sculpture towering over San Diego's idyllic waterfront. Dubbed "Unconditional Surrender," the 20-foot bronze sculpture designed by Steward Johnson stands next to the USS Midway Ship turned museum. It's also known as the "Victory Kiss," so head on out to San Diego and score some winning kisses of your own.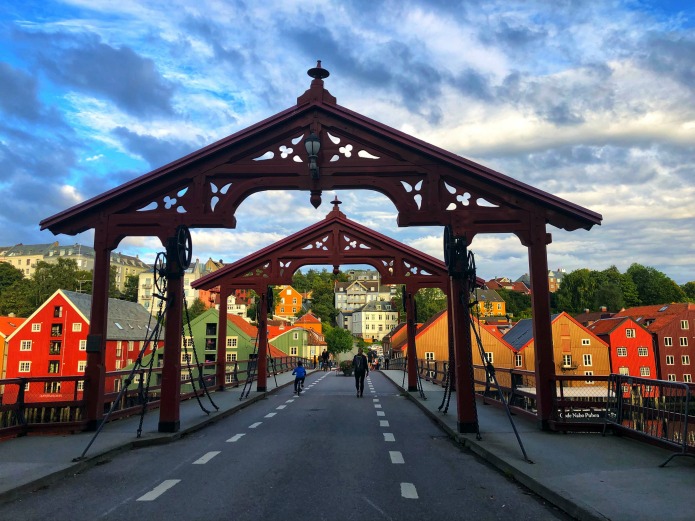 Gamle Bybro – Trondheim, Norway
Built in 1691, the Gamle Bybro (Old Town Bridge) is also called the "Portal of Happiness," making it a popular spot for marriage proposals. This bridge of happiness is certainly a good place for a kiss—or a selfie. After you get that kiss, continue across the bridge to Trondheim's "Old Town" – Bakklandet. With its cobblestone streets lined with carefully preserved small 17th century houses transformed into cafes and galleries, Bakklandet is a treat. Don't miss the popular café, Baklandet Skydsstation, where owner Girli Riis Holmen personally greets every patron and serves up pickled herring along with other Norwegian delights. You might want to get that kiss before you eat the pickled herring unless you've brought your breath mints along.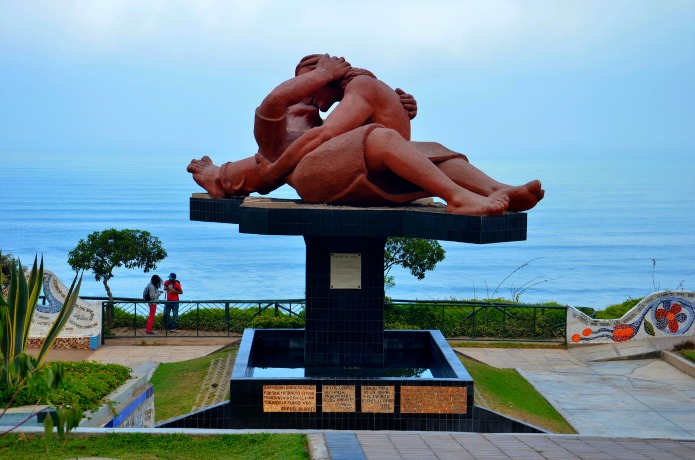 El Beso – Lima, Peru
Located along the Miraflores coast overlooking rugged coastal cliffs, the Parque del Amor (Love Park) attracts all kinds of lovers. The park houses quirky mosaic sea walls, colorful flowerbeds, towering palm trees and Victor Delfin's famous sculpture "El Beso" (The Kiss).
Appropriately unveiled on Valentine's Day in 1993, the sculpture depicts Delfin and his wife locked in a passionate kiss. The spot is a favorite with newlyweds who come here to seal their marriage with a kiss. But the biggest party happens on Valentine's Day when El Beso serves as the backdrop for a kissing contest where couples compete to see who can stay lip-locked the longest. Stock up on Chapstick and join the party.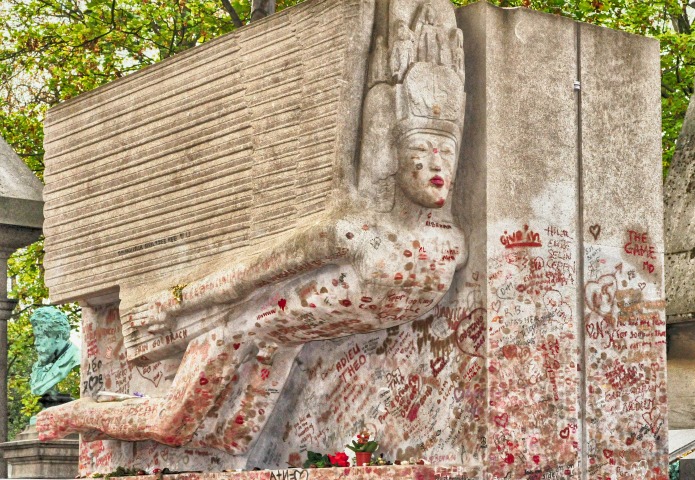 Père Lachaise Cemetery – Paris, France
If you don't have anyone to kiss this Valentine's Day, head to Père Lachaise Cemetery in Paris and kiss Oscar Wilde's tomb. The author and poet's legions of fans have covered his tomb with kisses over the years. Oscar Wilde once wrote, "A kiss may ruin a human life." Apparently, it can also ruin the stonework of a tomb so in 2011, the tomb was cleaned and a seven-foot-high glass wall was erected around it. Now his fans leave kisses on the glass. Get yourself a tube of bright red lipstick and leave your mark.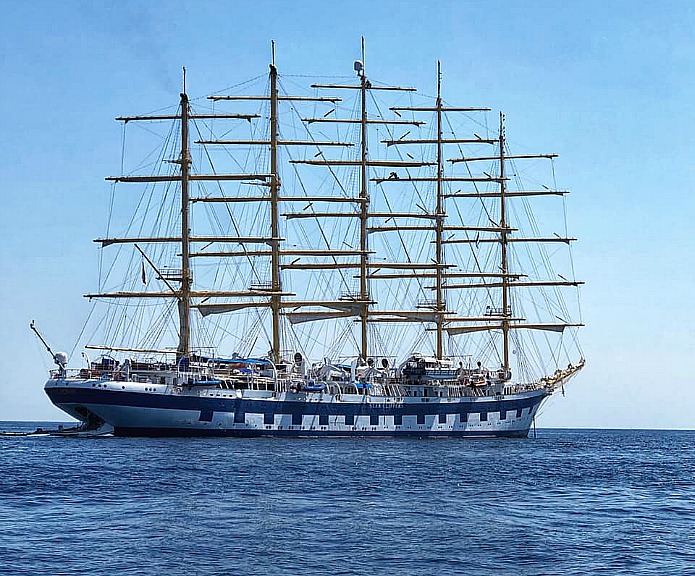 On Board the Royal Clipper
Just walking onto the Royal Clipper—one of three majestic tall sailing ships that make up the Star Clippers fleet—brings romance front and center. Whether you're sailing the turquoise waters of the Caribbean or cruising through the oh-so-blue Mediterranean, these spectacular ships will capture your heart. For an epic Valentine's Day kiss—or selfie—brave the ropes and climb the mast. Soak up the stunning panoramic views then hold on for that kiss. Rose and Jack's sexy smooch on the Titanic's bow will pale in comparison. And your odds of hitting an iceberg are slim to none which makes for a much happier ending.
Happy Valentine's Day!