Vegan Zucchini Salad (Served Cold)
A wonderful summer salad, especially with zucchini from the yard or the farmer's market. Tip: Smaller zucchini usually have more flavor than the big ones.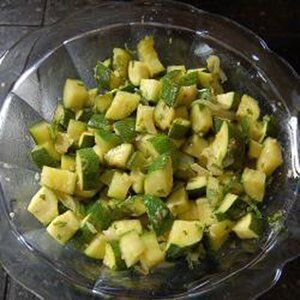 Prep:
10 mins
Cook:
15 mins
Total:
25 mins
Servings:
4
Yield:
4 servings
Ingredients
2 tablespoons extra-virgin olive oil
1 small onion, thinly sliced
2 cloves garlic, minced
2 cups cubed zucchini
7 saffron threads
½ teaspoon ground cumin
1 pinch ground turmeric
salt to taste
freshly ground white pepper
½ lemon, juiced
1 tablespoon chopped fresh mint
Directions
Heat olive oil in a skillet over medium heat and cook onion and garlic until softened, about 4 minutes. Add zucchini, saffron, cumin, turmeric, salt, and pepper. Cook and stir until zucchini are softened but still firm to the bite, about 8 minutes. Remove from heat and allow to cool.
Drizzle zucchini mixture with lemon juice and season with salt and pepper. Sprinkle with mint. Serve chilled or at room temperature.
(For more great recipes, visit AllRecipes.com)