Cultural Corner
We're ALL in La La Land!
By Lori Hope Baumel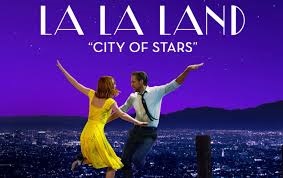 Awards season is upon us and movie lovers have embraced the new musical fantasy, La La Land. Admittedly, this film could not have arrived at a better time. It immersed me into a much needed fantasy world. Its colors are vibrant, the music is jazzy and the cast ensemble is brilliantly balanced. What I find interesting, is that the film's greatness is the result of subtleties. Other than its magnificent opening, most scenes segue smoothly into one another. The locations feel as if they are right out of an Edward Hopper painting.
Ryan Gosling and Emma Stone make a good team as the young couple trying to find their way into Hollywood's "City of Stars." I'd like to emphasize the term "team." Neither of them have vocal or dancing abilities of great distinction. Emma Stone's voice is far from the Julie Andrews/Judy Garland musical days and Ryan Gosling is neither a Gene Kelly or Fred Astaire. Nevertheless, the acting and dancing stars of yesteryear are far from relatable to a twenty-first century audience. Gosling and Stone's imperfections are what actually makes this film work.
We have entered an age where reality TV has turned to reality; an age where Hip-Hop and Rap is our poetry, and an age where a rumor on Twitter can affect the Dow Industrial average. We are embracing uncertain times. Now, more than ever, we are relying on the Hollywood studios, Netflix and Amazon Prime to produce films that take us on journeys far from the erratic news cycle.
The good news is that the success of La La Land is encouraging filmmakers to produce more musicals. According to IMBD, there are more than twenty musicals in the works. In the not too distant future we can look forward to a new version of Mary Poppins, which will include Broadway's newest leading man, Lin-Manuel Miranda, and a movie version of the widely acclaimed show Wicked.
We are fortunate to live in a country that has entertainment venues with live performances in many genres. Those who live in more rural areas rely upon their local movie theaters for a night out. Some cineplexes in the Wellington area are doing everything they can to make filmgoing a more comfortable experience. Reclining chairs, 3D films, Imax theaters and finer menu offerings are now available in several local theater chains. The Fandango app allows you to reserve and choose your seat in advance. It may sound silly, but I often bring a light Snuggie blanket along in case the air conditioning is bothersome (I find nothing more distracting than a freezing theater).
I absolutely adore going to the movies. With the advent of large screen televisions and the ability to stream films at home, filmgoing might become an obsolete experience in the next twenty-five years. It's up to us to continue to support the industry. Movies are expensive to make and theater tickets aren't cheap. Yet, it's important to remember that theaters make most of their money at the concession stand.
How many of you went on a first date to the movies? Could you picture living in an era without movie theaters? If we want to continue having the option, then it's up to us to support them. Try to see some of the Academy Award nominees. While you're there, pick up a small fresh popcorn (I prefer mine without butter) and enjoy the flick like so many generations did before you. If you want to watch the film like a New Yorker, at the end of the movie stay and read the final credits!
Live… Go… Do!
Top 5 for February
Watch the Oscars:
On February 26, 2017, the 89th Academy Awards ceremony, presented by the Academy of Motion Picture Arts and Sciences, will honor the best films of 2016 and will take place on February 26, 2017, at the Dolby Theatre in Hollywood, Los Angeles. It airs at 8:30 P.M. EST on ABC affiliate stations. Jimmy Kimmel will host. For more info see: oscars.org
2. Go to the movies!
You have a plethora of choices. Besides La La Land, per your taste, try one or more of these notable films:
Lion, Arrival, Moonlight, Fences, Manchester By The Sea, 20th Century Women, Loving, Jackie, Hidden Figures and Elle.
3. Catch the end of the Palm Beach Jewish Film Festival
Through February 4th at the Cobb Theaters in Palm Beach Gardens, February 5th – 11th at the Frank Theaters in Delray Beach and special screenings at Movico in CityPlace.
For the film schedule see:
https://palmbeachjewishfilm.org/festival-films-2017/
4. For the kids:
Mounts Botanical Garden
Stories in the Garden: See, Hear, Smell & Touch
Friday, February 10
10 to 11:30 am
Speaker: Stacey Burford, Youth Services Librarian
Celebrate the 13th year of Stories in the Garden by bringing young ones (ages 2-6) to these FREE nature-themed programs co-sponsored by the Palm Beach Library System. They'll love the interactive stories, songs and learning activities in the Garden. Programs are held rain or shine in the sheltered Pavilion. No reservations required, except for parties of six or more. A craft activity to culminate each day will be reserved for the first 30 registrants. (Note: To pre-register, call the Director of Programs at Mounts at 561.233.1751 or Stacy Burford at 561.649.5439.)
5. If you're in the mood for a LIVE musical…
The Kravis Center presents
Beautiful – The Carol King Musical
February 1 – 5, 2017
The inspiring true story of King's remarkable rise to stardom, from being part of a hit songwriting team with her husband Gerry Goffin, to her relationship with fellow writers and best friends Cynthia Weil and Barry Mann, to becoming one of the most successful solo acts in popular music history. Along the way, she made more than beautiful music, she wrote the soundtrack to a generation. Featuring a stunning array of beloved songs written by Gerry Goffin/Carole King and Barry Mann/Cynthia Weil, including "I Feel The Earth Move," "One Fine Day," "(You Make Me Feel Like) A Natural Woman," "You've Got A Friend" and the title song. BEAUTIFUL – THE CAROLE KING MUSICAL has a book by Tony Award-nominee and Academy Award-nominated writer Douglas McGrath, direction by Marc Bruni, choreography by Josh Prince, and won two 2014 Tony Awards and a 2015 Grammy Award.
For tickets and info see kravis.org