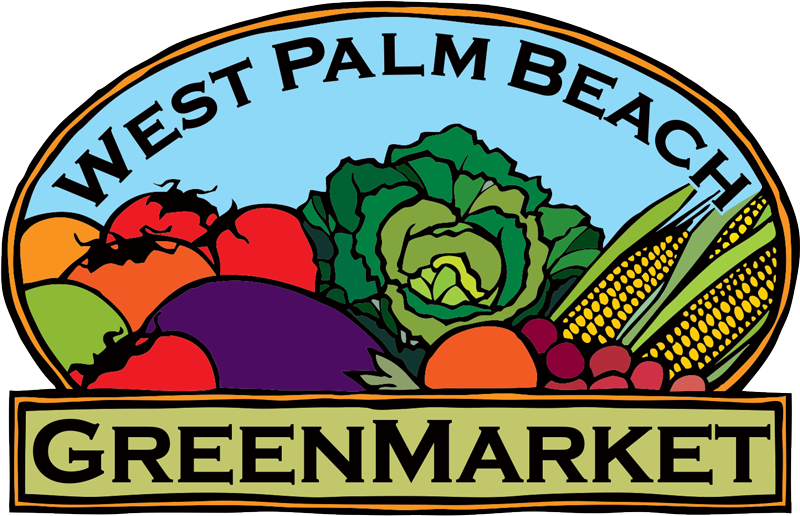 The West Palm Beach GreenMarket is in its 26th season! This season's theme is "Lettuce Shop Safely." The GreenMarket features more than 90 vendors selling various fresh fruits and vegetables, sweet treats, teas, coffees, plants, flowers, and more. The GreenMarket is located at the Great Lawn in downtown West Palm Beach at 100 N. Clematis Street.
Due to the pandemic, there are several changes this year for the safety of GreenMarket customers, vendors, and staff, who are expected to comply with the Centers for Disease Control and Prevention (CDC), Florida Department of Health, State of Florida, and Palm Beach County COVID-19 recommendations. Included in the changes are the suspension of activities for kids, additional café seating, live music, and bottomless mimosas. $4 single mimosas are available for purchase at the event entrance. Merchant tents are placed 10 feet apart. Attendees must wear masks to enter, will need to follow a pre-determined path, and are encouraged to shop efficiently. There are hand sanitizing and handwashing stations throughout the market.
Upcoming April dates are:
• Saturday, April 17
• Saturday, April 24 LAST GreenMarket of the 2020 – 2021 season; This is a BONUS market (the original end date was Saturday, April 17)
o Final GreenMarket day promotion: Annual "Make Like a Tree and Leave" – the Office of Sustainability will be hosting an onsite tree giveaway for West Palm Beach residents and businesses.