What do we do now?
Greyhound racing has been popular in Florida since the first track (Derby Lane) opened on Jan 3, 1925. The Palm Beach Kennel Club has had dog racing since February 17, 1932. There are approximately 8000 greyhounds currently running on the tracks in Florida and another 7000 on farms all over the country maturing enough to start schooling and working on the track – as they were born and bred to do.
Now we find ourselves with a ban on greyhound racing to go into effect as of the end of 2020 here in Florida. And the question is what do we do now with all these dogs?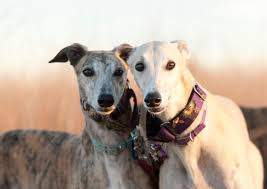 There are six other tracks across the USA where active greyhound racing still occurs. Not as many as in Florida – but two in West Virginia and one each in Iowa, Texas, Arkansas and Alabama. Some of the dogs will go there to continue racing.
Others will come into our breed specific adoption community – where we have placed 98% of the retired racers for years. That is a much better adoption rate than with any other breed and / or any other shelter in the USA. Those not going into adoption either go back to their owners in retirement or become moms or dads on the greyhound farms.
AGA's service dog program (Hounds & Heroes) will continue with bringing in dogs from other states once the FL dogs are no longer available so we will continue to need assistance with the program from the community. Veterans who have received the donation of the fully trained retired racing greyhounds are so thankful for the impact they have made on their lives as their battle buddies. It is important that we continue this program with kennels from other states providing us with greyhounds once they retire from their job as a professional athlete.
Applications for adoptions have been heavy since the amendment has passed – and that is a good thing but those who are requesting dogs must realize that our adoption groups are all volunteer and members work a 40 week at other jobs so we are limited in time. Also, there are the same number of dogs coming into adoption as before – so we bring in X number of dogs to each group in foster as we have always done.
We will take care of our own. There are 102 NGA approved adoption groups that supported the NO ON 13 campaign – to keep our professional athletes doing their jobs. These groups are gearing up for the larger number of dogs that we anticipate coming in within the next two years.
Foster homes are always needed – and adoption applications will be processed as usual – with background checks and home visits done. Qualified applicants will be on the waiting list for the right dog to come along for their family situation (children under six, other dogs or cats or other animals in the house, etc). Patience is the way to go as there will be no letting up of the vetting of the humans who wish to foster or adopt our sweet pups.
Now it is time to help your local adoption group that is one of the 102 that have been and are working diligently to find proper homes for these magnificent animals. Donations are accepted as the adoption fee is less than half the fee for the vetting of the animals when they come into our care. No corners will be cut in properly preparing the dogs for their forever home – spay or neuter / dental / shots brought up to date if needed / titers done to scan for tick borne diseases / microchip implanted etc.
Of course, we will need to continue our overhead (insurance and vehicles for transport etc.) even not having kennels to maintain. We do supply all food, supplements etc. to our fosters for each dog in transition.
It is our commitment to these magnificent creatures to do the right thing and find the best homes for each of the pups as they retire. Personally, I have done this for 18 years and we in the greyhound community will continue to do so.
Barbara Masi
President / Founder
Awesome Greyhound Adoptions, Inc.
And the Hounds & Heroes Program
AwesomeGreyhoundAdoptions.org